29'April 2020- A day when the world mourned the death of an actor par excellence. An inspiring soul, and a true human being, Irrfan Khan. A celebrity with a celebrated craft not only in India but also in Hollywood. His enigma always created a sense of curiosity about how such an amazing actor would have built his abode. With this article, on his death anniversary, we want to take you through Irrfan Khan's house. A place meticulously designed with travel finds treasured over time and his never-ending love for Indian aesthetics.
Known to be amongst the finest actors that Indian cinema had, Irrfan Khan, made his residence with equal finesse as of what he showed on stage, screen, and life. 'Your home is the extension of your personality. The phrase resonates with him and his house to the core. Designed by an adept interior designer, Shabnam Gupta, the house wholly reflects warmth like Irrfan Khan's personality. Every room has an individual persona, yet the house keeps its cohesiveness intact. Irrfan Khan believed that homes should be welcoming because you need peace when you are back from the hustle-bustle of the city. His abode is perfect weaving done around this thought.
The actor will always have a special place in our hearts for his excellent display on the screen. We thought of taking you through his love for the craft with a peek into his house where every piece speaks of tranquility.
A blue foyer marks the entrance of Irrfan Khan's house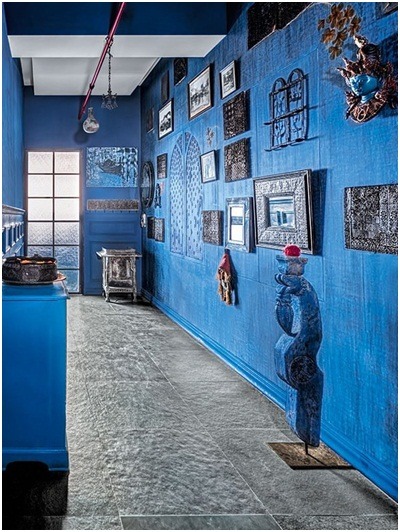 The entrance of his house in itself is a statement with an ink blue foyer adorned with motifs, wall trims, and sculptures. It is only the archway that sends in a hint of light. Paving your way through a dimly lit entrance, one enters a space splashed with vibrant colours and natural light.
A hint of Turkey in the living area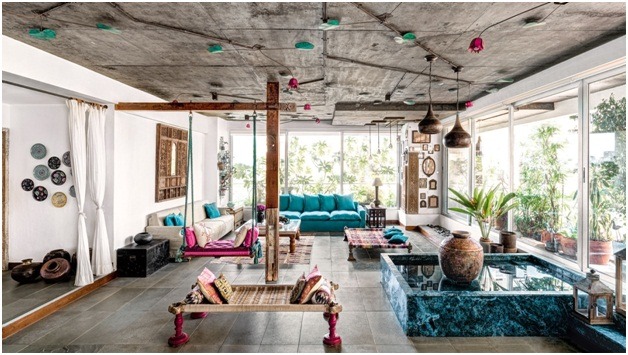 'Poetic' is the ideal word to describe the living area in Irrfan Khan's home. Taking inspiration from garden spaces, the living room is a perfect amalgamation of aesthetics and artwork. The ceiling has floral lights resembling a creeper making its way through the expanse. Irrfan Khan revealed his love for water bodies in an interview where he talked about his fascination with the sound of water.
Marking this thought, a blue Turkish tub placed at the center with water flowing from the urn enhances the serenity of the place. Furthermore, Irrfan made sure to add another piece that marks his want for a 'Jhoola.' Green ropes hold a two-seater swing ornate with vibrant pink covers.
Mirror, Mirror on the wall, who is the greatest of them all?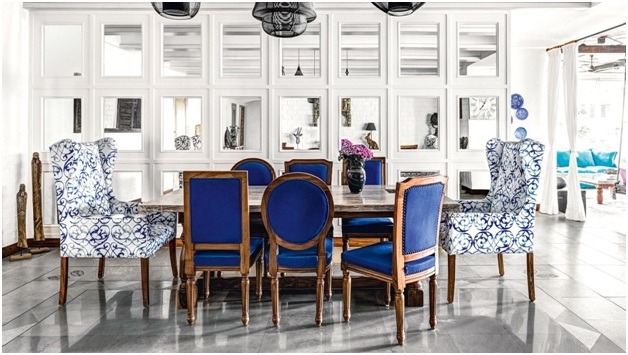 His dining area is washed beautifully with hues of blue and white. What grabs everyone's attention is an entire wall embellished with mirrors. Irrfan Khan confessed that he would check himself out in these mirrors even when he was in a hurry! And, the vibe of the dining space is formal and stately, but it delivers a bohemian feel to the spectator. The place has a much-needed warmth for enjoying the meal and a sense of royalty resonating with the actor's personality.
Irrfan Khan's bedroom speaks of Serenity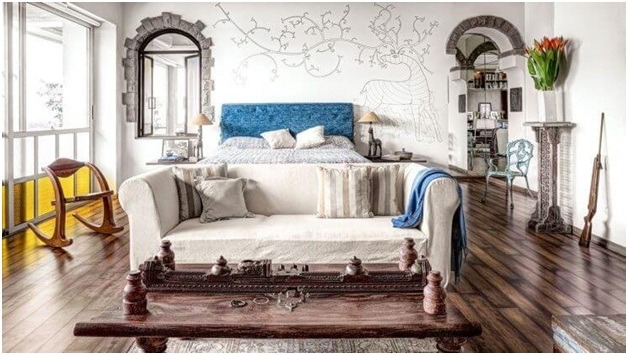 A multi-lateral union of spaces puts together Irrfan Khan's bedroom. A sofa set to watch the TV, a huge library wall, a study at the back, a comfortable reading corner with a rocking chair are the forming elements of his serene bedroom. The glass panels of the window cast majestic patterns that change places with the movement of sunlight. But what catches the eye first, is the Gond painting behind the head of the bed. Not to forget, how the awards are placed randomly at every level in the bookshelf.
A rustic charm- Sutapa Sikdar's room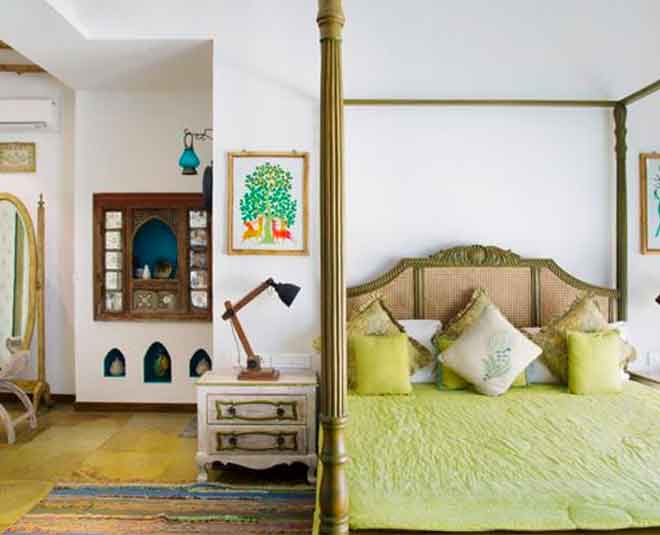 Irrfan Khan calls said that Sutapa's bedroom has evolved on its own and that there are no norms of designing for this room. Populated with rustic pieces, Gond art, and floral motifs, this room stands out in the house created with details. The side lamp accentuating the rustic feel of the room is made by artisans from Jodhpur. Plus, the room pairs with a small balcony enough to hold a tiny table for two.
The house portrays a mixed bag of elegance, royalty, warmth, rustic charm, and surely a unique character, just like the late actor. Afterall, your home is nothing but, an extension your personality!