by Lalaine C. Delmendo
House prices in Barbados may not have returned to pre-downturn levels yet, but the market has been recovering. House prices are "getting there," says Rae Stollmeyer, head of sales for West Coast Villas Sotheby's International Realty.
"This year has been extremely good in terms of sales," said Chertertons´ director Kieran Kelly. "It's a big turnaround from 2010 and 2011, which were tough. Sales began to pickup in 2012 and have been increasing. We're currently seeing around 10 new clients per week."
Prices of beachfront condominiums in both West and South Coasts rose during the fourth quarter of 2015, according to Terra Luxury. Based on Terra Caribbean´s Beachfront Condo Price Index (BCPI), which the company launched in January 2015, beachfront condo prices in the West Coast rose by 10.7%, "a clear indicator that the market is in a healthy growth pattern and on track to return to pre-2012 levels".
The median price of beachfront condos on the West Coast was US$ 805 per square foot (sq. ft.) in end- 2015, up from US$ 728 per sq. ft. in 2014 and US$ 546 per sq. ft. in 2013.
The median price of South Coast´s BCPI beachfront condos rose by 3.5% during 2015 to US$ 441 per sq. ft.
In terms of supply, Terra Caribbean noted that the West Coast is currently oversupplied, although demand is improving and prices are rising as new buyers enter the market. In the South Coast, main beachfront properties are sold out and there is no new pipeline supply, so an increase in resale prices is expected.
British tourists made up around 14.6% of arrivaals in 2015. Property demand from British buyers also increased greatly in 2015. Royal Westmoreland reportedly had their best sales period in more than 10 years, with US$ 60 million worth of villa sales as of June 2015.
"The drop in the strength of the pound has not slowed sales as the overall economic outlook is so buoyant in the UK," said Royal Westmoreland´s Sales Director, Kim Goddard. She noted that 99% of her sales inquiries came from the UK.
Goddard forecasted that residential property prices will increase by 3% to 5% in 2016, as demand continuous to grow for properties worth US$ 1.5 million to US$ 2.5 million, and properties worth US$ 10 million onwards.
"We are anticipating a good season as demand for property has increased this year (2015) and we predict this will continue next year (2016), especially amongst the British who account for the majority of our international sales," said Jeanie Mahon, from Knight Frank's Barbados office.
Generally there are no restrictions on foreign ownership in Barbados except for one formality: nonresidents must obtain permission from Barbados´ Central Bank if they want to buy property. This is pro forma, but failing to do so will void your purchase.
Foreign investors keeps the property market afloat
Barbados attracts a lot of foreign buyers. Properties in St. James and in St. Peter are popular among British buyers, while properties in south coast´s Christ Church parish are popular with Americans and Canadians, according to Cherita O'Dell of Million Dollar Homes.
"We live on foreign exchange and one of our biggest foreign exchange earners is selling properties to foreigners," said Lee Gooding of Seaside Realty Inc. "Overall it's very significant. I would say 40% of our customers are from overseas," he added.
In 2012, a new residency permit was introduced, offering indefinite residency to investors who purchase a property worth at least US$2 million and have a net worth in excess of US$5 million.
Best tourism record in 2015
In the first quarter of 2016, total visitor expenditure in Barbados expanded by around 20% during the year to Q1 2016, according to the Caribbean Tourism Organization´s (CTO) quarterly survey, due to a 7.4% growth in tourist arrivals and 14.9% rise in tourists´ average length of stay.
In 2015, tourist arrivals rose 13.9% to a historic high of 591,872 visitors, according to the Barbados Statistical Service.
"This year we have seen growth in all of the major areas of importance, including airlift, accommodations, and programmes to enhance the quality of our tourism product," said William Griffith, CEO of Barbados Tourism Management Inc (BTMI).
"We are also enjoying favourable global economic conditions in several key source markets, the price of oil is down and travelers are gaining greater confidence and now booking further in advance."
In 2015, stop-over arrivals from the USA were up by 24.9%, the highest y-o-y growth among the country´s visitor markets. Tourism from the Caribbean Community and Common Market (CARICOM) (excluding Trinidad & Tobago) rose by 14.8%, followed by growth in the UK market (14.6%), Canada (13.2%), Trinidad & Tobago (6.2%), and Germany (2.9%).
"In 2016 Barbados will be a hub for visitors as we will raise the standard of every event in line with our golden celebrations to mark our 50th year of independence. During these year-long celebrations there will be chances to win free vacations and free destination weddings, as well as incentives for our top-performing travel agents," according to Mr. Griffith.
Tourism accounted for around 12% of the country´s GDP in 2015, according to the World Travel and Tourism Council, and 12.3% of the country´s total employment.
Economy to expand further in 2016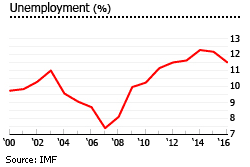 The economic signals are all good. Due to a strong winter tourist season the Barbadian economy grew by 1.7% during the year to Q1 2016, up from 0.5% the previous year, according to the Central Bank of Barbados, and this growth is expected to continue during 2016.
The central bank expects a 5% fiscal deficit for 2016-17, lower than 7.4% of GDP in 2015-16.
During the first quarter of 2016, inflation was at -0.6%, down from 1.6% in Q1 2015, according to the central bank – significantly lower than the 5.6% average from 2005 to 2013, according to the IMF.
Unemployment was 9.3% in the first quarter of 2016, down from 11.8% in Q1 2015, according to the Barbados Statistical Service.
Mortgage market and interest rates
Total outstanding mortgage loans for private dwellings in Barbados was around BBD 2.5 billion (US$ 1.2 billion) in April 2016, up by 2% from the same period last year, based on the figures from the Central Bank of Barbados. Though growth slowed over the past 3 years, Barbados´ mortgage market has grown from a meagre 8% of GDP in 1995, to 32% of GDP in 2015.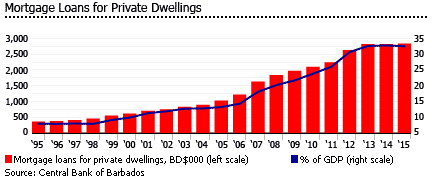 Non-residents can get mortgages with loan-to-value (LTV) ratios ranging from 50% to 70% (minimum loan of US$250,000) of the value of the real property, with maximum terms of up to 25 years, according to Terra Luxury:
60% – 70% LTV for US dollar mortgages up to US$2.5 million; and
50% LTV for mortgages more than US$2.5 million.
Only a few mortgage lenders were offering mortgages denominated in US dollars, including the Royal Bank of Canada and First Caribbean International Bank.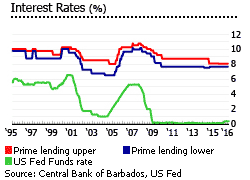 In order to qualify for a local-currency mortgage, borrowers must have been continuously resident for three years, according to Central Bank of Barbados rules. Foreign borrowers who do not qualify can only obtain foreign currency mortgages. Mortgage interest rates in Barbados range from 6% to 8.5%.
Foreign buyers often end up obtaining financing externally, because mortgage interest rates in Barbados are often higher than in European and North American countries. Over the past few years, US dollar loans have been attractive, especially for UK and European nationals. Their interest rate is linked to three-month US LIBOR plus the lender's mark-up.
Since 1975, the Barbados dollar has been pegged to the US dollar at BBD2 = US$1.
Rental market boom
Barbados has a thriving rental market, due to the number of tourists visiting the country every year. Mortgage rates in Barbados are also usually high, which makes renting more attractive than getting a loan.
Long-term rental properties are difficult to find in Barbados during the winter periods from November to April, and rents are much higher than usual.
Rents vary enormously between properties and location—apartments vs. houses vs. villas, furnished vs. unfurnished, inland vs. beachfront, West Coast vs. South Coast vs. East Coast. Rents for beachfront properties are higher than inland properties.
The least expensive long-rentals can be found on the East Coast, while prices are increasing in the South Coast. The most expensive properties are generally on the West Coast.
On the South Coast, an unfurnished three-bedroom house can be rented starting at US$ 1,350 per month. Rents for furnished three-bedroom houses range from US$ 1,500 to US$ 2,500 per month, while four-bedroom houses can be rented from US$ 3,000 to US$ 5,000.
Three-bedroom houses located in the West Coast can be rented from US$ 1,500 to US$ 5,000 per month. Five-bedroom houses have monthly rents ranging from around US$ 4,000 to US$ 9,000.
Luxury villa rentals range from US$2,500 to US$100,000 per week.
The famous West Coast
The West Coast, also called Platinum Coast, extends from the outskirts of Bridgetown (the country's capital) in the south to Harrisons in the parish of St. Lucy in the north.
Many homes belonging to famous celebrities and super-wealthy foreigners can be found here, as can one of the most exclusive resorts in Caribbean, Sandy Lane hotel and residences, a member of The Leading Hotels of the World (LHW). It is home to one of the most expensive golf courses ever built, designed by Tom Fazio – The Green Monkey. Five-bedroom luxury villas here can fetch prices ranging from US$10 million to US$25 million.
Royal Westmoreland, in the parish of St James on the west coast of Barbados, is the only completed gated community in Barbados. It has colonial-style homes and cottages among its 225 properties, a golf course and a beach club. The prices of apartments and villas in Royal Westmoreland range from US$395,000 to over US$4 million. In addition, fractional units, offering part ownership, are also available, starting at US$50,000.
Port Ferdinand Marina and Luxury Residences, in Six Mens, St. Peter, is a two-phased development completed in 2015 consisting of 82 luxury residences and 120 berths. It offers two-to four-bedroom houses with private berths costing from US$ 2.25 million to US$ 4.25 million.
In the Apes Hill Club, a 470 acre-luxury development with a world-class 18-hole golf course and enjoys views of both the West and East Coasts, lots can be purchased starting at U$ 350,000. Prices of villas range from US$ 850,000 to US$ 3.2 million.
In Port St. Charles, prices of one-bedroom unit start around US$635,000. In Saint Peter´s Bay, which is located near Port St. Charles, is comprised of 57 private beachfront homes, including 6 penthouse suites and 3 deluxe penthouse suites. Its three-bedroom homes can be bought starting at US$ 2.3 million.
A relatively new lifestyle community in St. Peter, Vuemont, is one of the developments that targets families looking for affordable homes. It has 77 residences that costs starting from US$ 291,983 for two-bedroom apartments, and starting from US$ 359,200 for three-bedroom villas.
In St. James, four-bedroom villas are priced from US$2.5 million to US$3 million. The Grove, the residential component of the Limegrove Lifestyle Centre located in St. James, offers three-bedroom Hillside Villas ranging from US$ 550,000 to US$ 700,000.
Developments on the South Coast
The South Coast, which begins at Carlisle Bay in Bridgetown and heads towards East Point on the Atlantic east coast, is less busy and has a more local feel. It caters mostly to the mid-market and has seen tremendous growth, with numerous developments already completed and delivered.
According to Cherita O'Dell, Million Dollar Homes and Barbados Real Estate 246 broker, luxury beachfront condominiums in the south coast range from US$3.75 million to US$ 5 million. Meanwhile, condominiums across from the beach costs from US$ 450,000 to US$ 650,000.
The Crane Resort and Residences, built in 1887, is one of the oldest resorts in Barbados. Its residential component has expanded over the years, and new villa-style residences have been completed in 2009. Full ownership homes in the Crane are sold starting at around US$ 685,000.
The Villages at Coverley, a new lifestyle community located in Christ Church, currently offers two-bedroom homes at BBD 289,400 (US$ 146,183) and three-bedroom homes at BBD 342,100 (US$ 172,803).
The Palisades development in Enterprise, which consists of 16 townhouses and one cliff-top house, enjoys extensive ocean views of the South Coast. Prices of residences start at US$ 850,000.
In Kent, Christ Church, a new community called South View, consists of 109 land lots and 46 town houses, and is close to many South Coast amenities such as the Sheraton Mall and The Garfield Sobers Complex. Two-bedroom homes can be bought starting at US$ 272,500, and three-bedroom homes cost from US$ 297,500.
East Coast to remain "local"
The East Coast on the Atlantic side of Barbados is better known for its rugged beauty. Because of huge Atlantic waves crashing along the shorelines, swimming is not advisable. However, beaches on the east coast are popular for walking, surfing and beachcombing.
Much of the eastern coastline is protected land, part of a National Park. Hence, though foreign investment interest in the area has significantly increased in the past years, it is difficult to obtain building or planning permission.
Some popular East Coast beaches include the Bathsheba beach, Cattlewash beach, and Crane beach.
The Villa Nova Plantation in St. John, an approximately 15-acre property of tropical forest and gardens with a total of 28 rooms, is currently for sale at around US$10 million. The property has an industrial kitchen and restaurant, spa treatment cottages, large pool with bar and gazebo, two tennis courts, and conference facilities.
In Bathsheba, St. Joseph, a boutique hotel with magnificent ocean views Sea-U Guest House, which consists of 10 individual rooms, can be bought for US$ 1.35 million.
Source: Global-Property-Guide