Dubai is one amongst the global metropolises that evokes the feeling awe with its sheer grandiose. The city is credited for having the largest/ biggest/ deepest buildings, malls, ports, airport & communities in the world. An abode to over 200 nationalities, it offers a standard of living, that many of its counterparts in the 1st world wishes to emulate.
Similar to the striking exemplars of development that the city has showcased to the globe; equally exciting has been its growth journey, from a fishing & trading village to a mega-metropolis. Its growth momentum at any point of time has been an integration between regional & global economic opportunities & its evolving internal capabilities.
So here is a snapshot of how the emirate's economy has evolved from the maritime trade in the 60s to relatively new catchments on its southern frontiers, enshrining the future of the emirate.
1st Wave: During 50s & 60s- When Sea & Creek Defined the Upcoming Emirate
Flash back over 50 years and one can't even trace an inch of what today's Dubai is all about. The city's economy was primarily reliant on the maritime trade & fishing etc. Its geographical proximity to Iran fostered large volume of trade between the two. There were also trading relationship with other Arab countries & Indian Sub-continent. Al though still an evolving economy, revenue generated from trade was channelized into infrastructure development such as roadways, hotels, hospitals & airport, thereby giving Dubai its 1st rendezvous with development.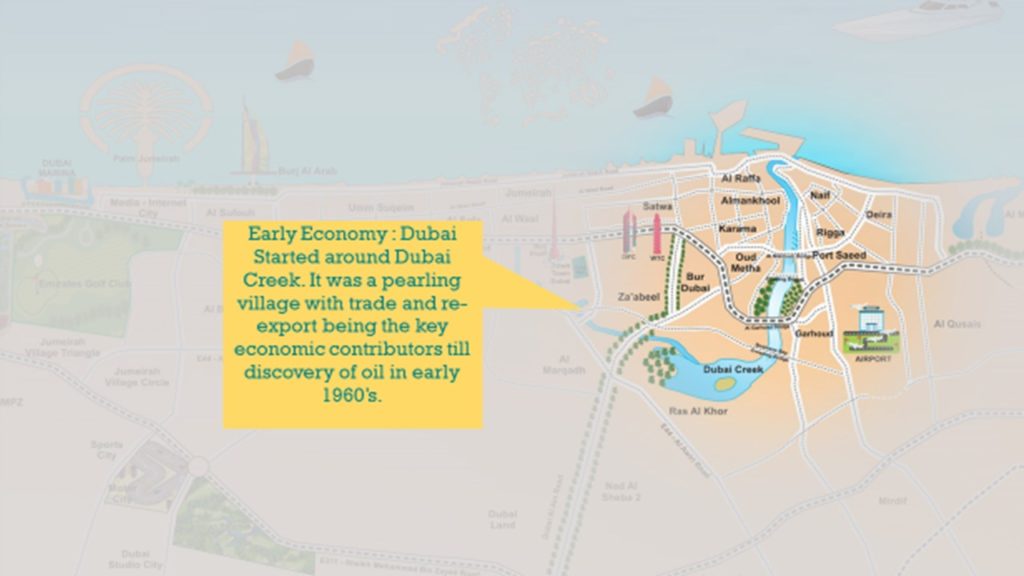 Due to the maritime nature of the economy, Dubai creek was the major epicenter of Dubai's economy. Major markets & Souqs were located around the Creek.
2nd Wave: 90s & 2000s- Sheikh Zayed Road Defined a Diversifying Dubai
In 1966, the city has a change in fortune with the discovery of oil. Large wealth was generated that as a part of diversification strategy was subsequently invested into developing state of the art infrastructure & modern facilities. This soon saw Dubai evolving from an upcoming township to a highly advanced metropolis fraught of spellbinding skyscrapers, mega malls, world class hotels & urban communities.
The significant part of new economic growth of Dubai was centered around Sheikh Zayed Road (SZR)- Part of E-11 Road that connects Abu Dhabi to Ras-Al-Khaimiah. SZR that was connected with key economic, residential & tourist destinations such as, Downtown Dubai, Dubai World Trade Center (DWTC), Dubai Media City, Dubai International Financial Center (DIFC), Dubai Marina & much more has now become the hub of new Dubai- A city that was aggressively transforming into trade, tourism, aviation, realty & fiancé hub of international repute.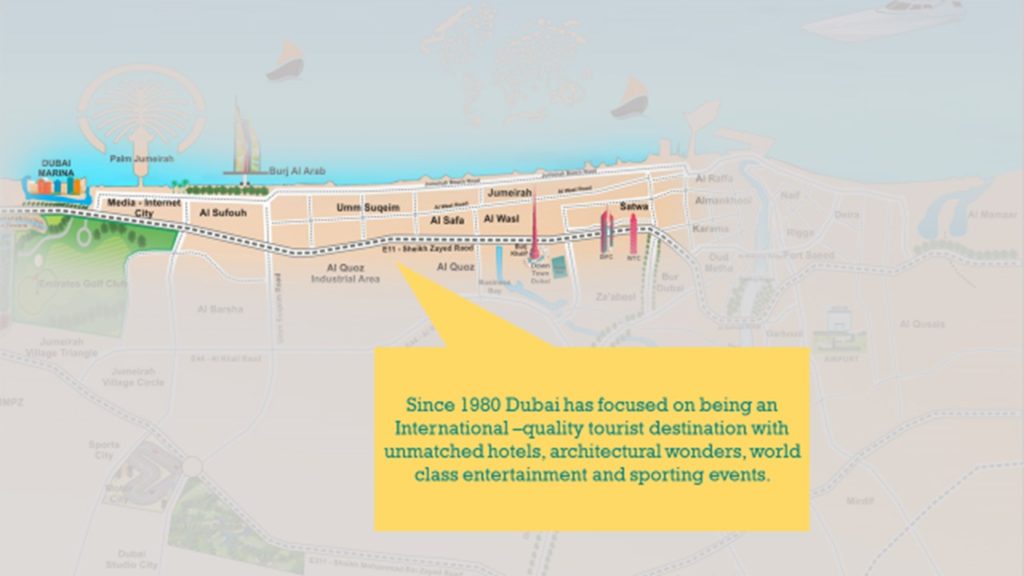 SZR was were Dubai's major government offices, embassies, trade centers & hotels existed & so does the gears of its economic momentum during 90s & 2000s.
The Third Wave: Post 2010- Dubai Moves Southwards
There were turn of event or rather events, that defined the commencement the city's 3rd wave, seeing it unfolding towards its southern frontiers.
Firstly, high demand led to the skyrocketing of prices of residential & commercial properties in & around SZR- making even the minor alps self-conscious. This led to the development of new communities such as Dubai Sports City, Dubai Studio City, Arabian Ranches & International Media Production Zone (IMPZ) etc. catering to both residential & commercial requirements. Secondly, new mammoth projects such as Dubai Investment Project (DIP), Al Maktoum International Airport & Dubai South- Centered around Al Maktoum International Airport, will be a whole new city. Thirdly & most importantly, 2010 also saw unveiling of a high voltage campaign for World Expo 2020, that eventually saw Dubai winning the bid in 2013. The proposed site for the World Expo that will consists a world class convention centers along with host of hotels, retail & entertainment facilities is being constructed near the Al Maktoum International Airport.
All these events that unfolded more or less during the same time had shifted the economic focus of Dubai Southwards. For instance, the under development Dubai South, alone is expected to generate 500,000 new jobs & will be home to 1,000,000 new individuals once completed. Spread across an area of 145 Sq. Km, the city will translate, Dubai's leadership's dream of a happy & sustainable living.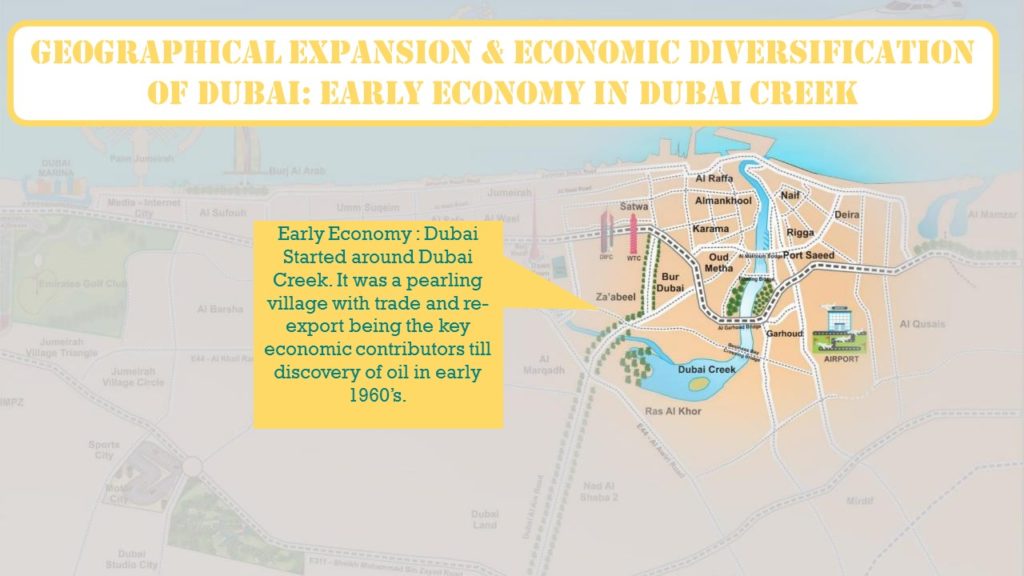 More Growth to Follow Southwards
In the coming time more economic activities are set to follow in Southern parts of Dubai. According to estimates by the Dubai Economic Department (DED), roughly 227,000 new jobs & a total economic output worth USD 24 billion is expected to be added to the city's economy by 2022. Likewise, Al Maktoum international airport, once completed will manage 220 million new passengers annually, thereby spearheading a whole new gamut of economic activities related to aviation, trade & tourism. The high octane business & commercial activities will keep rolling the economic velocity in the location & fuel demand for residential & commercial real estate in leaps & bounds.
Upcoming Real Estate
Analyzing the present circumstances of Dubai, it could be safely predicted that the focal point of Dubai's economy has started shifting Southwards- In & around the world expo site. Hence, the same will be true for the real estate industry as well, whose dynamics are generally synonymous with the economic growth trajectories.
Along with Dubai South, which many believe is the future of Dubai, other residential communities in the proximity, such as Dubai Sports City, Arabian Ranches, Dubai Studio City & International IMPZ have started to pick up fast & are expected to gather large tractions in the coming time. Increasingly these locations are focusing on the concept of affordable luxury, wherein a high standard of living are offered on a cost effective budget, falling within the limits of a large populace. This will further fuel dema