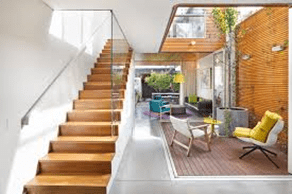 Internal staircase Vastu principles lay down several core tenets of integrating them within homes with multiple stories. Adhering to the same will usher in greater prosperity for members of any home.
Wondering about internal staircase Vastu principles and why they are important? The ancient Vastu Shastra guidelines lay equal emphasis on each and every component of the home, laying down basic dos and don'ts in order to optimize well-being, happiness, prosperity and good health. Staircases are a pivotal part of any independent home, apartment building or commercial establishment. In case they are not suitably placed, it may lead to an accumulation of negative energy which may wash away all the accumulated positive vibes of the space.
Direction and other tenets as per internal staircase Vastu principles
Internal staircase Vastu guidelines clearly state that all such structures should be constructed in a manner where the person climbing the steps moves to the southward direction from the north. The movement can also be from east to west. Any other type of movement will bring negative energy. This applies for both external and internal staircases across both residential and commercial properties. Staircases are perceived as spaces with abundant energy flow and hence this should go clockwise as someone uses them.
Vastu for internal staircases states that the number of steps should be in an odd number, i.e. 15, 19, 17 and so on. This is because a majority of individuals are right-handed and put the right foot forward while climbing. While finishing up, they end with the right foot as well. It is only possible when there are an odd number of steps on the staircase. Putting the right foot forward is equated with greater gains while the left one is equated with losses.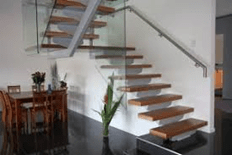 Internal staircase Vastu tips that you can use
When it comes to some handy internal staircase Vastu tips, you should know that the height difference should be optimal between the steps. The walls adjoining the structure must have colorful pots, flowers or even wallpaper. Colorful décor will naturally usher in more positive energy between floors. You should refrain from constructing any staircase in the north-eastern corner of any structure irrespective of whether it is external or internal. Other rooms such as Pooja rooms or bathrooms must not be slotted under the staircase. You may use the space for storage purposes however.
Avoid putting the staircase right in front of the home entrance since this creates a sense of imbalance overall. This can be combated by putting indoor plants on the staircase. Build your staircase in the southern or western portion of the dwelling. Make sure that the number of steps does not end with zero. Spiral staircases may be harbingers of poor health and those encircling whole buildings are also avoidable. Rooms with staircases in south-west portions of basements are not advisable and doors should be there at both the end and beginning of the structure. Stairs must not touch eastern or northern walls. Repair broken steps swiftly without delays.