You can take the example of Katrina Kaif playing Jenny in Ajab Prem Ki Gajab Kahani in 2009 or her most-loved character of Laila in Zindagi Na Milegi Dobara in 2011, a hint of free spirit will be quite evident in the roles that she has played over the years. But you will also sense warmth and comfort in her role as Meera in Jab Tak Hai Jaan. The roles have somehow portrayed certain traits of her real personality which she carries off the screen. An aspect of her life that would surely intrigue her fans is that her personality also reflects in her abode that has been called a bohemian paradise over and again. Katrina Kaif house Bandra is distinguished from the dwelling of other celebrities as it leaves behind the rat race of incorporating modern aesthetics and sticks to the rustic and vintage vibe, delivering the utmost sense of comfort as a house.
It is the duo of the interior architect Darshini Shah and Bollywood's favorite stylist Anaita Shroff Adajania that are behind the beauty of the Katrina Kaif house Mumbai. The pair describes the vibe of Kaif's house as a semi-vacational one while being completely functional and fresh. They further revealed that it was New York, sourcing trips in India, and Brooklyn Loft Houses that inspired the overall aesthetics of Katrina Kaif House. An amazing collection of rugs and tapestries were sourced from different parts of the world and like the celebrity's eclectic personality, the house also celebrates similar art. You can easily spot multiple displays of vintage, pop, and contemporary art in her house and the dwelling can surely be called an amalgamation of multiple elements and layers.
With the rising number of Katrina's Instagram posts revealing the corners of her house that speak of mix and match of diverse artifacts and trinkets, her fans' desire to get a sneak peek of her house has also risen. In her posts, you can spot her cooking, playing some melodies on guitar, and showcasing her ever-stunning workout routine which surely inspires her fans to change their routine while thinking about modifying their living space too. So, here we are with a glimpse of what your favorite celebrity Katrina Kaif house looks like. Keep reading!
The living room is surely a hotspot of varied trinkets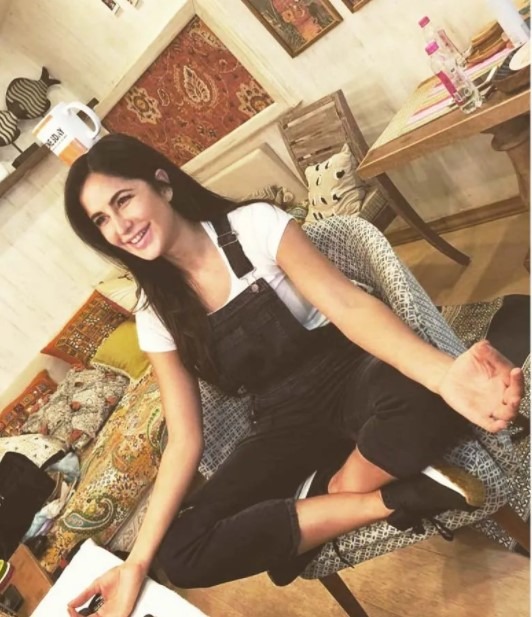 Like the other corners and places of Katrina Kaif house interior, her living room is also a melange of cool accents and wooden detailing. With vibrant curios, you can spot a collection of vintage cabinets complementing the light wooden flooring. A frame of shelves with wooden slabs is what adorns her treasured collection of books and the awards that she has won over the course of her acting career. The shelf and a string of rustic mirrors with golden frames are separated by a white-washed door. To put together the living room, a sofa with a dark-hued frame is placed next to a colorful cane trunk. During the lockdown, she shared a post that showed her playing cricket with a broom in this area of her abode and it was immensely loved by her fans.
About the most romantic and cozy corner of Kaif's house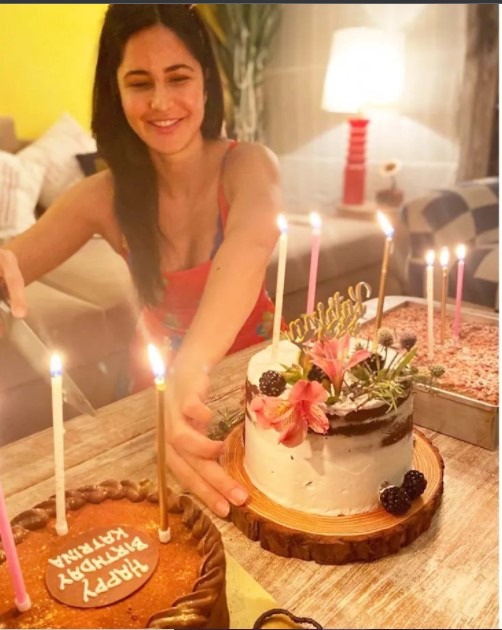 Well, expecting Katrina Kaif to give in to the mainstream and reigning trend of minimalism is futile. She fairly portrays how being tasteful and busy can be put together in a house's corner to make it eye candy. This corner of her house has a neat white sofa resting against an exposed brick wall adorned with multi-colored blinders. The portion also comprises a flower vase, an offbeat blue and green table, two silver cherubs, and many quirky cushions.
Now here's where Katrina does let minimalism fall in, her bathroom and bedroom
A differing aspect of Katrina Kaif House is her bedroom set up neat and white with natural linens spread across her bed and oakwood furniture completing the room. In her Instagram post, you can notice her bed decorated with huge white and purple cushions and a duvet in the ochre yellow shade which she claims to love. And the element that isn't cohesive to the white walls of the room is a sunflower mirror in the hue of burnt orange. With Katrina Kaif's disciplined workout routine, this snuggly abode is sure to give her peace and actually make her feel at home after a long and tiring day of work. Talking about her bathroom, maybe it's the minimalistic interiors that make it the ideal spot for reading books for her. It's all about the wood in her bathroom from shelves to hooks, but the backgrounds still remain to be similar to that of her bedroom.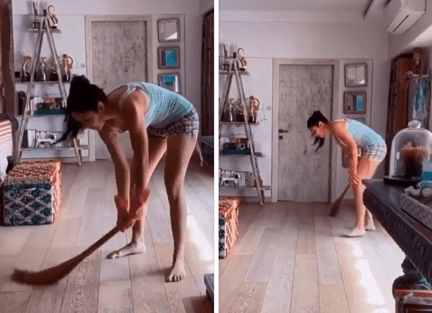 Kaif's favorite spot for clicking pictures
You will usually spot celebrities flaunting the poshest corner of their house on Instagram and making it the hotspot of clicking pictures. But this is not the case with Miss Kaif, she loves putting out pictures on Instagram that are clicked on her terrace. If you vibe to the song 'Kudi Nu Nachne De,' let us tell you that her terrace is the spot where she dances while shooting for this song. Through her social media, Katrina Kaif gives us some glimpses of her workout mat placed on the terrace to carry out her daily workout routine.
The rustic hint of Katrina Kaif house from inside through the winding staircase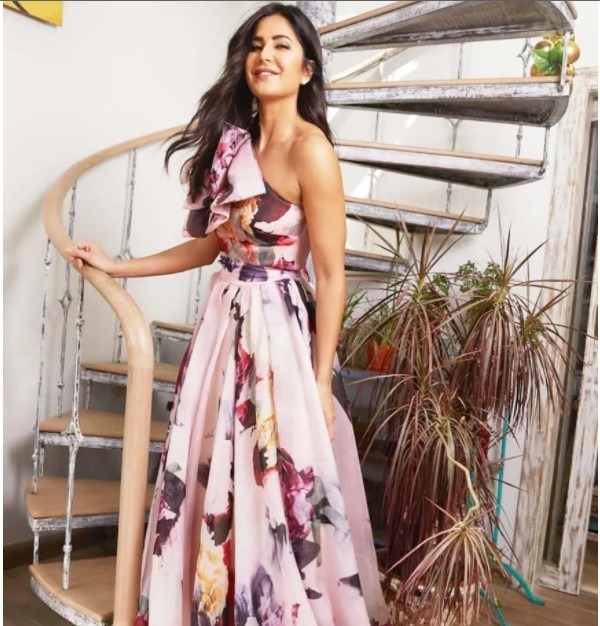 Check her Instagram profile, and you will notice that the second hotspot for her pictures and videos is the winding staircase in her abode. With cane sleeves adorning the base of the staircase, potted plants embellished, this surely delivers the rustic vibe which Katrina seems to love.
Anaita Shroff Adajania says that taking a tour of Katrina Kaif house delivers the feel of reading a diary because every room has an element holding a story behind it. Every room and corner of her house is eye candy and if you have a habit of collecting souvenirs from wherever you travel, you should take inspiration from Katrina Kaif house photo to see how well she has put together the contrasting elements and turned them into a customized space. Balanced, eclectic, and laid back are the three adjectives that describe the stunning Katrina Kaif's house to the fullest.
You May Also Like
Frequently Asked Questions (FAQs)
Where is Katrina Kaif House?
It is in Andheri West's Mourya in the city of Mumbai
Where is Katrina Kaif house in London?
It is in the Hampstead Village