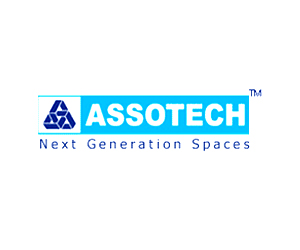 The Assotech Group is a leading real estate conglomerate in the country with almost INR 33 billion worth of projects currently in various stages of execution and development.
Assotech Developers was founded as Assotech Limited in the year 1987 and the Group comprises of several well known companies offering real estate development and all other activities related to construction and development. The Group has a huge presence in northern and eastern parts of the country and has completed several prestigious projects till date.
The portfolio of Assotech properties encompasses several residential, corporate, hospitality and retail spaces based on its motto Next Generation Spaces. The Group has earned the ISO 9001: 2008 certification and possesses rich experience in offering reliability with high standard quality as another motto stands for. The Group is credited with the Tall, Iconic, Luxurious concept introduced in Delhi-NCR for high rise towers which offer gorgeous views of the city skyline and also the MUVS concept which stands for multi utility variable spaces and become homes that do more. The Group also introduced the Moves concept which stands for my own versatile expansive space and this becomes homes that give more.
Why Assotech?
All Assotech residential projects are built on the basis of 7 Cs, namely Capability, Competence, Credibility, Comprehensive, Consistency, Cost Effective and Confidence. The Group offers reliability and the highest quality to customers at its projects in addition to emphasizing on innovative and futuristic designs backed by engineering excellence and adherence to stringent quality guidelines. The Group is committed towards building spaces for the next generation and this futuristic outlook is present in its design and architectural layouts. The Group hands over projects to customers in a timely manner and emphasizes hugely on customer satisfaction above all else.
The Group establishes long term and fulfilling customer relationships and offers all professional assistance and advanced information necessary. The Group believes in integrity and transparency above all else. The Group offers excellent natural resource usage at projects with a view towards maximizing natural light and ventilation and also ensuring optimized temperature for residents. The Group believes in offering flexi homes that can be adapted as per the needs of customers and engages in comprehensive planning and research prior to project development and execution with a view towards understanding and fulfilling customer needs in the best possible manner.
Major Projects
The Group has built several landmark projects over the years and here's taking a look at some of them:
Breeze- This premium residential project offers Vaastu compliant and impeccably planned apartments with three sides open. There are spacious balconies and rooms on offer at every apartment coupled with ample ventilation, sunlight and lovely views. The project offers a central park along with 75% open areas and amenities like split air conditioners, wardrobes and modular kitchens in every apartment
The Cosmopolis- This ultra luxury project is located at Dumduma along the NH-5 in Bhubaneswar. The project spreads over 9 acres and comprises of 666 apartments in all. The project offers abundant natural greenery to residents along with a global design and supreme quality. The project offers a club house, gymnasium, swimming pool, pool for kids, library room, meditation room, power backup and a lot more
Celeste Towers- This landmark residential project offers globally designs and world class amenities and facilities. Located at Sector 44 in Noida, this is one of the tallest luxury towers and will offer a unique 360 degree view of the city skyline. The project offers limited apartments and condominiums to residents along with spa facilities, an infinity pool, well equipped gymnasium and more. The landscaping of the project has been done by globally renowned Belt Collins-Singapore while Leo International- Bangkok has taken care of the interiors with lighting consultancy by Bo Steiber Lighting Design Singapore