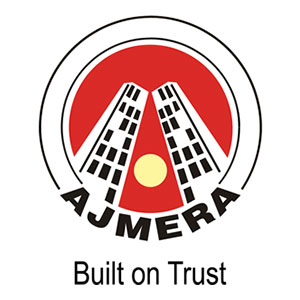 Ajmera Developers is one of the country's most reputed and leading real estate companies and has experience of 47 years and the Ajmera Group has also diversified into other segments like vaults security, solar power, cement, sports and social welfare.
The portfolio of Ajmera properties includes several projects in and around Mumbai in addition to Pune, Surat, Ahmedabad, Bangalore and Rajkot in addition to a global project at Bahrain. Ajmera Builders believes in innovation, quality, aesthetic appeal and comfort and has transformed into a major realty conglomerate in recent times.
Why Ajmera?
All Ajmera residential projects are developed by leading engineers and architects along with skilled professionals. The Group believes in core values like trust, integrity, transparency, aesthetic appeal, design excellence, functionality, comfort and customer satisfaction. The latter aspect is taken very seriously by the Group.
The Group focuses on sustainable development and believes in trust, goodwill and long lasting customer relationships. The Group offers housing solutions for almost market segment. The Group offers world class housing propositions for customers at comparatively affordable and reasonable rates. The Group offers spacious housing solutions to customers along with premium amenities and facilities. The Group emphasizes hugely on project quality and adheres to stringent quality standards. The Group believes in seamless project execution and seeks to offer greater value propositions to its customers.
Why Ajmera?
There are several Ajmera projects that have become landmarks in their own right over the years and this tally also includes multiple Ajmera upcoming projects. A few of these are listed below:
Ajmera Aeon- This premium project goes up to 49 storeys and offers premium 2, 3 and 4 BHK homes to buyers along with cutting edge contemporary amenities and facilities. The project has been planned by Singapore based Space Matrix architects. The project offers diverse facilities, clean renewable energy, the latest technological advancements and single access control for multiple facilities. This luxuriously designed project is located at Bhakti Park in Wadala
New Era- This project offers luxuriously designed 1 and 2 BHK new generation homes along with a nature friendly and pollution free living ambience. The pristine and lush green landscapes promise a visual treat while there are 18 storey towers containing almost all contemporary conveniences that you can think of
Ajmera Villows- This novel residential project at Bangalore offers breath taking Mexican design inspired villas along with exclusive facilities and other amenities. The project comes with spectacular interiors, innovative and supremely functional floor plans, high ceilings and grand layouts. The project offers amenities like a fitness and spa centre, lounge, polyclinic, library, garden terrace, tennis and basketball courts, skating rink, jogging track, mini golf, swimming pool, cricket pitch and many more