Is the work from home making you lethargic? Do you feel the absence of a designated workspace at home? Don't let the unexpected Work From Home bring down your morale and prevent you from being the high performing employee. Setting up a home office for remote work can inspire you to rock your workday like a boss and be Crazy Productive.
From the wakeup alarm, sweaty commute to the office to the morning coffee gossip sessions, everything has come to a standstill after the lockdown. While Work From Home has become the new normal, it can be utterly satisfying and productive if you have your designated workspace.
With these effective Home Office Tips you can set up an inspiring workspace that can boost your productivity at work:
A Designated Place Can Do Wonders
Do you feel distracted from household chores, TV noise, your kids messing around, or pets constantly woofing?
The foremost thing to do while planning for Office Setup In Home is to search for a place which is secluded from the rest of your home. Ideally, your home office should be in an isolated place where you can minimize distractions.
Tip: Even if you don't have spare space at home, a covered balcony, a garden shed or even a storeroom can be converted to a home office
Why Not Incorporate Your Style?
Do you feel a little sluggish or not fully satisfied with your current workspace at home? A visually appealing workspace that reflects your personality can affect your productivity, mood, and enjoyment at work. Close your eyes and imagine what your ideal workspace should look like.
For instance, if you have a creative job,
You can hang inspirational art paintings
Embellish your space using quirky decorative pieces
Design your DIY decors
Tip: For Best Home Office Setup For Productivity you can try aromatherapy that diffuses essential oils to set a mood in your workspace
A Good Chair Can Make A Huge Difference
A comfortable chair is the most essential component of your home office. If the chair is uncomfortable it might impact your body posture, injure your backbone, and hamper your productivity.
While selecting the chair make sure:
The chair arms are adjustable and close to the body
The chair is not too low
The seating material is comfortable
Tip: If you can afford, purchase an ergonomic chair that can be adjusted as per your body and workspace
Choose The Right Desk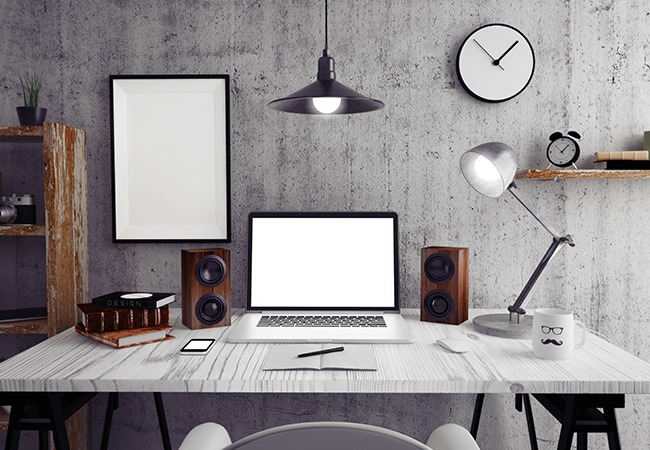 Select a desk that can accommodate all your office essentials without making it look cluttered. While sitting and working for hours can adversely impact our health, why not consider buying a standing desk? For the perfect Work From Home desk setup, a standing desk can improve your health and productivity.
Tip: If you don't feel the need to invest your money in a standing desk you can consider a standing desk extender that allows you to turn any surface into a desk extender
Include Natural Light In Your Work Space
Working in a space with plenty of natural light can improve your productivity and reduce eye strain and headaches. Improper or dull lighting can cause eye fatigue and drowsiness, which can hamper creativity level and mental health.
Sit under windows facing south as they give you abundant natural sunlight
Opt for a desk lamp or floor lamp
Try to position your chair and desk in a well-lit room
Tip: If you have a window that gives plenty of natural light you can move your desk right under the window to access maximum natural light
Ever Thought Of Creating A Green Workspace?
According to Feng Shui, green color can bring a feeling of calm and is also associated with growth. Incorporating green plants in your workspace can remove toxins from the air, promote a productive environment, and add a touch of style to your workspace.
Lucky Bamboo, Snake plant, English Ivy are some of the best suited indoor plants for creating a healthy work ambience at home.
Use plants that are low in maintenance
Plants that can improve air quality
Plants that need minimum sunlight
Tip: If you don't have ample space for placing indoor plants hanging trailing plants is a smart way to give a refreshing look to your workspace
While work from home can be a little challenging during the ongoing uncertainty by setting up your office space you can create a relaxing and productive work environment at home.