Monsoon is one time when you want to enjoy the pitter-patter of outside. It is the most romantic time of the year which we all have read and enjoyed at some or another point of our life. Our balcony becomes our favourite place in this season. Would you like to try some balcony décor DIY?
Balcony is one of the most important places in your house where you can lay back, get destressed, also spend quality time with your significant other and your family. Your balcony is a place which can become window to your personality and there are many ways you can decorate your balcony elegantly as per your choice.
Perk up the walls with wall planters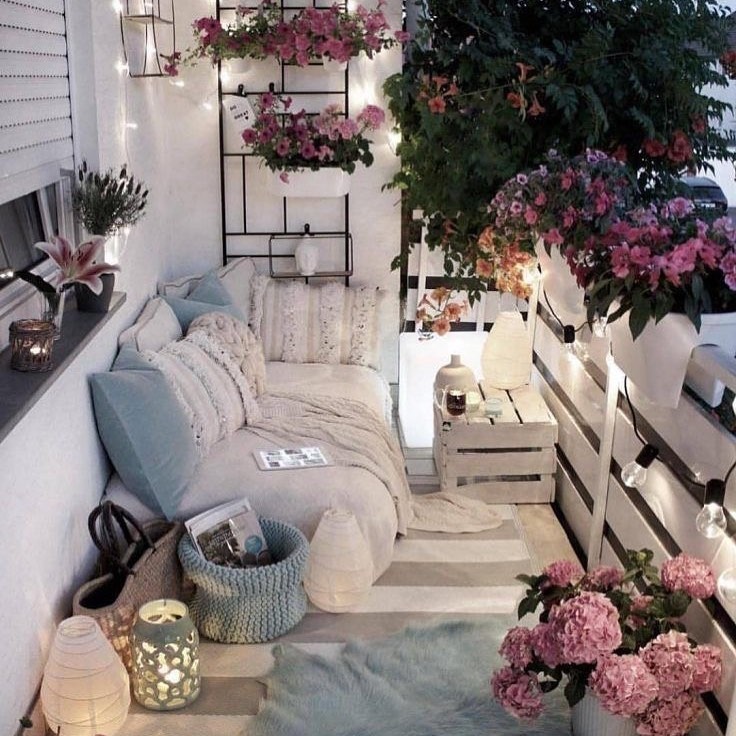 One of the great ways to perk up your balcony is to decorate your walls. Using wall planters to make your walls look colourful is a great way to get a head start. You can choose the colours as per your personality, try picking bright colours like yellow, blue, or pink. If you want to bring out painter in you, you can always paint them on your own using acrylic or spray paints.
Use Fairy Lights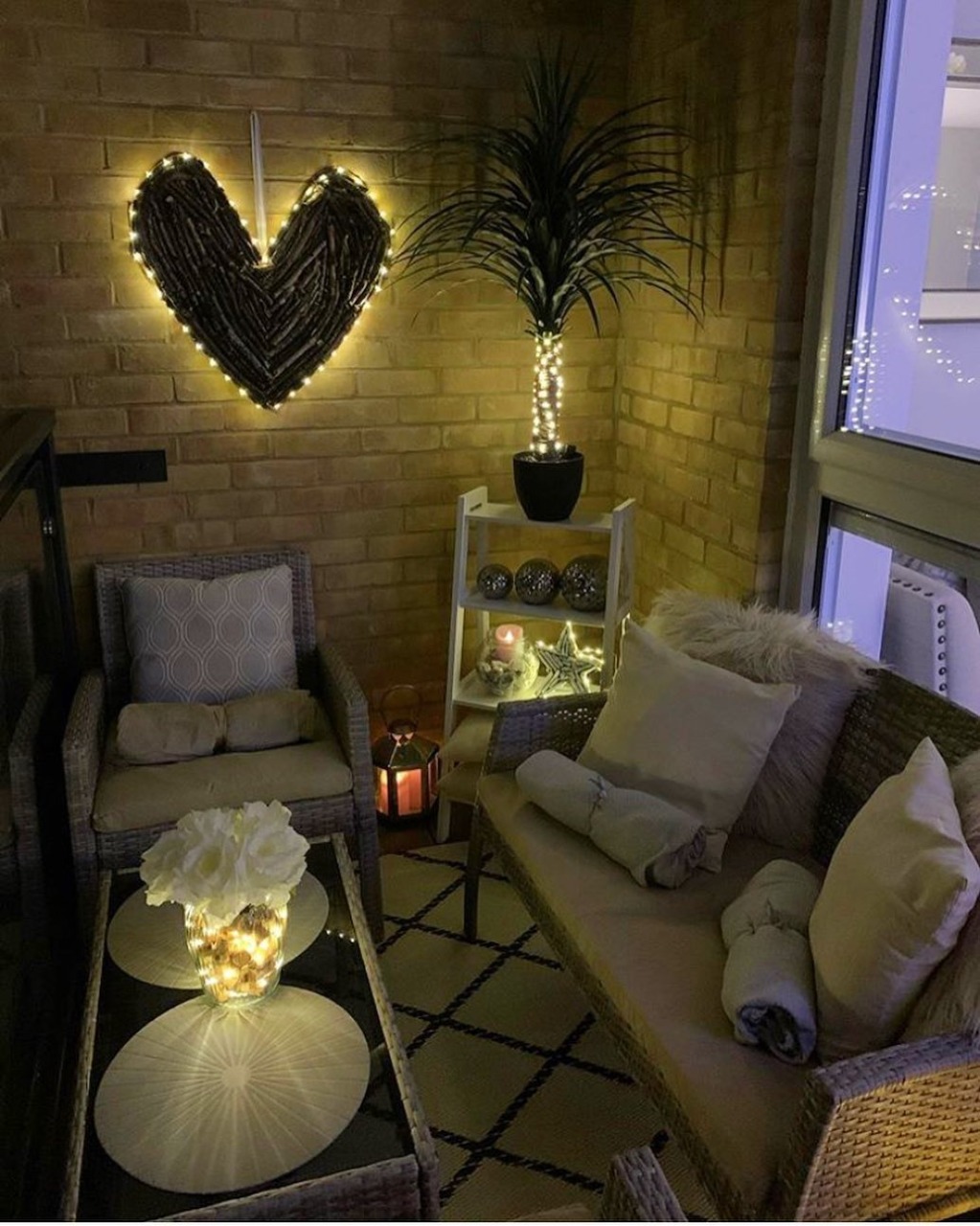 Another great addition to decorate your balcony is using fairy lights. It lightens up your balcony and brightens your mood. You can try using them combining with your plants or with small hanging cage. You can always write stuff with the lights on the wall to make you smile whenever you see it.
Hanging or Paintings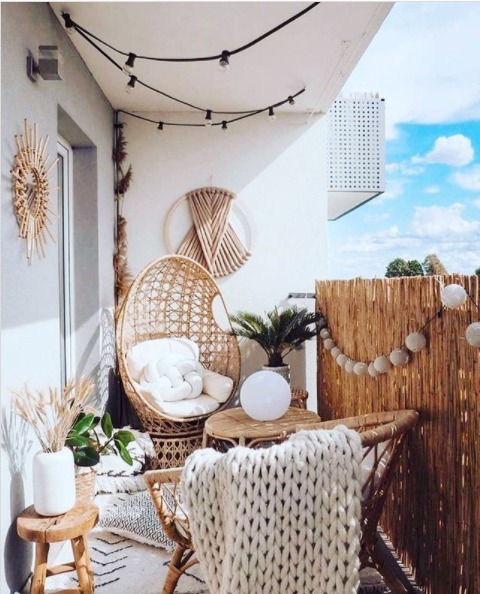 You can try collecting small toys like birds, owl, small table chairs, or even men women may look good in the plants. You can keep a small cabinet or brackets to decorate your balcony with small toys. You can always use a small doll above the pencil as well.
Use Unused furniture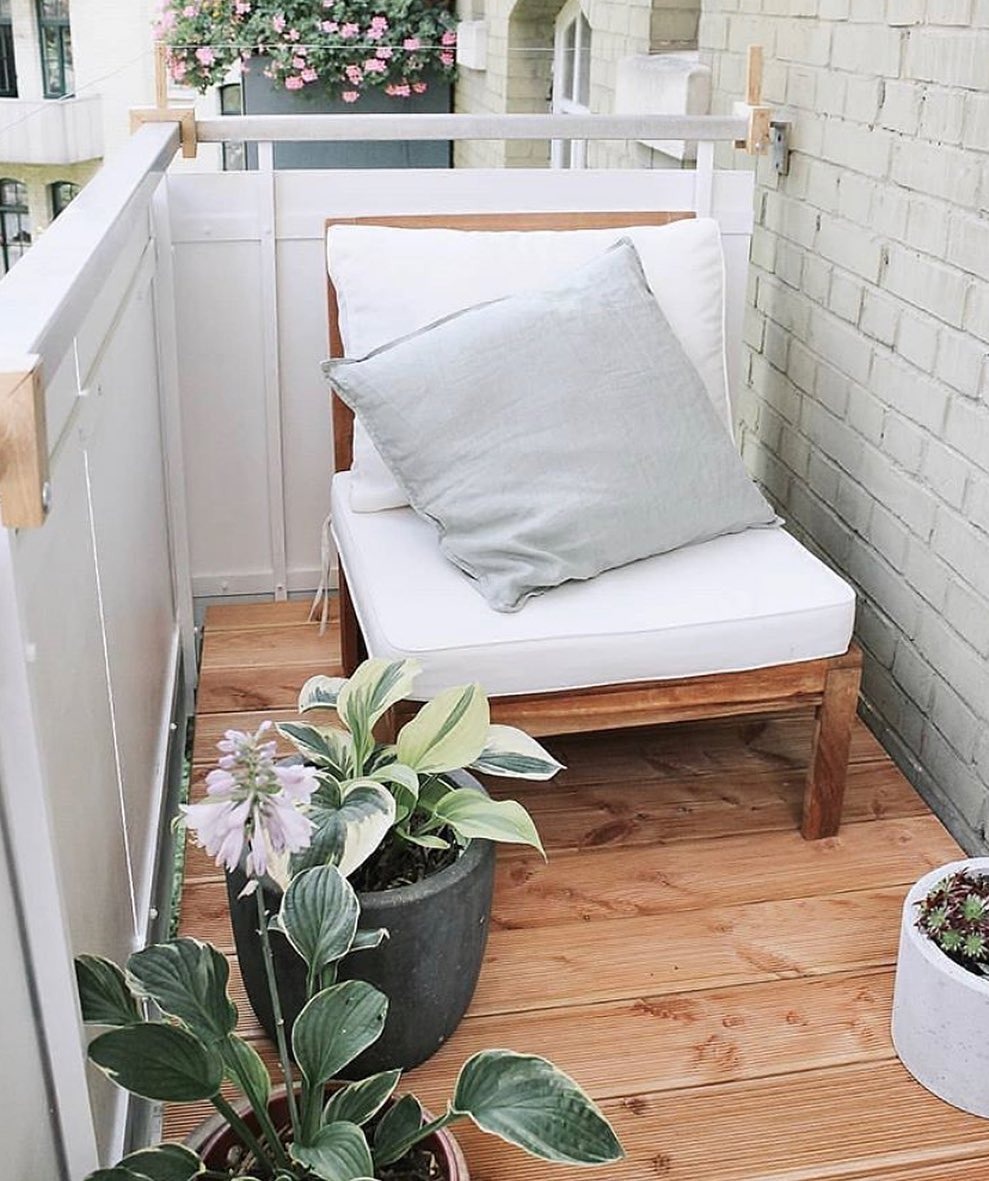 This is the time when you can put all the unused furniture to use. You can paint the background of your wall matching with the furniture to install a chair or two in your balcony. You can cover them with the rug which can provide you comfort to sit. You can also keep a small table to enjoy your sip of coffee or your favourite books read.
Wall Stickers & unused bottles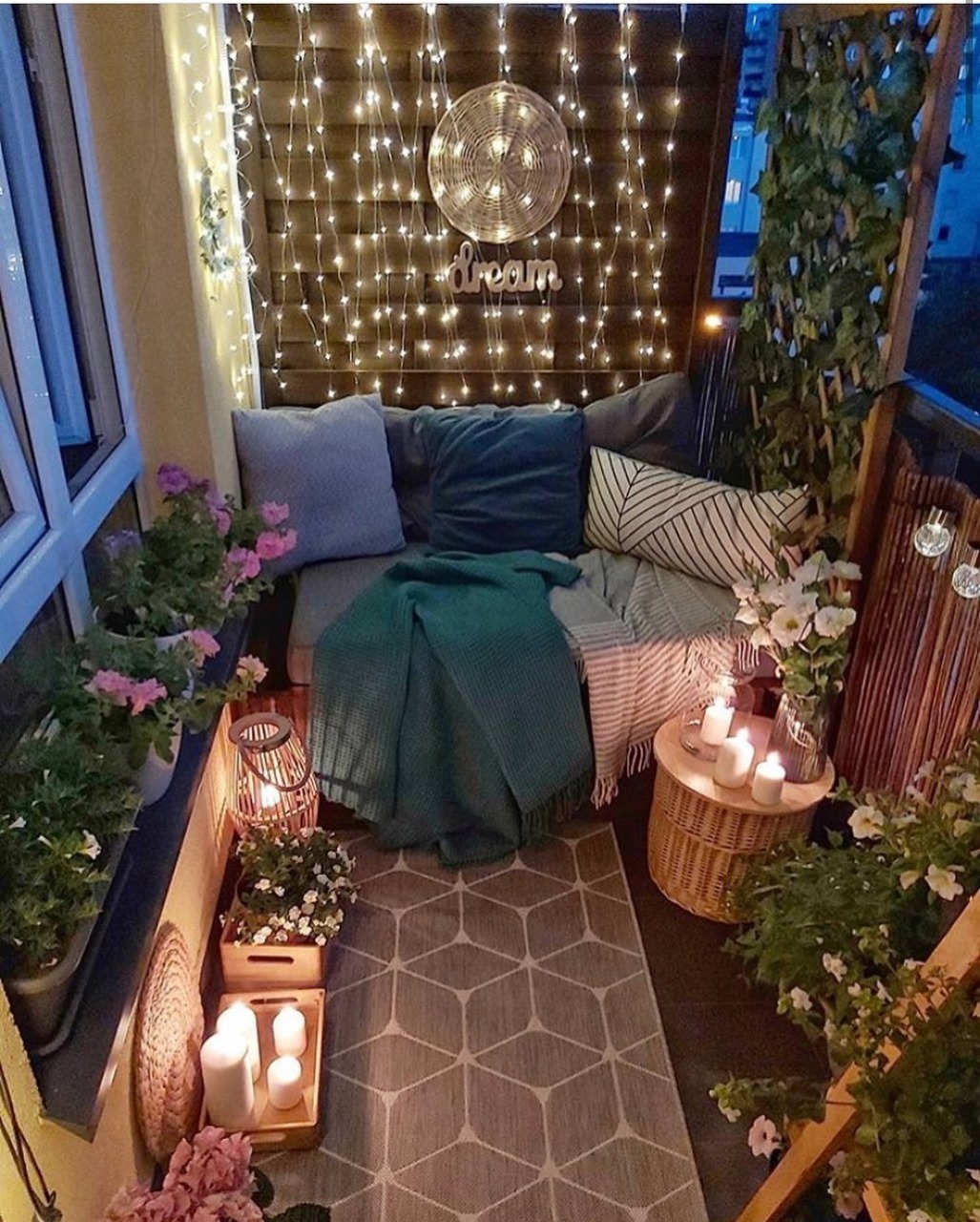 You can always find some wall stickers from any stationery and can stick it in the pattern you like. You can stick some birds around your plants or can use some stars on the ceiling. Or else you can always use the stickers of welcome quotes. If you have some small unused glass bottles, you can tie them one after another and can hand it in one corner of your balcony. By adding some water and a few stems of money plant can add to the beauty of your balcony.
If you try all these DIY, you'll certainly have a beautiful space to relax and enjoy your monsoon with every bit of it. You own personal garden will add up to the freshness and will keep you positive and happy with the pitter-patter fun.
A balcony is a blessing, particularly in today's congested and stressed times in metro cities where most of us live in smaller apartments. It represents that open patch of tranquility, overlooking the sky and sometimes lovely greenery in turn. It is a spot of solace, intimate conversations and simply relaxing all by oneself at the end of a hectic day.
You will find several DIY for balcony ideas that you can use in this regard. There are several DIY balcony concepts and ideas that will help you create a warm, welcoming and soothing space for yourself and your family. This will also come in handy whenever you are entertaining guests as well. These ideas will not take up too much time on your part while staying comfortably within budget.
DIY Balcony Décor Themes- Some innovative ideas
Integrate a small table - You will require a café table and chair for enjoying a morning cuppa by yourself or with a loved one in the balcony. You can also store this inside whenever required. This is one of the simplest and most affordable DIY balcony ideas that you should take a closer look at.
In-Built Seating- You can scale up overall square footage with in-built bench-type seating solutions. You will also not have to bother about furniture getting knocked over or damaged on account of strong winds if you opt for this solution.
Infuse more Greenery- There are several DIY balcony garden décor ideas that you can also follow in this regard. Fill up the balcony with lush green and lovely plants for creating a backyard or outdoor patio-like feel and look overall. Add in some herbs for bringing that extra nourishing and healing smell as well.
Choosing floor pillows- One of the smoothest balcony ideas for home are floor pillows. You need not deploy any investment in buying outdoor furniture, particularly if you are renting for instance. You can simply get hold of uber-comfortable and vibrant floor pillows that can also help inside whenever required or if you have guests over.
DIY Balcony Ideas that you should not miss!
Outdoor rug patterns- You can ramp up the look of the balcony with one of the best yet most underrated balcony decoration ideas India, namely using patterned outdoor rugs or runners. However, make sure that you choose something which can resist the elements quite successfully as well.
Usage of Wall Space- Another one of the home décor balcony ideas worth noting is usage of wall space in a suitable manner. You can always hang up vibrant and colorful planters for a wonderful look and feel. You can also try picking up artwork which is resistant to the weather for making your balcony feel almost like an extension of the apartment itself.
Lighting Up- Bring in ample lighting sources for hanging out late at night and you can always install any outdoor pendant or sconces in this regard. If you are renting an apartment, you can always choose outdoor lanterns or string lights. This works well if you do not like hanging up lights anywhere.
Nifty DIY balcony concepts
Hanging Hammocks/Chairs- You may be living in a bustling city but you can still bring an outdoorsy or vacation-esque feel to your balcony. Try a lovely hammock or hanging chair for a casual, relaxed and laid-back feeling above all else. This is one of those balcony setup ideas that are worth noting by all means!
Folding Furniture- If you do not have ample space at your disposal, you can try getting hold of furniture items which may be neatly folded or tucked away when you are not using the same. The folding table will completely disappear and free up ample floor space in turn.
A Cocktail Corner- Thinking of how to decorate your balcony stylishly? You can come up with a cocktail corner or nook in the balcony. Say yes to unlimited happy hours outside and all you will require is a charming coffee table along with a couple of low chairs for company. You can create a wonderful space for simply lying back and relaxing to your heart's content while the world simply passes by in all its rush. You can also choose a pouf with a tray for getting some additional seating at the same time, whenever you require the same.
Shading & Privacy- DIY Balcony Ideas
Flowers- For your DIY balcony garden concept, you may choose to go with flowers as your preferred pick. You may not always have ample room for a dedicated dining zone or even a chair of sorts. However, you can always have more space for lovely flowers. Have planters installed alongside the balcony railing for creating more gorgeous and appealing views and also adding to the curb appeal of the property alongside.
Reclining- If you wish to take in the beneficial sunlight or simply curl up with a charming book, you can opt for a lounge chair or outdoor daybed which you will need for a more tranquil experience. You can add a few outdoor pillows for making things more comfortable and pleasing by all means.
Added Privacy- In case the balcony juts out against the neighbor's balcony, you can integrate taller plants such as bamboo for the creation of a natural wall. This enables more privacy and is one of the coolest balcony wall ideas that you can consider. You can also hang up bamboo shades for being raised and lowered whenever you require the same. You can look to create natural types of awnings as well although this will take some time to be properly manifested.
Infuse more Shade- You can enjoy the balcony in almost all kinds of weather conditions. You can opt for greater shade and privacy in turn. You can choose retractable awnings which will safeguard you against the elements. You can choose a classic stripe or a vibrant color which will truly add a whole new dimension to the balcony above all else.
Unconventional DIY balcony themes
There are numerous DIY for balcony concepts that you can keep in mind. These encompass several aspects, right from DIY balcony wall décor to other home balcony ideas which are highly innovative as well.
Interlocking Wooden Floor- You can choose interlocking wooden floors for creating a cute yet charming look above all else. This setup comes with interlocking wooden floors which will fit the balcony dimensions perfectly. You should opt for DIY kits based upon the square footage that you have in total.
Weather-Proofed Mat- If you are open to the idea of covering your balcony's concrete floor but are not willing to invest in actual pieces of flooring, try creating a mat which is weather-proof. You can look for hardcore floor mats which will not be ruined by wind and rain.
Nylon cord crocheted mat- There are several creative solutions for flooring including nylon cord which is abundantly weather resistant. You will enjoy walking on the cement as well. It is quite easy for crocheting a single pattern too. You create a mat for infusing more color and ample cushioning into the space.
Seating with wooden crates- Home balcony decoration ideas include choosing wooden crates for seating. You can transform a pair of wooden crates into a charming little nook. The technique is really simple to say the least. You can flip them to the sides and they will neatly fit within the space. You can also have a blanket and pillow alongside.
Revolutionary DIY balcony concepts
Wooden crate-end tables- You may already have balcony-based seating although you may transform conventional and old crates into stained and rustic outdoor-end tables in the bargain.
Pouf on the Porch- You can create a pouf for the porch all by yourself. This is one of the most innovative balcony decoration ideas for your needs. This will be a great place for reading a book, hanging out with friends and enjoying a sumptuous breakfast on the balcony as well. You should not leave this out when it is pouring though!
Striped Balcony Partition- You can choose a striped balcony partition. Does the balcony look into another one? You can always make a striped partition for getting some additional privacy and extra space.
Hanging Potted Herb Garden- Adding a little more greenery to the space will always create a vibrant look for the balcony, particularly if it is the concrete type. There is not always ample space for bigger potted plants though. You should create a DIY hanging herb garden here.
Rock cactus garden- You can always get artsy by infusing more cactus plants in tiny and charming pots for the balcony in question. This is one of the most innovative balcony garden decoration ideas that you can check out.
Ping pong ball lighting- Lighting up the balcony is a great way to create a cozy feel in the evenings and at night. You will not have to install costly fixtures and can try a simple circle light with ping pong balls in turn.
Creative DIY balcony hacks
Mason jar lanterns- Mason jar lanterns can be made easily for the balcony. You can get mason jars at affordable prices from several stores. You can fill the jars with electric lights for creating a spectacular look.
Mat pillows with cushion covers- Create printed cushion covers for a vibrant look in the balcony. Position mat pillows for curling up while you are reading your favorite novel or also for chatting with your friends. You can come up with more weather-resistant options courtesy of place mats.
DIY Balcony Garden Ideas
Planters- DIY balcony garden ideas will mostly encompass planters. You can use planters for creating a green space at home that everyone will enjoy greatly. You will not always need a whole lot of space for creating the same. You can simply make use of fancy plants and planters in vibrant colors for this purpose.
Personal touches- You can always create a cozy nook in a smaller balcony by creating a lovely little gallery with plants. You can also have a small but comfortable chair, complete with a few knick-knacks and a beautiful lantern alongside.
Mini Gardens- You can have a mini balcony concept for home with colorful plants, leaves, flowers and lovely planters positioned on a trellis frame and some seating as well.
DIY Balcony Garden Ideas Continued
Budget makeover- You can makeover your balcony garden on a tighter budget as well. Simply have a few plants and comfy seating and you're done!
Recycling- You can use several recycled items like bean bags, old tires, planters, small tables and pillows for creating a wonderful balcony garden space at home.
You can make use of several plants for your balcony garden including spider plants, money plants, snake plants, bonsai, tulsi, varieties of cactus and succulents and even jade plants if you wish. These small ideas will help you thoughtfully and carefully design your balcony garden space into a welcoming haven for yourself and your family members, not to mention guests as well.

FAQs
How to decorate my apartment's balcony?
You can simply use a few planters and potted plants along with a small chair or two for decorating your balcony.
How to setup a small garden in a balcony?
You can use a few planters, a trellis frame, creepers and potted plants to create a small garden in your balcony.
How to design my own home garden?
All you need is a few plants, some vibrant planters or pots and artifacts like a Buddha and so on.
What are the best ways to decorate a garden?
You can create small nooks of hanging creepers if you have the space. Have a small space dedicated for potted plants or planters which can be hung up as well.
How to create an indoor wall garden?
Have a natural awning made on the wall with a creeper-like plant. Hang up planters alongside.
How to make my room more like a garden?
Get hold of more potted plants, creepers and some matching artifacts for this purpose.