In our previous blog we have mentioned how Navi Mumbai was formed. The city, which is also probably the only slum-free city in the world has been formed due to scarcity of land bank in Mumbai.
Though initially developed as the extension of Mumbai, Navi-Mumbai soon picked up pace & witnessed the development of many prominent micro-markets (also called as Nodes)- with spectacular commercial and residential catchments along with a prolific social and civic infrastructure.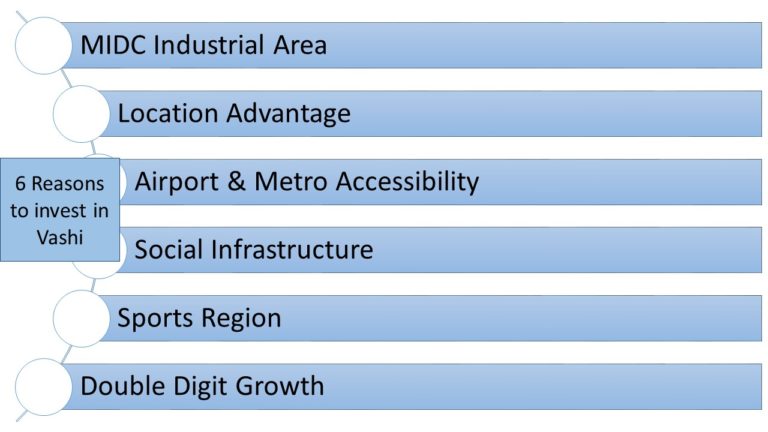 In the given blog, Square Yards will discuss Vashi- one of the oldest Nodes in Navi Mumbai that has gained momentum in the last 10 years due to the following mentioned reasons:
MIDC Industrial Area: The industrial area has specialized parks for various sectors such as automobiles, chemicals, engineering, pharmaceuticals & textile etc. Some of the renowned brands are present in MIDC industrial area such as Zydus, The New India Assurance Co Ltd & Sigma Industries etc. MIDC is located at a distance of around 7 KM from Vashi & has been a key driver in stimulating Vashi's residential demand.
Location Advantage: Vashi is one of the first nodes developed in Navi Mumbai, located across the Thane Creek of the Arabian Sea. It has superb connectivity with Mumbai through Sion-Panvel Highway that is connected with Mumbai-Pune Expressway. The increase in connectivity is also witnessed on the back of close proximity to Harbour Railway Line, through Vashi Railway Station, -a terminal point for CST and Thane trains. Nearly 77,000 people travel from Vashi to Mumbai CST, and around 34,000 travel to Panvel every day.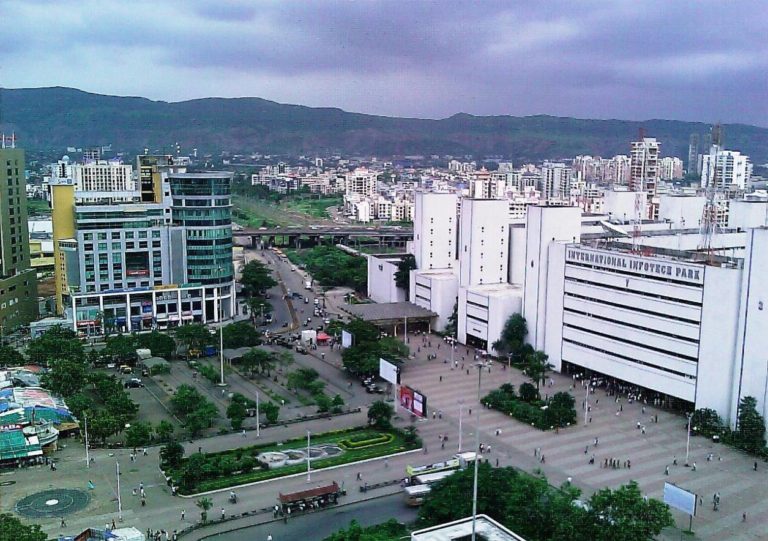 Airport & Metro Accessibility: The metro route has been proposed along Vashi-Ghansoli-Mahape, that will enhance the connectivity of Vashi with other parts of Navi Mumbai. Similarly, the proposed Navi Mumbai International Airport is also expected to entail a significant impact on the commercial & economic dimensions of Vashi. The proposed Navi Mumbai International Airport is in close proximity to Vashi- just at a distance of 11 km. The project is expected to be completed by 2019. Historical examples from the past have clearly shown that after the arrival of airports, real estate markets in close proximities have got great boost. The latest example being the Bangalore International Airport (BIA) that has stimulated the real estate markets in Devanhalli & other areas.
Social Infrastructure: Vashi is home to well reputed educational institutes, world class hotels and spas, renowned hospitals & shopping malls etc. Some of the prominent hospitals & shopping complexes are Fortis Hiranandani Hospital, NMMC Hospital & Mahatma Gandhi Missions Hospital and Center One Mall, Inorbit Mall & City Center Mall & much more.
Sports Region: The location is famous for its Sector 10A along mini seashore area, which is home to numerous playgrounds and other facilities including swimming, football, cricket, volleyball, tennis & badminton etc. The close proximity of golf course at Kharghar (14 min ride) and the turf club at Mahalaxmi (40 min ride) on the Eastern Freeway, further adds charm to sporty dimension of Vashi.
Soaring Growth: According to Square Yards Global Intelligence Centre (GIC), Vashi region has shown price appreciation of more than 9% between Q1, 2015 and Q1, 2016. The capital price per Sq.Ft. in Q1, 2016 is INR 13,540, comparable to INR 12,400 in Q1, 2015.