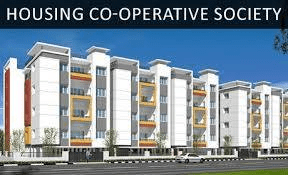 One should be aware of cooperative housing societies and the advantages and disadvantages of living in it if you are planning to stay in one.
Cooperative Housing Society is an association made when people come together with a consensus. There is a sense of camaraderie and discipline which is absent in independent residences.
Benefits of Residing within a Cooperative Housing Society
It is affordable
Properties under cooperative housing society are held by the members as owners who have the say in the financial matters related to the society. The down payment is reasonable; there are lower pre-closure charge and a longer term of mortgage. It is more affordable than in the other independent rights of standalone property.
There is democratic management
Every member of a cooperative housing society enjoys equal rights and privileges. The members of the office bearers are elected unanimously through a secret ballot. If you invest in an apartment inside a cooperative society, your investment is safe and you can rent it out if you don't live in it. This way you can earn a regular income for yourself by renting the property out.
The responsibilities are shared
Staying inside a cooperative housing society, your responsibilities as an owner are shared among the member. The cooperative shoulders the responsible for repair and maintenance, insurance, annual maintenance of elevators, security guards, water supply and complaints regarding water supply and electricity supply. Every member of society gives the maintenance charges. You have more amenities than an individual setup such as a swimming pool, Jacuzzi, sauna, terrace garden, garden, club membership, parks, auditorium, and so on. A housing cooperative is a legally established entity where there are houses which can be rented or bought after a thorough investigation. So, your property is sure to be in a safe neighborhood. Living inside a cooperative housing society gives you the comfort of living in a responsive society. A proper economy can be expected because there is a collective responsibility and the accounts are subject to verification and auditing.
In many states, cooperative housing societies are quite popular. There are different categories of society. There are housing societies with the land held in the leasehold by the society but the homes are owned by the society members, known as tenant ownership. In some societies both buildings and the land are owned by the society. The society allocates flats to the members. There are housing mortgage societies where society lends money to the members to construct the building for themselves.
There are many rules to follow
If you're the owner of a flat in a society, you'll have to follow a plethora of strict rules and regulations. It is not easy to be a member of a society because you'll have to adhere to certain norms and may have to face an interview. There are certain restrictions which might put you off. If you wish to keep a pet, you may not be allowed to keep it. You cannot do renovations too without the consent of society. These are some of the hindrances or hassles of living within a cooperative housing society.
You may not look for finance for your property's development from the bank of your choice because the society has a tie-up with a particular bank. Even service providers will be chosen by the society. It will be difficult for you to sell your property because the society may put up some conditions which may not be suitable for your deal. Even renting out your property won't be easy. You have to take all members into confidence prior to finalizing your tenant.
Advantages of cooperative housing societies:
Easy to form: A cooperative society is a voluntary association. It can be formed with a minimum membership of 10 persons. The registration process is simple.
Membership is open to all: The membership inside a cooperative society is open to all because all have a common interest. You can be a member any time and you may exit whenever you choose.
Management is democratic: The management is democratic and is base on the principle of voting. All have equal rights.
The liability is limited: There is no personal liability for any financial debt of society.
The society exists on a permanent basis and it has a legal status. Running a society is also economical.