Virar, a cosmopolitan suburb located in the northern region of Mumbai city is a part of the Mumbai Metropolitan Region (MMR). This micro-market has witnessed tremendous growth over the last five years, be it infrastructure or real estate developments. Virar is one of the greenest localities in Mumbai Metropolitan Region situated in the vicinity of Tungareshwar National Park.
Virar is a booming real estate market with various high-rise apartments accompanied with all modern amenities. Due to attractive return on real estate investments over the last five years, Virar is able to attract various national and regional developers, namely, Shapoorji Pallonji Real Estate, Rustomjee Developers and HDIL.
Virar micro-market is well-connected through the western line of suburban railways and national highway -48 (NH-48), popularly known as Mumbai-Ahmedabad Highway. The suburb is the inception point of the western railway line which connects all major micro-markets like Mira Road, Borivali, Kandivali, Goregaon and others. The Chhatrapati Shivaji International Airport is located merely an hour distance away from this emerging realty hotspot. The Virar-West Skywalk is the busiest walkway amongst the others built by the MMRDA after Santa Cruz Skywalk in Mumbai-MMR.
Social Infrastructure
The social infrastructure in and around the micro-market is well entrenched with various hospitals, educational institutions, retail outlets and financial institutions. Some of the reputed schools such as St Xavier's High School, National English High School, & Rustomjee International School and popular colleges are VIVA college of arts, commerce and science, Virar Homeopathic Medical College and others.
Sahayog Hospital and Research Centre, Global Hospital, Highway Hospital, and Riddhi Vinayak Multi-speciality Hospital are in the vicinity of the micro-market. Some of the shopping malls, namely M G Shopping Centre, Bhaskar Commercial complex, and Magnet Mall are the main market available to netizens of Virar.
Residential Market – An Investment Opportunity
The real estate market of Virar is riding high on the multiple infrastructure projects and gradual growth in the locality due to a surge in the migrant population. In the last five years, various real estate developers trying to tap a growing realty market of Virar. Currently, there are around 70 residential projects majority of them are falling into the affordable segment from 50 different real estate developers.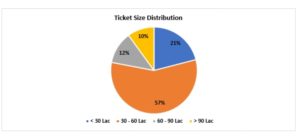 According to Square Yards Research, Virar micro-market is undoubtedly is an affordable housing hotspot of Mumbai-MMR. Where, 57% of residential projects fall into the budget segment of INR 30 Lac – INR 60 Lac followed by residential properties whose price is less than 30 Lac. A plethora of housing options for realty investors and end-use homebuyers from big developers.
Rustomjee Developers, Shapoorji Pallonji Real Estate, Cosmos Group, Mayfair Housing, Arkade Group, Bhoomi Group and Ekta World are some of the reputed developers are having their residential projects in Virar. Certainly, other renowned developers will follow the trend of development of the Virar realty market in future.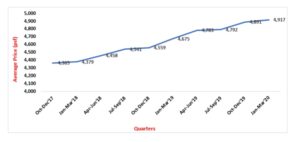 Despite an overall consolidation in real estate over the last four years, Virar micro-market never registered southward trend in average price of its residential properties. Currently, the residential property prices are hovering around INR 4,039 – INR 6,579 per sq. ft and average price of INR 4,917 per sq. ft. As per price trend analysis by Square Yards Research, micro-market has registered an attractive capital appreciation of 13% in the last ten quarters and it is expected to appreciate by 18% – 25% in the next three years.
Scope of Growth
The upcoming mega infrastructure projects will be next growth drivers in Virar realty market and relatively affordable projects as compared to other parts of Mumbai makes Virar an ideal destination for investment.
The proposed India's first Bullet Train Project is from Mumbai to Ahmedabad. Virar will be one of the proposed 12 stations on bullet train route. It will make this micro-market an investment hotspot in the coming future and will enhance trans-city mobility.
Virar-Alibaug Corridor Project, this mega infrastructure project will be a combination of metro and roads from Alibaug to Virar. The project will be undertaken by MMRDA and expected to be completed with a whopping budget of INR 10,000 crore. This 140-km corridor project will bypass the western and eastern suburbs of Mumbai-MMR and provides seamless connectivity able to reduce travel time by an hour.
The proposed Metro Line-9 from Dahisar to Mira Road will be further extended to Virar, it will support the growth of realty market of Virar.
All these factors make Virar an ideal investment realty hotspot for investors as well as for end-use home buyers.