Grand Palladium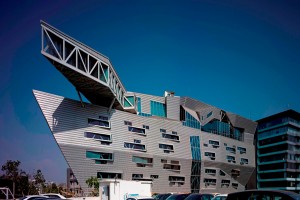 This Spaceship designed office has penthouse office suites along with cafe and gym. The initial 6 floors of office building has been are raised to form a podium above the ground, creating a terrace and access road at street level. The Grande Palladium building is designed by Indian studio "Malik Architecture"; this architectural piece has faceted exterior made up of tessellated glass and ridged aluminium. Located In one of  the Porsche areas of Mumbai  in Santa Cruz ,  this Grand Palladium definitely leaves an everlasting touch.
Baya Park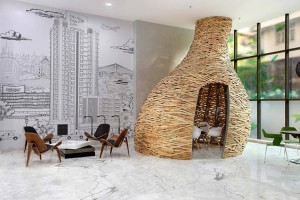 Baya Park, located in Dadar West, Mumbai has an attention-grabbing office interior which has been shaped by Planet 3 Studios. The sales cabin and meeting rooms have been designed as bird's nest giving a dramatic look to the entire office. The ambience of the office speaks of a nature's theme bringing a sense of relaxation.
Phantom Films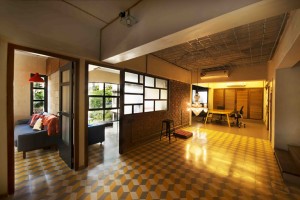 The Phantom films office located in Andheri west is a mishmash of quirky designing and creative color patterns. The office theme is based on elementary resources like wood, metal and cement in a restricted budget. However, the blend of Siporex Block and brickwork, along with coordinated color design creates a serene environment for a work place.
Cybertecture Egg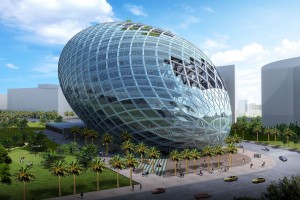 The Cybertecture Egg is the boldest and exceptional building of this century. Spread across a sprawling 33,000 square meters of land, the conceptualization of this building was based on the planet theme. The building serves as a central point for the newly developed central business district area called as Bandra Kurla Complex. The Bandra Kurla Complex, Mumbai which is also known as the new 'Manhattan' of India and currently the most expensive plot of land in the country, has been selected for this unique and innovative project that will be the first office building with an egg-shaped, accommodating 13 floors and providing enough space for customized living and working spaces.
22 Feet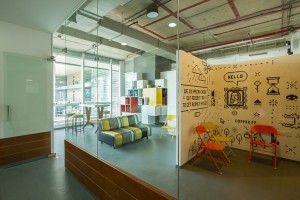 With the bustling skyline of Mumbai in background, 22 Feet office, designed by Kamat & Rosario Architecture, is inspired on the game theme from the 80s like the Space Invaders & Tetris. This theme gives the office interiors a bright colorful look along with heavily pixilated graphics which makes the office more edgy and captivating.
Patni Knowledge Park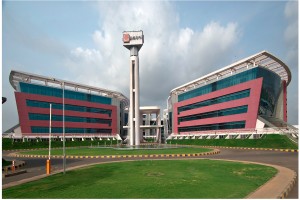 Spread in a lavish 50 acres of land in the MIDC technology park, iGATE Patni Knowledge has an excellent architecture and a unique design. Being one of the largest IT Park in India, the office campus is fully loaded with all the world class amenities like Gym Cafeteria, Indoor games and employee recreation area along with widespread 24×7 utility back-ups and Wi-Fi connectivity.
 Image Source:
www.descroll.com, www.officedesigngallery.com, www.architecturelive.in, officepictures.wordpress.com, www.trekearth.com, officesnapshots.com,