Rome was not built in a day as they say and the same can be said for any new and rapidly developing residential township, particularly if it is a showpiece development for the Government. Rajarhat New Town fits this adage like a glove but development is happening and that too at a rapid pace! The new residential township is already making headlines for the right reasons (no we're not talking utopia here) and these include connectivity improvements, major infrastructural upgrades, premium residential projects coming up such as Mani Artista or Tata Avenida to name a few and even the mushrooming IT, commercial, financial and educational hubs.
In fact, Rajarhat New Town is steadily attaining popularity amongst homebuyers for these reasons and more. It is now the preferred choice for Sector-V (Kolkata's IT hub) employees and those working in the innumerable MNCs, IT companies and other offices in this stretch itself. Multiple housing projects are coming up and several have already been delivered. Top developers have been attracted to this stretch and property prices are on the upswing.
Landmarks like the Eco Park, Arts Acre, Mother's Wax Museum and Kolkata Gate have been drawing crowds in the thousands as well. The Biswa Bangla Convention Centre has already hosted two mega business summits along with other prestigious events. There are leading hospitals, schools, shopping malls, universities and colleges and cultural centres coming up all throughout Rajarhat New Town as well.
Liveability quotient to increase further in Rajarhat
Housing Infrastructure Development Corporation (HIDCO) which holds stewardship of the residential township, has been taking several concerted efforts to scale up the overall liveability quotient of the Rajarhat New Town belt. This has led to the entire zone becoming a preferred bet for homebuyers and investors alike. Gone are the days when the words Rajarhat or New Town conjured up images of traveling to another corner of the planet! The township has developed and how!
Here are some of the key initiatives taken by HIDCO and the Government to increase overall liveability of the township:
Rabindra Tirtha which is now a major socio-cultural hub.
Biswa Bangla Convention Centre for hosting major events like the Bengal Business Summit and other big events.
Eco Park which draws huge footfalls round the year and is famous for its pristine ambience.
Mother's Wax Museum which has become a favourite haunt for visitors and boosted tourism for the city.
Biswa Bangla Gate or Kolkata Gate which is another major landmark for visitors.
Arts Acre which is not just a stunning repository of Indian Art but also a recreational centre par excellence.
LED lighting for roads with ample beautification.
Efforts to increase green cover and plantations.
Clear demarcation of cycling tracks.
Eco-friendly measures including power conservation drives undertaken by HIDCO.
Bagjola Canal to turn into a recreational hub
The Bagjola Canal is going the Patuli way albeit literally! After Patuli's floating market was the talk of the town, Rajarhat New Town has its own ace in the pack! The Bagjola Canal has a bridge over it and is located near Zone The Park and the Biswa Bangla Convention Centre. The bridge has been done up with lights and HIDCO has already installed illuminated fountains for the canal. This canal was previously preferred for dumping garbage until HIDCO gave it a much-needed facelift, bringing relief to residents in the area.
A floating market may also be on the anvil for the Bagjola market aka the Patuli floating market. This could be the perfect foil to the Eco Park's attractions including the seven wonders including the replica Taj Mahal, Pyramid or Great Wall of China.
Road beautification drive
The NDITA (Nabadiganta Industrial Township Authority) has also beautified several stretches in Sector V which is located in close proximity to Rajarhat New Town. Art installations have been put up throughout the approach road to the IT hub in order to offer cultural relaxation to the thousands of employees and professionals traveling to the area on a regular basis. There are more art installations in store for the wide roads of Rajarhat New Town. NDITA is also planning to set up more pocket parks all throughout New Town and Sector-V in order to offer relief to professionals who can spend time here during their breaks in a bid to keep stress at bay.
Traffic management systems are already being put in place while roads are being widened further. New Town will have graded cycling paths and also dedicated roadways for pedestrians. The NKDA (New Town Kolkata Development Authority) and HIDCO have already carried out road beautification drives between the EM Bypass and VIP Road in proximity to Chingrighata. New Town also has e-buses which are air conditioned and these facilitate seamless public transportation in an environment friendly manner.
Other initiatives taken for scaling up New Town's liveability quotient
The Biswa Bangla Gate at New Town is itself a major landmark and it already has a restaurant on top. Now, the landmark will be embellished with a smart garden that will possess an adda zone or hangout, café and hotspot for visitors to link to the internet prior to entering. A maximum of 100 visitors will be allowed into the smart garden at a time. HIDCO is developing the same presently on a plot covering 1 acre next to the Biswa Bangla Gate. The timings will be syncing with the Biswa Bangla Gate which remains open between 11 AM and 5 PM. The 55 metre high landmark is already drawing people in droves courtesy its restaurant and viewing gallery.
HIDCO is also looking at zeroing in on a consulting firm for making a design for constructing New Town's tallest building. This will go up to at least 140 metres and will have 35 floors. The idea was formulated sometime earlier by HIDCO as an iconic development which may come up on a plot spanning 4 acres near the Fintech hub in the CBD (Central Business District) zone. The Government has also set up a free health centre in close proximity to the Biswa Bangla Convention Centre. This is located near Presidency University and Delhi Public School New Town on the first floor of the Action Area 1D Utility Building. The health centre has top-class facilities covering 4,000 sq. ft.
HIDCO is already on a massive tree plantation drive throughout the area with approximately 1,65,000 trees having been planted in Rajarhat New Town over the last 2 years. Coconut, palm and cherry blossom are among the trees which are being planted all along the sidewalks and median dividers in the residential township for beautification. There are coconut trees planted near Rabindra Tirtha and palm trees have been planted near the Tata Medical Centre. Rosy trumpet and foxtail are among the trees being planted for combating storms while plants like Ashoka, Palash, Gokul, Arjun, Neem and Kadamba are being planted for lowering air pollution overall. The major arterial road has boulevards with plantations but minus concrete. Lighting has been provided for beautification as well.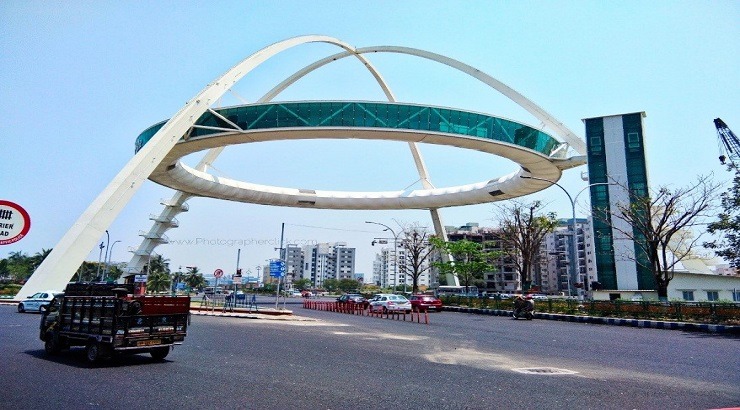 All in all, with Rajarhat New Town's liveability quotient on the upswing, prospective homebuyers should certainly be encouraged to invest here.