Although sentiments have recovered post demonetization, it is believed that market would continue in a flat pace for the next 6 months, before showcasing a possible upward movement. In between, the consolidation of the market will continue at a high pace; either leading to natural perishing of smaller players or acquisitions by bigger players in the market.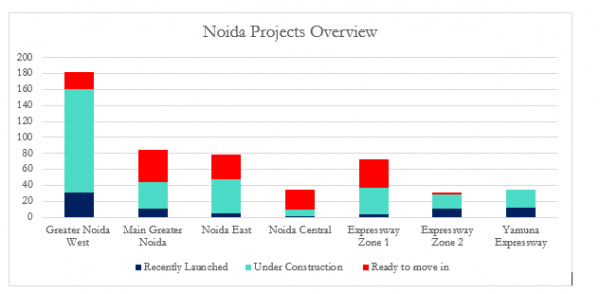 In line with the prevailing sentiments in 2016, there would not be any new launches in Noida market in 2017, with the focus been put on turning around the existing inventories. Even in central parts of the city, it is estimated that around 50,000 residential units are under construction. Major markets to look out for will include- Sector 96 to 98 in Expressway; Sector 62 & 63 and Sec-80 on NH-24 & Sec- 70 to 79.
Sector 96-98, located on Expressway will continue having a higher demand for 3 & 4 BHK units. Sector 62 & 63 in the Northern parts of Noida looks suitable to give promising returns. These markets have a healthy mixture of under construction & ready to move in projects. A host of major educational institutions & IT/ITeS companies further drives demand. The markets are well connected with other parts of Delhi-NCR through NH-24.
With the opening of the metro station in Sector-62, connectivity in the region will get further boosting. Work is going in full steam on the Dwarka-Noida City center metro line, extending it till Sector-62. The sectors are also conveniently located with New Delhi (~18 KMs), that further drives the demand.