The couple are quiet after the sales pitch has been done by the aggressive sales executive sitting before them in navy blue suit and a yellow tie with curious elephants all across the expanse of the tie. The lady looks at the man who is obviously her spouse. They have come from Dubai to see the property on the outskirts of Bangalore. They hail from Kerala but for some reason they are here, looking for a Property.
The executive is oblivious to their surreptitious looks and he is trying to explain the significance of parquet flooring in the master bedroom.
He is stopped mid-sentence by the bearded man who smiles and looks at the young executive as if to apologize and say it is not working out. They get up. The executive is now a wee bit desperate. He starts telling them while buttoning his coat that he can accept 10% now and the rest of the 90% when their loan comes through and it would be no trouble. The developer has credentials and they would lose out if they don't take the super offer now.
As they enter the car park, they discuss among themselves that it was for her parents and they want to stick to Bangalore and that they would get more friends in this community probably as there seems to be some bookings from the Kerala brethren in his office. But the costs don't seem to agree with them. They know that the three-bedroom units fit their requirements but the price and the absence of any temple nearby is hurting the prospects.
Real estate inventories must now be thought of through the prism of Sociology.
The time has come. We need to examine the work of real estate professionals on the housing market and highlights how their professional understanding of various aspects of sociology contribute to influence transaction outcomes such as pricing, product and neighbourhood preferences, affecting market shape and functioning.
In fact, the professionals themselves herald the sociology of all trends.
The formal and informal socialization of agents through a set of norms and rules lead them to behave as market professionals; the use of social relationships to profit-making ends; and the participation of agents in the process of creating symbolic and market value by influencing preferences and prices, generating important implications for social and racial segregation. At the intersection of cultural, urban and economic sociology, this work sheds light on the dynamics of a market with intermediaries to refine our understanding of housing inequalities.
Unearthing Hidden Sub-Trends to Unlock Sales
Once we know the dynamics of any market, to prepare for that more deeply; with plausible demographic information and creating a micro – market for the inventory aimed towards a community will be easier. Sales happen because of these unusual sub-trends and not because of macro-trends in the overall market.
The market could be bad for 4 bedroom duplex homes in a city but if a particular sub-trend is seen and the professionals understand that and prepare the marketing collaterals towards that guiding sub-trend, then success is seen.
For example, Pune was awash with inventory in the 3 BHK bracket all over the city. Yet, a particular developer, known to keep his marketing professionals from one particular community – Gaur Saraswat Brahmins; they had unusually hearty relationships with many buyers in Pune, Mumbai or USA, could easily sell off his inventory in about 40 days. He had a total of 430 flats to sell.
Even today, in the Post-Covid era, the developer is planning new projects for launch.
Now, that can be classified as an achievement under any circumstances, won't it?
Pity, they don't teach Sociology in B schools!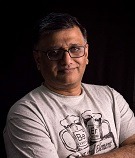 Indraneel Majumdar is an Entrepreneur and Management Consultant with 29 years of work experience, and has weaved year after year of success tales. Currently, he heads Sarath City Capital Mall, Hyderabad, India.