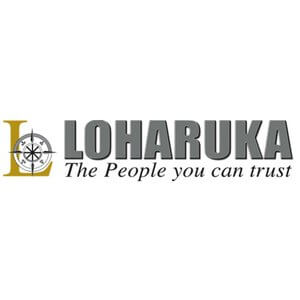 The Loharuka Group is one of the most experienced and well known real estate developers in Kolkata and has made a mark with its portfolio of affordable and mid range projects across the city. Loharuka projects are tailored to cater to every section of society and diverse home buyers.
The portfolio of Loharuka properties encompasses multiple landmark projects in Kolkata in addition to several other projects in Bangalore and Pune. The brand believes in excellence and reliability as its two cornerstones and is now focusing hugely on expansion. With an excellent track record spanning more than 25 years and successfully development of more than 20 lakh sq. ft. across commercial and residential segments, the Group is one of the biggest realty players in the Kolkata market. The Group also has a huge customer base and counts this as a huge strength.
Loharuka Developers has offered quality housing solutions to more than 6, 500 families across Kolkata, Pune and Bangalore. The Group has several ongoing projects in hand at the moment in addition to its hospitality venture under the O2 Hotels brand. The Group is looking at developing mega residential complexes at Vasindh and Pune in addition to premium residential projects in and around Kolkata.
Why Loharuka?
All Loharuka residential projects are developed at strategic or rapidly emerging locations. The Group believes in a policy of excellence in terms of quality, design, construction management and timely delivery of projects. The Group also believes in core values like reliability, trust, integrity, transparency and honesty. The Group has a huge customer base and sizeable experience in the industry with a solid track record of development spanning 25 years.
The Group offers premium amenities and facilities to residents at its projects along with cutting edge infrastructure. The Group believes in prompt customer service and thrives on innovation, customer centricity and unmatched quality. Customer satisfaction is taken very seriously at the Group.
Major Projects
There are several landmark projects developed by the Group over the years and the list also includes several Loharuka upcoming projects. Here's taking a look at some of them:
Urban Greens- This landmark project offers a

Sus

tainable gated community with community spaces, a swimming pool, club house, playing corner for children, special gardens and much more. The pristine environs of this project coupled with natural greenery and open spaces make this a wonderful living proposition. The project lies on the Rajarhat Main Road and is very well connected to the Main Arterial Road
Green Island- Green Island is an exclusive residential project and offers an impeccably planned and gated community with fabulous connectivity to the airport, Sector V business and IT hub, VIP Road and the City Centre-II shopping mall. The project offers well ventilated apartments and top notch security services in addition to contemporary amenities and affordable pricing
Freshia- This is one of the Group's landmark projects and lies along the New 6 Lane Expressway at Rajarhat. This project spreads over 3 acres and offers premium contemporary amenities including a gymnasium, swimming pool, cards room, indoor games room, cricket pitch, landscaped terraces with separate yoga cum meditation zones, multipurpose court, cr??che, library and a lot more