Mumbra, one of the oldest residential suburbs of Thane district in Maharashtra, has emerged as an affordable micro-market surrounded by developing localities of Kalwa and Shilphata and backed by an extensive network of roadways and railways.
Most of the land around Mumbra was used for agriculture purpose till 1975. Later this residential cluster witnessed a rapid swing from agriculture land into urbanized land. Largely driven by the manufacturing industry, Mumbra is fast developing as an affordable living destination in Thane.
Square Yards brings you the top reasons to invest in this thriving micro-market:
Connectivity
Mumbra enjoys great connectivity to other regions of the city via an extensive rail and road network.
Mumbra is directly connected to Thane and Navi Mumbai Airoli Node via Old Mumbai Pune Highway.
Thane Municipal Transport and Navi Mumbai Municipal Transport run regular bus services between Panvel-Mumbra and from Bhiwandi to Shil Phata.
Chhatrapati Shivaji Maharaj International Airport is situated at a distance of 31 km from Mumbra.
Mumbra Railway Station which is the major connectivity link in this locality is situated at a convenient distance of 1.6 km.
Kalwa Airoli,  the upcoming metro line,  is expected to be completed by the year 2021.
Employment hubs
Mumbra has witnessed rapid growth in the recent years due to its proximity to various employment hubs that include MEK industrial complex and Kausha Sheela belt of Mumbra that comprises of both small and large-scale industries.
Growth Drivers
Mumbra's real estate market is largely driven by manufacturing industries. As a result there is high demand for low budget homes from the lower and middle income groups. This micro-market is situated close to developing localities of Shilphata and Kalwa, that has comparatively lower property rates.
The presence of residential projects by renowned developers in the affordable segment makes Mumbra a preferred choice among the home buyers and investors in Thane and adjoining areas, who have a limited budget.
Capital Trends and Rental Trends
As per data with Square Yards data, the average property price in the locality hovered around Rs 6,305 per Sq.Ft during the Jan-Mar 2021 quarter. Mumbra's price trend graph has shown a consistent upward curve and has registered a capital appreciation of 24% in the last one year.
The rental market is also fairly stable here. For a 1BHK, the most common configuration in Mumbra, monthly rent ranges somewhere between Rs 5,000 and 10,000 , while the rent for a 2BHK varies from Rs 10,000- Rs 12,000 per month.
| | | | | | |
| --- | --- | --- | --- | --- | --- |
| Q1 2020 | Q2 2020 | Q3 2020 | Q4 2020 | Q1 2021 | % Change In capital values |
| Rs 5,078 Per Sq.Ft. | Rs 5,071 Per Sq.Ft. | Rs 5,987 Per Sq.Ft. | Rs 6,005 Per Sq.Ft. | Rs 6,305 Per Sq.Ft. | 24% |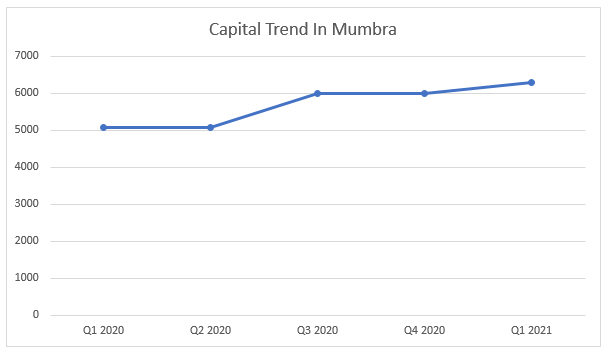 Social Infrastructure
Mumbra benefits from a fairly developed social infrastructure comprising of prominent schools and hospitals. Symbiosis Management High School, Queen Mary's High School, Mumbra English High School, Mumbra English High school and Rosary Convent High School are some of the renowned schools in and around Mumbra. This locality also brims with various hospitals that include Kalsekar Hospital, Rehmania hospital, Mumbra maternity and orthopedics hospital.
Future Prospects
The 'Make Over' plan is soon expected to be implemented in Mumbra that intends to transmute Mumbra into a more planned city like New Mumbai. The plan will include rehabilitation of slum dwellers in pakka buildings, proper plotting of buildings, construction of roads and parking spaces etc. After the completion of this project, Mumbra will be developed into a planned city, that will further allure interest from prominent real estate players.
Another development scheme which is anticipated to boost Mumbra's real estate is ''Cluster Development''. Mumbra has a substantial number of illegal and old buildings and the cluster development scheme was introduced to create around 1.25 Lakh affordable and quality homes in Thane. The scheme will offer homes to not only those living in legal structures but also those residing in illegal structures.
MMRDA has planned to construct a multi-level road corridor at the Kalyan Phata stretch of Mumbra-Panvel Highway. This 1.3 km long stretch is anticipated to ease the traffic congestion at the junction, that receives heavy traffic from Mumbai, Kalyan, Nasik and Pune.