India is witnessing increasing stability and growth of its real estate market across residential, commercial, industrial and retail segments. In the residential category, there have been fluctuations over the last few years due to a combination of factors. However, commercial real estate represents a segment that has been growing steadily over the last few years. The commercial real estate market in Delhi-NCR and other parts of India is currently in overdrive.
Many investors are now opting for commercial properties since these often provide better rental yields and appreciation. However, one needs sizable financial investment abilities in addition to ample knowledge of the market and holding capacity for longer periods of time. According to several reports, close to 35 million sq. ft. of commercial space is expected to be absorbed in India over the next 2 years or so.
Delhi-NCR commercial realty market trends
Delhi-NCR is also flourishing as a major commercial real estate hotspot. As of Q2 2018, office space absorption here was a whopping 3.5 million sq.ft. according to several reports. NCR also contributed 28% of total office absorption in the country in this period. Gross office uptake figures touched 2 million sq. ft. for Q2 2018 and hence, overall uptake in the first half of last year stood at around 3.7 million sq. ft. for Gurgaon alone, indicating an increase of 111% (year-on-year).
Key hotspots in this regard were Cybercity and Golf Course Extension Road which contributed 18% and 30% of overall leasing activity along with MG Road and Udyog Vihar which had 10% and 11% of the pie. Going forward, Sohna Road should be a major commercial investment hotspot along with the Golf Course Extension Road. Tech companies contributed a majority of leasing volumes for Gurgaon along with banking, insurance and finance companies in addition to flexi-working space firms.
Delhi had 0.15 million sq. ft. of commercial space being absorbed in the same period with Aerocity contributing 35% of overall leasing activity in this regard and the CBD contributing 32% followed by Nehru Place which came in at 10%. For the same period, the office segment in Noida had 1 million sq. ft. in gross absorption levels, with year-to-date figures reaching 2 million sq. ft. The tech sector contributed 42% of leasing volumes here along with engineering and manufacturing cos which contributed 23%. Banking, insurance and financial services cumulatively contributed around 15% of leasing volumes in Noida.
Reasons to invest in commercial real estate in Noida
Noida is fast becoming a coveted investment destination when it comes to commercial real estate. Here's looking at some of the key reasons behind Noida's growth as a mega commercial realty hub.
Aqua Line (Noida-Greater Noida) of metro network to boost connectivity immensely throughout Noida and its surrounding areas.
With Phase 4 of the Delhi metro network being fully implemented, all locations in Noida should have metro connectivity within a radius of 3 kilometres within the next 3-4 years.
64% of total commercial supply is presently concentrated along the Noida Expressway as per reports and caters to not just IT and ITeS companies but entities from several other sectors. This should continue to be a major micro market for commercial realty investments going forward.
The upcoming international airport in Jewar (35 km from CBD in Noida) will be a major boost in terms of returns and appreciation in commercial realty investments.
Manufacturing companies who function in Greater Noida may now look to set up corporate offices near the airport.
Office absorption levels for the first quarter of last year in Noida were close to double of the figures seen in the same period in 2017.
Commercial supply has increased with approximately 13 million sq. ft. of supply (and counting) being developed throughout Noida. 62% of this tally falls in the commercial segment as per reports.
Noida offers a more affordable option for investors as compared to Gurgaon as far as commercial real estate is concerned. Average rentals on a per sq. ft. and per month basis are cheaper than those in Gurgaon by an estimated 35% as per several studies.
Key Projects to Invest In
There are several commercial projects coming up in Noida. However, there are mega projects that offer ample scope in terms of future returns for investors.
Bhutani Cyberthum
This is a gargantuan commercial real estate project which is located at Sector 140A along the Noida Expressway which gives it a major connectivity advantage. Here are the key highlights of this project:
Business spaces, office spaces and retail shops with lease guarantee.
Planned by Bhutani Group which has developed the World Square Mall, Alphathum and Ithum.
Construction Linked Plan with returns of 12%.
Minimum investment Rs. 9 lakh and monthly return post payment of 30%.
9 year lease guarantee and attractive best selling price (BSP).
Tallest commercial/office complex in North India, mall in the sky that links two towers.
High-street retail zones with lovely water bodies, water shows and ornamental pool.
Short walk away from metro stations in Sectors 142 and 137.
LEED Platinum certification.
Located near FNG (Faridabad-Noida-Ghaziabad) Expressway and 45 minutes away from IGI Airport.
Upcoming Jewar Airport is only 25 minutes away from the project.
Other amenities include multi-level car parking, visitor parking, maintenance staff, safe elevators, security services, fire alarm systems and adequate security personnel.
Advanced cooling system for buildings, lowering consumption of energy along with better water management, emergency response centre and automated system for waste collection.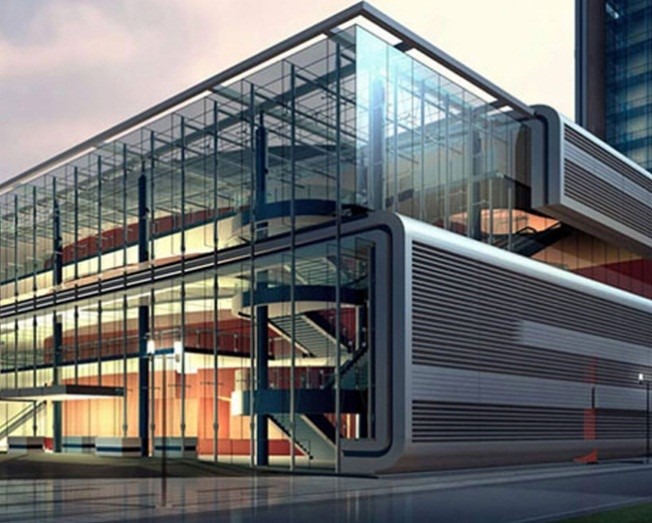 WTC (World Trade Centre) Noida
Another mega commercial project coming up in Noida, this one's worth considering as well. The World Trade Centre is a global brand and office network that has covered 300+ metro cities across 100 nations worldwide. Here are the key highlights of this project:
Located strategically at Sector 132 by Viridian Red which has the license for developing WTC buildings in the country.
Located near Kalindi Kunj, Yamuna Expressway and Film City.
Guaranteed returns of 11-12% with premium retail shops and office spaces starting at a competitive price.
Assured returns till possession, multiple investment options and plans.
Amenities like a coffee bar, swimming pool, elevators, parking, CCTV surveillance, gymnasium, playing zone, jogging track and power back-up.
Well connected to social amenities including educational institutions (Amity University) and hospitals (Jaypee Hospital) along with IGI Airport, Eastern Peripheral Expressway, DND Flyway, FNG Expressway, MOX Zone, Jewar Airport and Pari Chowk.
Near attractions like Gautam Buddha University, proposed night safari and Buddh F1 racing circuit.