A lot before the pandemic cast its dangerous spell on the entire world, the economy was steadily slowing down globally. The Indian economy was witnessing a similar effect as well. In spite of adverse circumstances, a chunk of corporates continued moving upwards while posting steady growth, all the while indicating amazing determination, perseverance and persistence. They are exceptions in the current scenario, writing their own success stories at a time when the picture is not quite rosy. The Economic Times has come out with the 2021 India's Growth Champions initiative for celebrating and recognizing these ventures.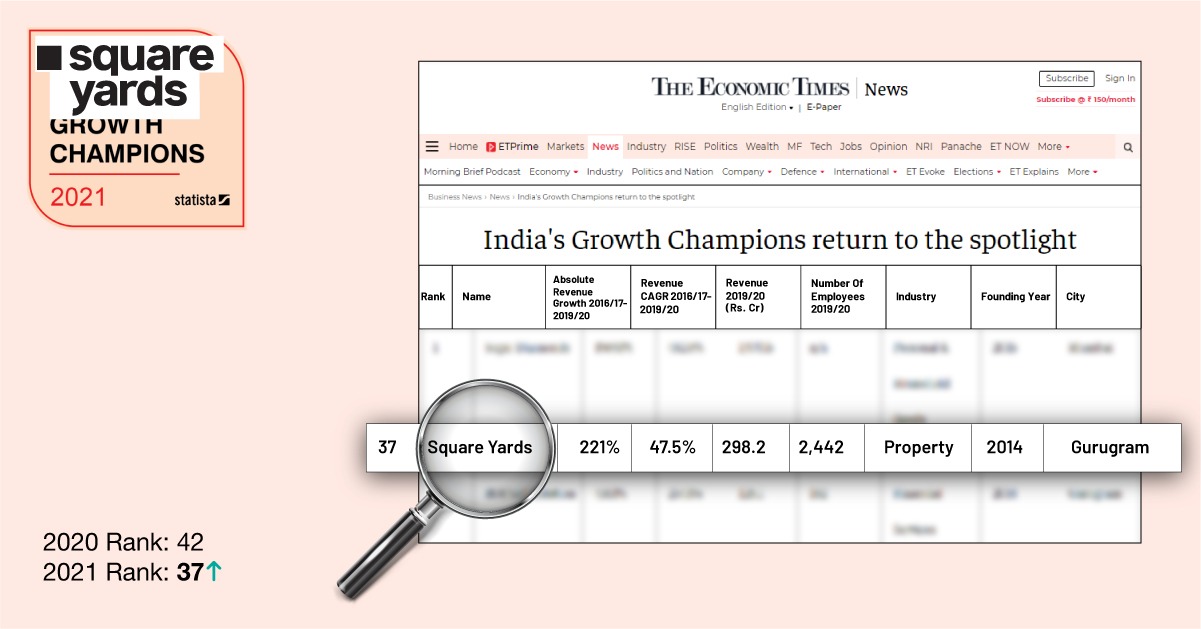 Post the successful inaugural edition of India's Growth Champions, ET has now collaborated once again with Statista for the second edition. The annual ranking highlights the fastest growing Indian companies in all key industries by way of revenues. Participating entities share their revenue details for financial years 2016/17 and 2019/20 along with added data. Companies should have churned out minimum revenue figures for a period of 3 years for being eligible to register and apply. They should be independent entities while majorly showcasing organic growth. 
Taking the present global economic slowdown into consideration, it is vital to acknowledge the contribution of these exceptional companies as examples of what can still be achieved amidst adversity. The ET India's Growth Champions showcases the mercurial progress and growing stature of Indian companies which will ultimately create a compounding impact on further acceleration of growth. 
Several leading companies have made it to the list including the likes of Wakefit, Razorpay, upGrad, InstaSafe, Kinara Capital, Zomato, Welspun Enterprises, Paytm, SaaS Labs, Mahindra First Choice, Jubilant FoodWorks, Radico Khaitan and Indiabulls Ventures among numerous other trailblazers. 
Square Yards has achieved the 37th rank in the 2021 edition and is a trailblazer in the Property category. It has achieved 221% of absolute growth revenue from 2016/17 to 2019/20 while also posting 47.5% of revenue CAGR (compounded annual growth rate) in this period. Square Yards also posted Rs. 298.2 crore in revenues for 2019/20 at a time when the real estate industry was grappling with the massive impact of the COVID-19 pandemic. 
The massive accomplishment was acknowledged and celebrated by the company and its fast-growing legion of employees worldwide. CEO and Founder Tanuj Shori summed it up when he posted about being super proud to be amongst the fastest growing Indian companies, yet again. He also mentioned the slight improvement while stating that we will be back with better- we can be better!! Square Yards achieved a ranking of 42 in the earlier edition and this has now improved to 37 in the 2021 edition of the landmark initiative. As one of the rapidly expanding and successful Indian real estate ecosystems, Square Yards will be gearing up to make it a hat-trick by the next edition of this event!
For a detailed report on this read the articles we were featured in:
The Economic Times – https://bit.ly/3cm1JuL
Published Date: March 05, 2021