"Everyone wants to live on top of the mountain, but all the happiness occurs while you're climbing it"
Last quarter, Q4FY18, was a path-breaking quarter for Square Yards on multiple fronts – key operating metrics, unit economics, rationalizing cost structures, improving productivity, tightening of processes and synergies with technology.
First things first, the numbers that matter the most – for FY18, SQY achieved USD27mn Gross Revenue, USD23mnNet Revenue, Gross Transactional Value of USD725mn, 12k transactions. These are staggering numbers (with only 4 years of existence) relative to the sector and clearly propel SQY in the newer trajectory, far ahead of any organized competition in the country.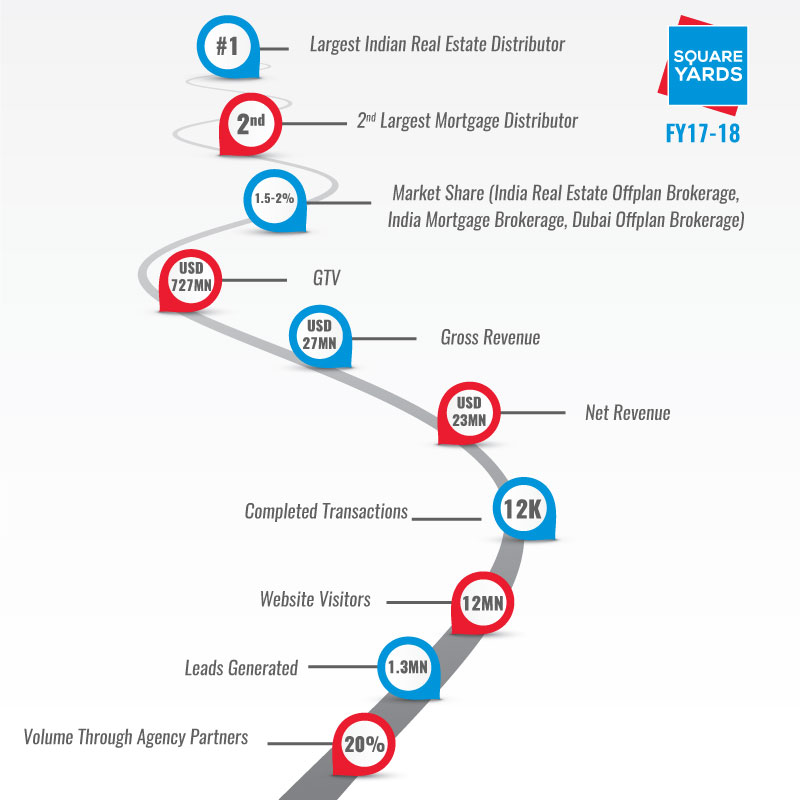 To gauge the relative strength and importance, largest developers in India move ~1000 transactions a quarter at best, with ~INR1500cr worth of inventory; and other direct peers of SQY move only a fraction of the volumes which SQY does.
More importantly, it puts SQY just shy of breakeven (with March being EBITDA positive on a monthly basis, at the corporate level), a milestone, which puts us in a different league altogether and proves both scalability and profitability in the proptech transactional business model.

What led us there? Tech, Scale, Leverage, automation and processes
It has been a combination of steady increase in scalability (driven by online demand generation and automation across the value chain), productivity (ERPs leading a sizeable jump across all key metrics), stringent collection processes (Escrow account mechanism), consolidation across key verticals (India Real Estate, Mortgage, and Global markets), 360-degree view of the customer interactions and sales efficiency, and last but not the least, scalable leverage (volumes ensuring all of the above)

We believe that tech is fast disrupting the real estate world.  While the first phase of real estate technology innovation was more focused on home search & discovery, the second phase, which focuses on enabling real estate transactions, has truly begun. Over the last couple of years, we have seen the creation of massive technology companies like Compass, Redfin & Opendoor that are all operating in the transaction space.
We want to take the entire real estate transactional value chain online and have been fairly successful in taking a substantial chunk online already – from lead gen, to lead management, to real-time online movement of inventory, to mortgage facilitation with banks, to pre/post sales processes and client interactions. This has been the key driver to help improve productivity metrics and overall efficiencies.
Onshore distribution scaling up, NRI remains most profitable, Mortgage ramps up to pole position and IPM scales up in Dubai
India Real Estate onshore distribution continues to drive scale with SQY touching ~2% of the market, a phenomenal effort by the team considering sluggish phase of the industry. While there still needs to be lot of work to be considering low digit market share, but the heartening aspect has been sharp growth of next leg of metros like Kolkata, Lucknow, Pune and Hyderabad for us. These 4 cities now combine to contribute ~20% market share of overall onshore distribution.
NRI distribution continues to pull its weight by being the most profitable segment, and growing by 94% over the year. This has been a year of consolidation in key markets such as GCC, Singapore and now we are preparing to further penetrate into GCC by launching Bahrain, Kuwait and Saudi over the next quarter.  Square Yards currently controls ~20% of the market share in GCC led India real estate investments.
The biggest success story for SQY in FY18 has been the scale in mortgage distribution wherein we have leapfrogged to become second largest mortgage distributor in the country, with a run rate of USD30-40mn worth of home loan related products' disbursals every month.
The global products division, IPM, continues its nascent journey in key markets like Dubai and Australia. In Dubai, it has achieved ~2% market share, has become profitable, and is on course to becoming the largest Dubai agency over the next 12 months. However, we would continue to follow selective opportunistic expansion approach, mostly in cities, which have a significant NRI audience and market share of local off-plan markets.

Square Connect remains target area; RERA biggest enabler
We continue to believe that future of real estate/mortgage broking would be led by a widespread distribution workforce, which will be qualified, licensed, multi skilled and consolidated over few organized players. Square Connect is SQY's captive distribution platform wherein we engage with independent brokers, IFAs, to train, transform and transact through a more organized channel. With the advent of RERA, compliance requirements will continue to tighten, and we believe that there will be a need of few industry leaders who could lead consolidation through the space.
Square Connect has been marginally successful in its efforts, with current base of 25k channel partners, who contributed ~20% of our volumes in FY18. We are sitting to our long-term target of ~150k channel partners/agents which should not only help us further strengthen off-plan distribution market, but probably would help us foray into leasing/secondary sales.
Challenges, YES; but therein lie opportunities as well
Actually the entire eco system has been a challenge – Right from principals (developers) not fulfilling their commitments, trust issues, collection issues, hyper competitive nature, talent not scouting career opportunities in the space. But probably that is the reason, that despite it being a USD100bn+ industry, it has been so fragmented that the largest players are in single digit market share. And therein comes the opportunity – this is probably the only unorganized multi billion $ sector in one of the largest economies in the world, and we believe it or not, this sector will produce the next set of unicorns in India.
India today transacts roughly 20-25k new/under construction home sales a month in the top 10 cities, as against the latent demand of 300k units and as against China's volumes of ~1mn units a month. Even a developed country like US transacts ~50k units/month on new builds. It is a unique case study of massive oversupply and unsold inventory despite a strong latent demand – because assets are mispriced.
We believe there will be a volume explosion in India at the tail end of the market, lower middle income housing (affordable housing), and the volumes in the next 20 years will dwarf whatever we have seen so far. And with RERA enforcement becoming stricter, this expansion will come with underlying consumer trust that has been missing from the market.
Talent remains the elusive elixir
One of the key challenges has been finding the rightly motivated and skilled talent, as this industry has always been underserved. We believe with emergence of organized players, this should change (and is already changing) as it is able to attract workforce from ancillary industries such as insurance, banking and wealth; and as well as graduate workforce stepping into the corporate world. The careers in real estate would be substantially rewarding as the industry goes through consolidation process over the next 2 decades, and we are enriching SQY to play a critical role in creating a large pool of skilled and compliant workforce for the same.
FY19 should be defined by more of the same in Indian Real Estate (with more intensity, aggression and profitability); and targeting newer grounds in broker aggregation, mortgage distribution and machine learning
We believe that in Indian Real Estate distribution, after a year of constant exploration, experimentation, and testing new waters, this is now time for consolidation. The key target driving various sub segments this year would be to create economies of scale, doing 10x more of the same, achieving profitability across verticals, and creating thought leadership for various changes industry is going through. Controlling the product flow and compliances would ensure greater client engagement, which will further optimize efficiencies and productivity.  We need to continue to work with much greater intensity, and unified aim, to be able to achieve 10% market share goal by 2020. We shall do so.
At the same time, we believe we are very close to breaking newer grounds in mortgage distribution and broker aggregation. We are aiming for becoming the largest mortgage distributor over the next 12 months.
On the technology side, we would be digging deep into the enormous amount of customer & transactional data that we generate and applying tools like AI and machine learning for intelligent decision-making and improving efficiencies across the value chain.