Everyday of office becomes boring and tiresome and you tend to desperately wait for Sunday. But what if your office is so mind blowing and full of life that you simply fall in love with it. The structure reflects the buoyancy and attitude and prove that you dare to think out of the box.
There are 5 such office spaces that will make you hate yours.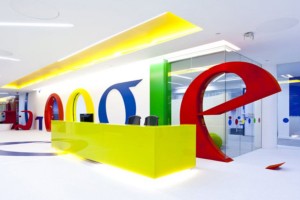 The new Google office at Gurgaon is a super fun to work in and the state of architecture tends to awestruck the people. The reception area is designed like a Taj Mahal which changes colours. The office also incorporates a cricket pitch, a mini golf course, a railway coach and napping pods.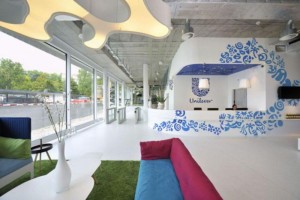 The office of Unilever in Bangalore is marvellously designed with a unique yellow, dark and white subject. There are no separate cabins for the managers, directors or bosses rather all the employees irrespective of their positions, sit together under one roof to conceptualize and team up effectively.
The Myntra office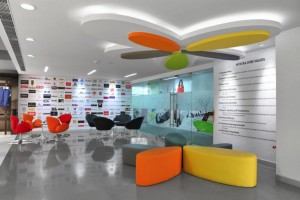 The Myntra office located off the Hosur Road in Bangalore is splendidly designed with a retail store like reception area. The walls and pillars are beautified with graphics and every corner of the workplace is sketched differently with a breathtaking fusion of vibrant hues. It is so designed to break the mundane of boring office spaces so that the employees can think out of the box and come out with brainstorming ideas.
LinkedIn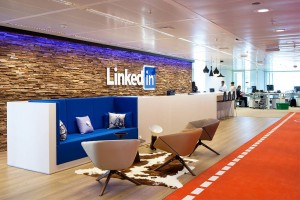 Step in the colourful hole in the wall of orange and green. Oh! It is the new office of LinkedIn at DLF Cyber City, Gurgaon. It is vogue in design and sassy in style. It makes the most wonderful place to work in where one can stay addictive and enthusiastic all day long to the vivacious splits of colours.
British Telecom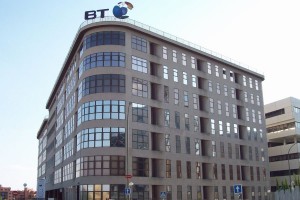 Sitting in office with laptop on your desk throughout the day gives a headache, right? Well, jump into the splash of colours at British Telecom in DLF Phase II, Gurgaon with designer partitions dressed in different hues. So, the office doesn't suck anymore.
Image sources- www.dezeen.com,www.lensvelt.nl,urbanpeek.com,en.wikipedia.org,www.universityexpress.co.in,coolboom.net