Indian real estate is now moving towards organized mass housing, a much-needed move to provide basic housing to the increasing population of the World's 7th largest country. We are already seeing a significant shift in focus and planning towards such housing projects. With the infrastructure status tag, this segment of housing is only bound to grow. Rapid urbanization has led to a severe housing shortage, especially for the middle and low-income groups. This is especially because the focus on EWS housing has always been less and government oriented. Typical problems arising from growing urbanization like strained infrastructure and limited land banks has further put constraints on affordable housing. Given the facts, there is a huge gap between actual supply and demand for housing in India both in terms of quality and quantity.
" 30 million additional houses required by 2020
88% of the housing shortage pertains to low-income group housing"
Affordable Housing – Definition
There are three significant factors that define affordable housing.
The size of the residential unit. 2.Income Level of the home buyer
Actual Affordability or the price co- relation viz -a-viz demand.
While these factors can be considered to generally understand affordable housing, depending on macro market scenarios, the definition might differ

State Wise Housing Shortage in Million in 2012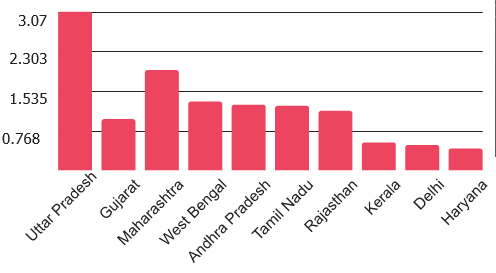 Source: Report of the Technical Urban Group (TG-12) on Urban Housing Shortage 2012-17India
Excerpts from a Whitepaper on Affordable Housing by Square Yards