A business and technology magazine, Silicon India regularly provides critical and relevant content by projecting stories on burgeoning entrepreneurs and exceptional technologists. Recently Silicon India awarded Square Yards under the category- "Best Start-ups to Work For: 2018" and featured the company's journey.
Technology-driven
A technology-enabled transaction and aggregator for primary global real estate, Square Yards has several out-of-the-box and absolutely outstanding technology-facets that have the ability to run a number of tech platforms for the end customers, internal employees and the B2B channels. The company's flagship portal- squareyards.com is in fact, one of the most fostered Indian real estate research platforms that offers deep analytics, decision tools, and data-driven insights, assisting the consumers to make informed property decisions.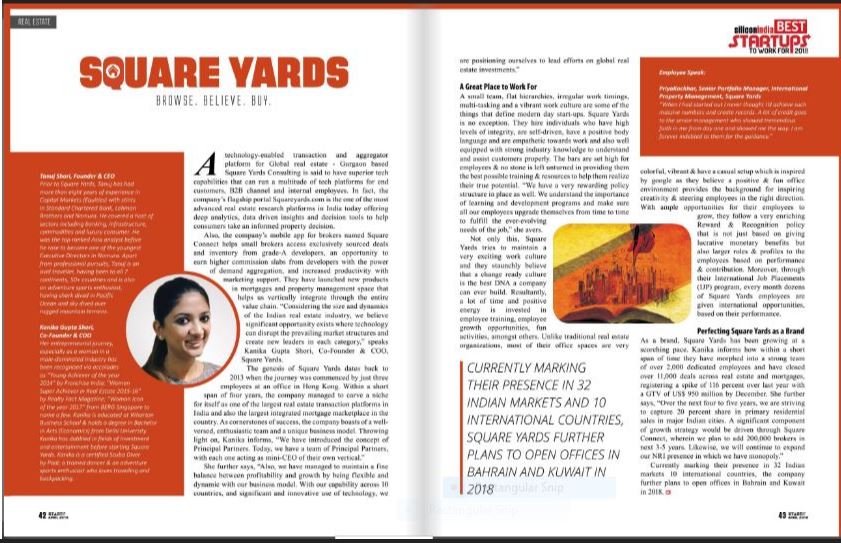 No More a Prodigy
Being one of the very few start-ups which have witnessed a tremendous growth pattern in a very short span of time, Square Yards is now, no more a prodigy. The Company's journey that commenced in the year 2013, with merely three people at their office in Hong Kong, has now grown to 2000+ employees.
Founded by the U.A.E. based couple- Tanuj Shori and Kanika Gupta Shori, the CEO and the COO respectively, Square Yards is the only Indian company to hold multi-country property licenses while entering into collaborative arrangements with principle global developers. The launch of a new property management space and mortgages have further helped the company to vertically integrate through the complete value chain. As a remarkable venture amongst its numerous offerings, the mobile app- Square Connect aids brokers to access inventory and exclusively sourced deals from Grade-A developers, which is a substantial opportunity to exercise the power of demand aggregation and increased productivity with marketing assistance and hence earn higher commission slabs from developers.
Introducing the Founders
The founders had had sundry experiences in multiple fields other than Real estate, prior to venturing into their own enterprise. The U.A.E. based entrepreneur, Tanuj Shori has more than eight years of experience in the Equity market with stints in Lehman Brothers, Standard Chartered Bank, and Nomura. Covering an array of sectors including banking, commodities, infrastructure and luxury customer, Tanuj rose to become one of the youngest Executive Directors in Nomura. Kanika on the other hand dabbled in the fields of entertainment and investment before the foundation of Square Yards. As a woman, her entrepreneurial journey, in a male-dominated society has been recognized multiple times at significant levels via accolades such as "Young Achiever of the Year 2014", by Franchise India; "Woman Icon of the Year 2017", by BERG Singapore, and many more.
Distinctive Pathways
Within four years, Square Yards managed to carve a niche for itself as one of the biggest Indian real estate transaction platforms, along with being the largest integrated mortgage marketplace in India. The founders are proud of a well-versed and enthusiastic team they possess, as well as the unique functional business model that they operate on. "We have introduced the concept of Principal Partners for each team, where each of them acts as a mini CEO for his/her own vertical", says Kanika.
The founders have always believed in the mantra- "Build people to build the business". Square Yards hires people with large levels of integrity, self-driving ability, empathy towards work and a strong sense of industry knowledge in order to understand and assist the customers in the best way possible. Incorporating flat hierarchies, a vibrant work culture, the company has a rewarding policy structure, well in place. "We understand the importance of learning and development programs and make sure that our employees upgrade themselves from time to time to fulfill the ever-evolving needs of the job", says Tanuj. He adds that a change-ready culture is the best DNA, a company can ever build. Hence, employee training, exciting fun activities, a Google-inspired colorful setup, policies like 'Reward & Recognition', are all a part of its exclusive work culture that constantly inspire creativity and steer the employees in the right direction. Also, through the International Job Placements (IJP) program, dozens of employees are given employment opportunities every month.
Unfinished
Square Yards has grown at a scorching pace in this little time frame and has morphed into a robust team of over 2,000 dedicated employees, closing approximately 11,000 deals across mortgages and real estate, while registering 116% of growth over the last year with GTV touching US$ 950 Mn. by December. Marking its presence in 32 markets across 10 countries, Square Yards is expected to open offices in Bahrain and Kuwait, by the end of this year.
Read the whole story here: click here