Credit Linked Subsidy Scheme is aimed at providing housing to the general populace and so, all those people who already have a pucca house are out of the purview of this scheme. The beneficiary family should not own a pucca house and they should not have taken any central help under housing schemes from any government. The beneficiary family consists of husband, wife, unmarried sons and daughters.
If you want to buy a home under PMAY scheme, there are important things you should know about the scheme while you arrange for making the initial payments for the scheme. There is PMAY scheme for MIG buyers which you should consider and at the same time look for the location, the builder and the lender. CLSS for MIG scheme is credit-linked subsidy scheme provided by the government for the benefit of the home buyers under MIG or Middle-Income Group. There are different MIG Plans you must be aware of before deciding on making the down payments. MIG Scheme does contain MIG Standards which come under the purview of Credit Linked Subsidy Scheme launched by the government of India.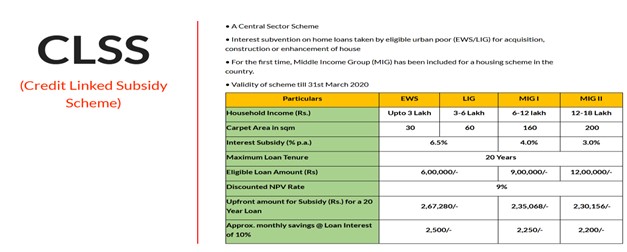 The CLSS for MIG 1 and 2 were approved for implementation for the year 2017. Later it was extended up to 2020. Now the scheme has further been extended till March 2021.
The Middle-Income Category of Earner
The MIG category that was introduced has two slabs.
There is MIG I that comprises households with an annual income of Rs. 6,00,000 to Rs. 12,00,000.
There is MIG II will have the annual income between 6 lakh and 18 lakh. If your income is between 6 lakh and 18 lakh per annum, you can avail yourself of the benefits of subsidized loans if you meet some other prescribed conditions.
PMAY (U): Benefits and Salient Features
| | | |
| --- | --- | --- |
| Particulars | MIG I – PMAY (U) | MIG II – PMAY (U) |
| Annual Income of the Household | Rupees 6-12 lakh | Rupees 12-18 lakh |
| Loan Amt Eligible for Interest Subsidy | Rupees 9 lakh | Rupees 12 lakh |
| Interest Subsidy | 4% | 3% |
| Carpet Area of Dwelling Unit | 160 Sq. mt. | 200 Sq. mt. |
| Max loan Period (in yrs) | 20 | 20 |
| NPV subsidy | Rupees 2.35 lakh | Rupees 2.30 lakh |
Who Are All Eligible?
People who already have a house are out of the purview of the scheme. This scheme is aimed at housing for all that means housing for the homeless.
The beneficiary family with a pucca house won't be getting the benefits of the scheme.
The beneficiary family should not have taken any central assistance also. Here the family means husband, wife, sons and daughters who are unmarried.
The members of the family, while applying for a loan, have to furnish Aadhar card details for avoiding duplication of benefit.
An adult may be considered a beneficiary separately if he or she is earning provided he or she does not possess a pucca house in his or her name in any part of India.
Even married or unmarried children who are staying with their parents can avail themselves of loans if they don't own their own house.
Provision of Subsidy
If an individual is in MIG 1 category, he will get 4 per cent interest subsidy on a loan that may go up to a maximum of 9 Lakh
For MIG 2 slab, the individual will get a 3 per cent subsidy on loan. It will be up to the loan amount of 12 lakh.
If you want a loan more than the stipulated amount, the lender will give you a loan but will not give a subsidised loan on the additional amount of loan taken.
How Is The Subsidy Adjusted?
The subsidy amount won't be differentiated on the interest amount. It will be the net present value or NPV of the subsidy amount. The calculation will include a rate of discount at 9%. For evaluating NPV of the subsidy, you will require the loan's amortisation schedule, as the interest part of every equated monthly instalment (EMI) has to be taken into account. The subsidy amount will reduce your loan amount. The interest burden will also come down.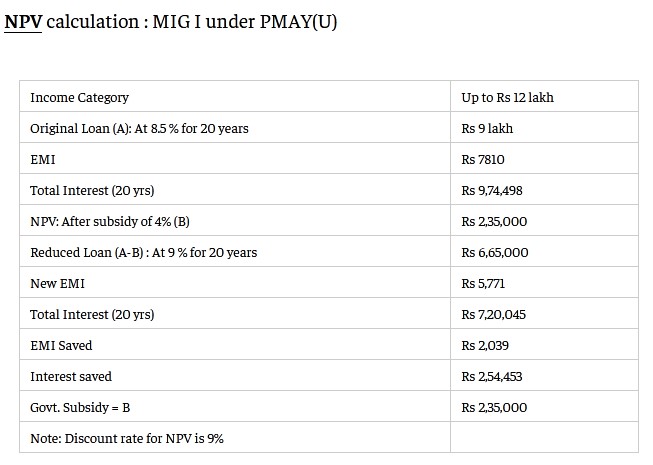 Loans under PMAY
The benefits of PMAY can be availed if you wish to buy a new house from a builder or developer or even from the open market through repurchase. You can also take a loan for construction of a house.
Home area
Under PMAY, the area of the house does differ. It differs for various categories and for that the carpet area is to be considered.
| | |
| --- | --- |
| Category | Carpet Area |
| MIG 1 | 90 sq meters |
| MIG 2 | 110 sq meters |
For Video on Announcement of Affordable Rental Housing Complexes (ARHCs) click on the below link to view:
https://www.youtube.com/watch?v=2fIXiM-ZAS8
For more video on Affordable Rental Housing Complex for Urban Migrants Under PMAY click on the below link to view
https://www.youtube.com/watch?v=P9HN5RJL4YU
Also read : MIG Housing Property – Eligibility Criteria, News & Updates