For years, real estate remained averse to technology. Most of the real estate companies spend less than 1% of their revenue on IT infrastructure, and the real estate sector was termed a laggard when compared to other sectors. With an estimated USD 217 trillion valuation, real estate is one of the largest commodities in the world which has remained untouched by technology. But of late, things are taking a shift for better.
The COVID-19 induced crisis has led to wide adoption of virtual technology in real estate sector by innovative startups in India. Amidst coronavirus crisis and nationwide lockdowns, physical site visits of real estate properties have become nearly impossible or restricted. Usage of virtual technology has come to rescue and helped counter the present crisis, inducing a paradigm shift from physical site visits to virtual ones. Conventionally, real estate prospects are hesitant to ink a deal unless he/she hasn't seen the property physically. Coronavirus crisis has challenged every myth and ushered a structural shift in how customers will perceive and buy real estate.
The virtual technology market in the world is currently estimated to be over USD 150 billion & is poised to grow at a rate of around 70% annually. Entertainment, education, gaming & others, are some of the sectors where virtual technology has bombed.
Realty companies and start-ups started adopting virtual technology to enable business continuity in the wake of the coronavirus crisis and lockdown. Moving ahead, real estate will be one of the significant beneficiaries of immersive technologies such as virtual property tours, 3D- Designs, virtual showcase of property, interior design, and engineering visualization. The immersive virtual technology valuation in real estate is expected to reach USD 2.6 billion by 2025.
3D Home Staging
Through this immersive technology, a prospective home buyer can visualize in real time how his property interiors would look like post decoration or customization. One doesn't need to visit the apartment physically; 3D images would do the job for him.
Virtual Property Tours
Going forward, virtual property tours will become a common norm in real estate for buying a residential property. It makes the process of finding real estate properties quick, convenient, and hassle-free. It guides potential buyer to take virtual tours of every room with the help of virtual reality glasses. It can easily embed on property website and mobile application to provide real time virtual experience to a potential homebuyer.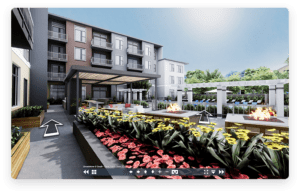 Virtual Showcase of Property
Generally, a homebuyer visits different property sites before finalizing the property. It is a time-consuming process and required huge resources. Usage of VR technology allows a potential homebuyer to visit residential properties by putting a VR headset and experience a virtual walkthrough of real estate properties.
3D- Visualization
Using three-dimensional mapping, home buyers and investors can visualize residential properties and its entire neighbourhood and get an immersive experience of how a property will look like when completed. It allows realty investors and potential home buyers to look at both interiors and exteriors of the properties.
Conclusion
However, in future, the usage of immersive and sophisticated virtual reality will play a stellar role in driving online real estate. Undoubtedly, virtual technology and innovations are bringing efficiency, enhancing customer experience, saving money, offering global reach, and creating new possibilities for the real estate industry.