This article provides you with Online tools have eased much of our work by simply calculating and giving instant results based on the entries made by us. Just as an EMI calculator gives us an estimated value of monthly instalments on the loan borrowed, a Home Loan Calculator provides us with the information and probability of us being eligible to apply for a home loan.
Features of a Home Loan Calculator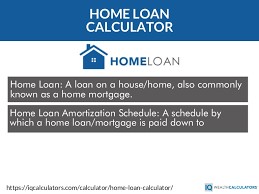 For many of us, buying a house for ourselves is a dream come true but most of us are unable to do so due to the limited income and extra expenditure. However, with a home loan policy, we can make our dreams possible to turn into reality. Even though many of us might feel borrowing loans can be a piece of extra baggage but here are some of the added advantages which a home loan brings about. This would entirely change your perspective on getting a home loan.
Firstly, a home loan turns a dream into reality –
It enables you to secure an asset for the future. Not only does it bring a sense of accomplishment but also enables you to make one of the biggest financial investments of your life.
It protects you from falling victim to inflation –
Since property prices are always fluctuating in the real estate sector, renting a house in recent times is costly than ever before. A better option is to secure a home for you at a value that could be appreciated against the monthly rentals.
Home loans come with low-interest rates –
You must be aware that loans are available by various banks and other financial institutions in the market for serving various individual needs. There are both secured and unsecured loans charging hefty interest rates and EMIs. However, home loans are provided with low-interest rates, especially when the applicant or the co-applicant is a working female member of the family.
Tax benefits are also accompanied by Home loans –
According to the Budget 2020, the finance minister of India has extended the date for applying for a home loan under the affordable housing scheme. Tax benefits are also increased to Rs. 3.5 lakh which was earlier Rs. 2 lakhs. This implies that home buyers can claim up to Rs. 3.5 lakh for the interests paid against home loans borrowed under the affordable housing scheme.
How is EMI calculated on Home loans?
Home loan EMIs can be easily calculated by using the Housing Loan EMI Calculator by applying simple mathematical calculation such as the principal amount, the number of monthly instalments and the rate of interest charged per month. Therefore, by simply entering the principal amount borrowed, the tenure for repayment (i.e. the number of months) and the rate of interest, your EMI calculator will provide you with the value which is the outstanding payment amount for every month.
Factors affecting your Equated Monthly Installments (EMIs)
Principal: It is the total amount which is handed over to you as the loan from the lender. Your EMIs are said to be directly proportional to the principal amount borrowed. Thus, the greater the loan amount, the greater is the EMI value and vice versa.
Tenure: It is the time allotted to repay the amount borrowed. EMIs are said to be inversely proportional to the tenure of the loan repayment procedure. The shorter the tenure, the higher is the EMI charged and vice versa.
Rate of Interest: It is the rate at which the bank or the financial institution lends you the sum. Rate of interest is different for every financial institution. Some may charge you with high-interest rates whereas some may charge you with low-interest rates. Moreover, there are floating and fixed interest rates for the entire tenure as well.
EMI Calculator
Note that calculating your EMIs beforehand could act as a precautionary measure before you apply for a home loan. Not only does it provide you with a better scope for enhancing your investment plan but also prepares you for what comes next. By calculating the monthly instalments, you could conclude whether you are ready to sign for a big financial commitment that requires a huge investment plan.
FAQs
Q1. How would it affect Home Loan Interest Rates after Coronavirus?
Ans. Following are the effects of Covid-19 on home loan interest rates:
Loan relief packages
Moratorium period extensions
Exemptions from EMIs for existing borrowers
Reserve Bank of India made cuts to its repo rate from 4.4% to 4%.
Q2. How to get hold of a home loan calculator?
Ans. By simply surfing the net you can get hold of a home loan calculator. Just input the following on the search box to easily access a home loan calculator:
<Bank Name> Home Loan Calculator 
For example, SBI Home Loan Calculator, HDFC Home Loan Calculator, Bajaj Finserv Home Loan Calculator and so on
Q3. What are the eligibility criteria for applying for a Home loan?
Ans. The Eligibility Criteria is as follows:
You should have a monthly regular income, i.e. you either have to be a salaried employee or own an effective business.
You should have a good credit score in the fulfilment of earlier EMIs or monthly credits.