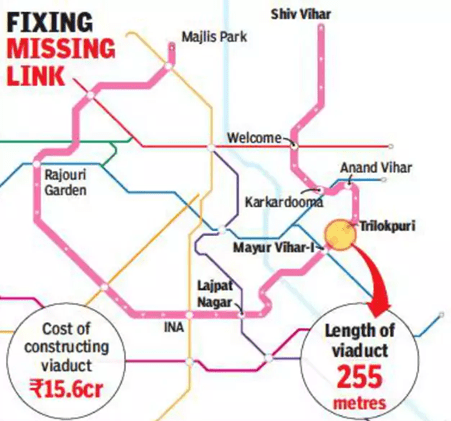 Delhi Metro Rail Corporation (DMRC) had announced that it would make the Pink line metro completely operational by the middle of 2020. With the construction being rescheduled due to the COVID19 lockdown, Delhiites may now have to wait a little longer.
The love for living in Delhi encompasses many factors including beautiful neighbourhoods, exciting commercial centres, great markets, food chains but most importantly, connectivity. Delhi Metro is one of the most availed communication modes in the city because it connects all the major stations from south to north and from east to west. Delhi pink line metro is one of such new developments that are anticipated by many Delhiites.
Delhi Metro Rail Corporation (DMRC) had made it official to make the Delhi Metro's Pink line fully operational by the middle of 2020. The construction of pink line metro was to be made active on one and a half kilometre stretch (which is the pink line) connecting the stations of Mayur Vihar (pocket one) and area of Trilokpuri Sanjay Lake. It is just a wait of not more than eight months for the pink line to be functional, making the lives of thousands of people easier than before. The pink line is scheduled to be opened for the public sometime in 2020 soon, if not delayed due to the COIVD19 Pandemic.
Some major aspects that you should note
In March 2018, the twenty points six kilometres route, along with the fifty-nine kilometres stretch between Durgabhai Deshmukh (South Campus) and Majlis Park was inducted. It was followed by connecting Lajpat Nagar to South Campus section in August 2018 and eventually, the Shiv Vihar to Trilokpuri section during October 2018.
On December 31st, 2019, the Delhi metro pink line was inaugurated to connect the stretch connecting Lajpat Nagar and Mayur Vihar Phase 1 and since then, it is opened for public use. There are five pink line metro stations in between this stretch: Vinoba Puri>Ashram>Hazrat Nizamuddin>Mayur Vihar Phase-I> Mayur Vihar Pocket-I in this stretch of ten kilometres. With the commencement of the pink line, the commute time has reduced by fifteen to twenty minutes especially for those who are travelling from east to south Delhi. The special inauguration was conducted by respected ministers and deputy chief minister of New Delhi.
Facts: The Ring Road Line covering the above-mentioned stretch (a 9.5 km corridor) will be operational between northwest Delhi (Majlis Park) and northeast Delhi (Shiv Vihar). The entire distance coverage will be at lease fifty-nine kilometres once the work is completed and the pink line metro will run over the Ring Road stretch of Delhi. The interesting 'U' shaped route has brought the attention of many infrastructural heads that are applauding the DMRC's innovative pink metro line. The pink line metro route will be an elevated route compared to the other metro lines in Delhi with Dhaula Kuan at a height of twenty-three point six metres. Out of the total route length, thirty-nine points four-eight kilometres will be the elevated route while nineteen points eleven kilometres will be underground route.
What Makes the Pink Line route so Exciting?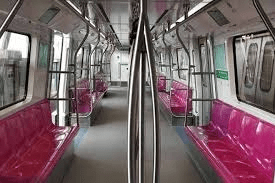 Metro interchanging is a daily business among passengers travelling via Delhi metro. The interchanging or connecting stations links metro lines from one end to another, making it easy for travellers to commute long distances. The Delhi pink linemap has some of the most interesting interchanging stations which will help people cover longer routes within a short amount of time. The stretch will connect almost all the important stations, touching the Yellow line, Greenline, Blue line, Orange and Violet lines. It will also help in connecting the Anand Vihar Terminal: Indian Railways, Hazrat Nizamuddin and the ISBT (at Anand Vihar & Sarai Kale Khan)
An Innovative Technology: the Delhi pink line map has come out to be one of the most technologically advanced innovations implemented by the Delhi Metro Association. The map stretch will be functional on a standard measure allowing trains to have UTO or Unattended Train Operations, also known as Driver less trains. Initially, the drivers will run these metro trains which will slowly develop into an advanced technology allowing trains to function autonomously. Another advancement that will positively impact the pink line metro is the CBTC or Communication Based Train Control. This is a new signalling innovation which will definitely improve the signal synchronization between metros from various directions. In this manner, the train frequency will increase drastically, shortening the travel time towards one's destination.
Now Let's Take A Look at the Delhi Pink Line Route Map development:
On Monday, August 6th, 2019, Durgabai Deshmukh South Campus became operational covering stations between Lala Lajpat Nagar Metro stations. This was inaugurated by Arvind Kejriwal (Chief Minister of Delhi and Union Minister Hardeep Singh)
It includes the Shiv Vihar stretch that comes under the Phase 3 Delhi Metro development
On completion of the corridor, the coverage between Majlis Park and Shiv Vihar rounded to be around fifty-nine kilometres.
The DMRC (Delhi Metro Rail Corporation) has made it official that around twenty-three metro trains will be functioning on the pink line. These trains will operate between Lajpat Nagar station and Majlis Park.
The new segment of the pink linemetro trains will cover six major stations: Sir Vishwaswaray Moti Bag Station which comes right after the Durgabai Deshmukh South Campus, the Bhikaji Cama Place, Sarojini Nagar, INA South Extension and Lajpat Nagar.
One can easily go for an interchanging metro from the stations of INA and Lajpat Nagar, connecting the yellow and violet metro lines.
Moti Bag station will be the singular elevated station among the six new metro stations while all the others will be an underground station.
No great work comes without a little challenge
As per the DMRC, establishing the Phase three corridor was a great trial. Due to obvious circumstances, the pink line metro route faced many technological blockages in the initial days like traffic maintenance, signalling, land acquisition and more. The construction challenge was mainly due to the positioning of the Red Road stretch and major utility alterations were done between Mayapuri and Sakurpur. There were also bottlenecks during the construction of traffic management in areas of Maujpur, Anand Vihar, Welcome and Patparganj.
Here is a tabloid representation of some the pink line metro stations and their type on the Delhi metro pink line:
| | |
| --- | --- |
| Station | Route Type |
| Mukundpur Depot | Interchange (Magenta Line) |
| Majlis Park | Interchange (Magenta Line) |
| Azadpur | Interchange (Yellow Line, Magenta Line) |
| Shalimar Bagh | Normal |
| Netaji Subhas Place | Interchange (Red Line) |
| Sakurpur | Normal |
| Punjabi Bag West | Interchange (Green Line) |
| ESI Hospital | Normal |
| Rajouri Garden | Interchange (Blue Line) |
| Mayapuri | Normal |
| Nariana Vihar | Normal |
| Delhi Cantonment | Normal |
| Durgabai Deshmukh South Campus | Interchange (Yellow Line) |
| Sir Vishwaswaray Moti Bagh | Normal |
| Bhikaji Cama Place | Normal |
| Sarojini Nagar | Normal |
| INA | Interchange (Yellow Line) |
| South Extension | Normal |
| Lajpat Nagar | Interchange (Violet Line) |
| Vinobapuri | Normal |
| Ashram | Normal |
| Hazrat Nizamuddin | Normal |
| Mayur Vihar 1 | Interchange (Blue Line) |
| Mayur Vihar Pocket 1 | Normal |
| Trilok Puri Sanjay Lake | Normal |
| Vinod Nagar East | Normal |
| Vinod Nagar | Normal |
| IP Extension | Normal |
| Anand Vihar | Interchange (Blue Line) |
| Karkarduma | Interchange (Blue Line) |
| Karkarduma Court | Normal |
| Krishna Nagar | Normal |
| East Azad Nagar | Normal |
| Welcome | Interchange Red Line |
| Jaffrabad | Normal |
| Maujpur | Normal |
| Gokul Puri | Normal |
| Johri Enclave | Normal |
| Shiv Vihar | Normal |
To conclude, the pink line metro is by far the most ground-breaking metro route in Delhi covering all ends of the city with a promise for more innovation in the future.