SPR or the Southern Peripheral Road is expected to be the biggest residential and commercial real estate hub of the future. It is one of the destinations which has witnessed skyrocketing commercial development with several office spaces coming up all along the stretch along with several residential real estate projects as well.
SPR basically connects to the Golf Course Extension Road and National Highway 8 along with the Sohna Road. It also fuses with the NPR or Northern Peripheral Road while going across Sectors 48-50, 55-75 and also Sector 79. There are numerous IT Parks that have come up along this thoroughfare along with other infrastructure and social amenities as well.
Why SPR offers good future value for buyers
The Southern Peripheral Road (SPR) is already home to several big-ticket infrastructure developments including the following:
BMW Group Training Centre at Sector 75
Genpact IT Park at Sector 69
Quoretech BPO and IT Park
DLF-IT Hub
Two commercial projects by M3M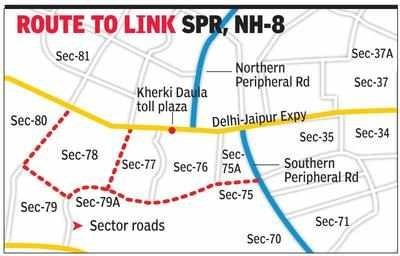 Additionally, the stretch is located near key office zones like Golf Course Road, Sohna Road, Cyber City and Udyog Vihar. The Indira Gandhi International Airport is only 28 kilometres away from the SPR while the nearest railway station is also 14 kilometres away from the stretch. The SPR portion which connects to the National Highway 8 is already operational and residents can easily access the latter in quick time which is a major boon for swift commuting. Overall access has gone up hugely for Sectors 69 and 70 where several residential real estate projects are situated.
Additionally, commercial real estate demand is being sparked by the increasing rentals for office space along Golf Course Road and MG Road. Companies are increasingly opting for space along the SPR at almost half of the average occupancy costs along the Golf Course Road. This is expected to spur huge commercial demand in the future along with leading to price appreciation in the next few years. This is why investing in residential real estate along the Southern Peripheral Road (SPR) may be a good idea according to several experts.
More on the SPR
The SPR will be 16 kilometres long and once it is completely executed, will be linking the NH-8 directly to the Golf Course Road. The road starts from the Gurgaon-Faridabad road which is near Ghata Kanarpur and links to the National Highway 8 at an intersection in Kherki Daula near the important Sohna Road. This intersection takes place at the Badshahpur Chowk. The SPR will cover 11 sectors in all from 68 to 75A and its major USP will be seamless connectivity with several areas in Gurgaon. The stretch may be called the National Highway 248 by the Government as per reports.
Upon its full completion, the IGI Airport will only be 40-45 minutes away from this area and the NH-8 will be accessible in half an hour. The best development is that HUDA is targeting the completion of sector roads and other basic infrastructure soon. Work is ongoing for key aspects like sewage systems, water supply, landscaping and electricity. The metro railway network has already come till Sectors 55-56 and this will offer good connectivity options for residents along this stretch. Cyber City is also well linked to the Golf Course Road now through the underpass and traveling time has come down from Golf Course Extension Road to roughly 35-40 minutes. The area is also home to several commercial zones, educational institutions and shopping malls.
Physical infrastructure is well ensured through the Golf Course Extension Road, Sohna Road and National Highway 48 nearby while there is the Park Hospital in close proximity to the area along with GD Goenka Public School among other leading institutions. There is also the Raheja Mall and Omaxe Celebration Mall located nearby.
Property options available for buyers
There are several new residential and commercial projects planned for the SPR in the near future according to experts. There are projects which are coming close to completion in Sectors 70, 69, 70A, 72, 71 and 73. Several projects are expected to be completed here within the year or in roughly one and a half years. There will be ample supply of residential projects in the stretch for buyers in the near future. There are multiple under construction projects along with several completed ones while there is good retail and social infrastructure on nearby Sohna Road.
You will find residential units priced anywhere between Rs. 53 lakhs and Rs. 6.80 crore along this stretch. Top real estate developers like Tata Housing, M3M, Tulip, Spaze, AIPL and BPTP have projects along this stretch. Some of the popular projects include Tata Primanti-Tower Residences at Sector 72, M3M Escala, AIPL The Peaceful Homes and Tulip Ivory to name only a few. Going forward, prices are expected to appreciate rapidly along the SPR.