At the outset, it is important to know that primary real estate basically refers to a new home which you are going to purchase. Secondary market transactions are those for resale properties. Now, buying primary real estate is no rocket science; people have been doing it for ages right? Agreed, but getting it right is what's the big deal since buying a new home may arguably be one of the biggest financial decisions you ever take if not the biggest.
While the jury's still out on whether buying a home is the best way forward in the current scenario, we feel that a home is a basic necessity (but of course!) for you and your family and it's not just about that. You basically work hard to create a solid asset which will always safeguard your future generation in times to come. Not only will it make sense from a security and financial point of view, it will also help you focus better on other goals in life once you've accomplished this goal.
Now if you're looking at buying a home in the primary market, there are several steps involved in the entire process which should be carefully understood before you take the plunge.
Why this is the best time to buy a home
In fact, you're not alone when it comes to seriously considering home ownership. As per surveys undertaken for 2017-18, just 28% of city residents in the country lived in rented housing units. This is a major decline in comparison to surveys undertaken in the 1960s when 50-55% of city dwellers chose rented accommodation. This major shift towards aspirational home ownership, particularly amongst relatively younger buyers is not surprising if you take into account the emphasis put on the housing sector by the Government in a bid to wean the real estate sector back to recovery.
And these initiatives are working with regard to driving real estate growth. There is no better time to buy a home than now. Some of the key reasons include the following:
Cheap home loan interest rates- The Reserve Bank of India recently cut the repo rate by 35 basis points, the 4th successive reduction in 2019, making home loan interest rates considerably cheaper. You can also choose home loan interest rates tied to the repo rate at banks like SBI if you want.
GST reduction- The GST Council has already cut GST rates on under-construction housing units to 5% from 12%. Additionally, rates have been cut to 1% from 8% on affordable housing units. This lowers the burden on your pocket considerably.
Tax Savings- Personal income up to Rs. 5 lakh has been exempted from taxation which is good news for a majority of prospective homebuyers. Additionally, in the Union Budget for 2019-20, Union Finance Minister Nirmala Sitharaman has announced an increase in the limit for tax deduction to Rs. 3.5 lakh on the interest paid for home loans which are sanctioned till the 31st of March, 2020. This will be valid in case the individual purchases an affordable home priced up to Rs. 45 lakh.
Push on affordable housing- Under the mission of Housing for All by 2022, the Central Government has come out with several incentives and sops for affordable housing buyers. You can get interest subsidies under PMAY (Pradhan Mantri Awas Yojana).
Higher accountability and regulatory control- Homebuyers need not fear delays in delivery and project defaults any longer. RERA has been implemented successfully throughout the country, ensuring more accountability and transparency. Developers are now liable to pay compensation for delays and the regulatory authority will safeguard the interest of homebuyers.
As you can see, it is certainly a great time to buy a home. Now that you've got this aspect, let's move onto the steps involved in the entire process.
Major steps involved in buying a home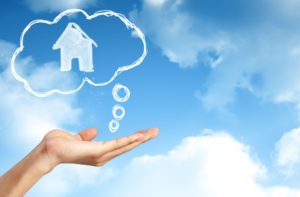 Buying a home usually involves four stages or cycles, i.e. the initial steps when you're still choosing what to go for and deciding on your budget and other preferences followed by the pre-purchase stage when you verify the project and other details and the purchase/transactional stage. Thereafter comes the post-purchase part which involves registration and taking possession.
In short, all the key steps can be summarized as below: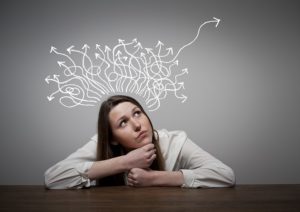 Budget & Location Preferences- The first thing to lock down is your budget for the new home. This is very important since it will help you shortlist projects accordingly to choose from. This is the bedrock of the entire search process. You shouldn't have a vague budget; instead write down your monthly income and check your home loan eligibility along with expected EMIs. This will give you an idea of how much you can afford.
Additionally, you should always compare multiple locations where there are properties present within your preferred budget range. You can do this online with ease. Check all these locations and shortlist one based on the following parameters:
Proximity to workplace.
Proximity to social infrastructure, i.e. schools, hospitals, shopping centres, banks, etc.
Safety and security levels.
Proximity to major transit points like bus stops, metro/railway stations and also availability of public transportation facilities.
Overall growth prospects, i.e. do your research on how much prices of property have increased in the area over the last 2-3 years.
Civic and physical infrastructure and whether any new development will spur further growth.
Property Research & Comparison- Another vital aspect, this is when you have shortlisted your chosen location or 1-2 locations where you desire to stay and you also have a budget that is more or less fixed. This is when you will start checking projects which are available within your budget in your chosen location (s) and then choose carefully. If you need some handholding during this process, do not hesitate by all means. Reach out to your preferred expert for the best advice. However, the decision has to be your own.
Once you have zeroed in on around 2-3 properties, you have to then start the process of comparison based on several parameters. These include the locational advantages/benefits, price point, payment plan being offered by the developer, developer's reputation and track record, amenities on offer, any special attractions/incentives, proposed design and so on.
Finalization of Property- By the end of this process, you will have chosen your preferred housing project after comparing multiple projects and options in your preferred localities at your preferred price point. Finalizing the property kick-starts the actual buying process in motion and is a major milestone or watershed moment for want of a better word!
Pre-Purchase-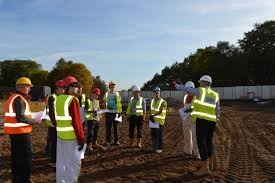 Hold onto your horses! Even when you've shortlisted your property and everything seems absolutely perfect on paper, remember that there is still a process to be executed prior to your purchase. Here are the key steps in this category-
Site Visit- After fixing the appointment with the developer, it is always best that you make a site visit. This is highly essential in order to understand more about the authenticity and details of the project that have been advertised. You can see the progress of construction with your own eyes along with getting a picture of the neighbourhood, commuting and so on. Once you are satisfied with what you see, you will have to move onto the next step which is slightly time consuming but totally worth it in the long run!
Verification and Legal Checks- This is the most important bit at this juncture. Even when everything appears to be absolutely in order, these checks will go a long way towards helping you make a safe investment without any risks.
Here are the things to look out for-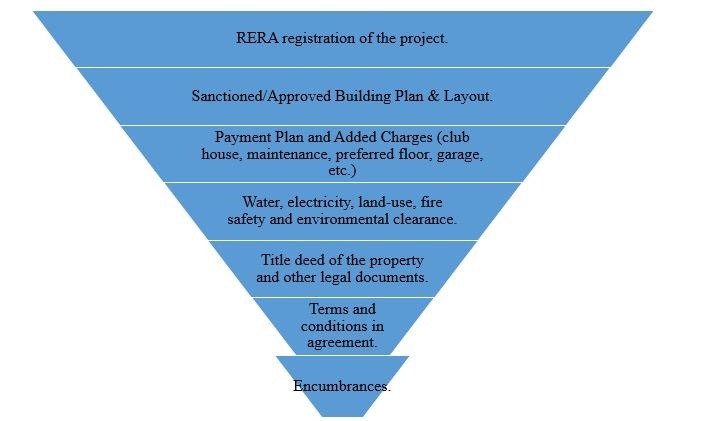 Check the terms and conditions carefully along with all added costs such as fees for parking, preferential location charges (PLC), floor rise charges, maintenance fees, club house fees and other hidden costs. Also check the payment plan carefully and ascertain whether it suits you or not. The terms and conditions in the builder's agreement should also be scrutinized carefully. Also check whether all property taxes have been paid by the developer in a timely manner.
Purchase-
Once you've got through the above steps satisfactorily and everything is fine, you're nearing the business end of the transaction. The purchase stage involves several micro-steps which are listed below:
Booking Amount- Once you've checked everything and are ready to go, the process starts with you paying the booking amount and this coincides with the signing of the builder-buyer agreement. This will be based on the payment plan offered by the developer and chosen by you. Additionally, remember that the down payment to be made is usually 15-20% of the value of the property. You should have this sum ready and pay it whenever required to the developer.
Agreement- The Builder-Buyer Agreement is really essential since this is the legal document that gives you full rights over your apartment and also lays out all the important terms and conditions.
Here is what you should check-
Completion Certificate- Whenever you get possession of the home, the completion certificate has to be provided by the developer from the municipal authority or other requisite authorities, stating that the housing unit has been built as per the approved plan. This is a must for property registration and the clause should be there in your agreement.
Delivery/Possession- Read this clause carefully. In case there is a specific clause stating that delivery will be provided within say x amount of days without any fixed date, be on your guard. Insist on a fixed date in the builder-buyer agreement, failing which the developer will have to pay compensation at a pre-fixed rate as clearly stated in the agreement.
Layout/Building Plan- It should be mentioned in the agreement that the builder will have to take the buyer's permission each time any change is proposed to the building plan and layout.
Indemnity- This clause is really important since it protects you from any financial burdens/losses in case of any legal dispute/problem with the property in question. This clause should state that in case of any legal issues in the future, the property seller will be offering you compensation if you, the buyer have gone through any loss arising from the same. Compensation should be awarded at market rates as has to be clearly stated in the agreement.
Cancellation Clause- There should be a right to cancel the agreement mentioned clearly. The buyer should always have this right without any fines/charges/penalties. Cancellation may be required in case the builder does not furnish documents needed or if there are any issues legally before the execution of the sale deed.
Post the advent of RERA, the agreement should lay out all major terms and conditions including clauses where the builder will have total responsibility under RERA for functions/obligations under the regulatory authority's guidelines until possession is given to the association/buyer in question. The builder will hold responsibility for any structural defects or other problems in the period as laid out under Sub-Section (3) under Section 14 of RERA.
Homebuyers should always check the RERA registration number for projects and the RERA website for vital information. All necessary details are available on the website. The agreement should also be registered. Get an expert or legal professional to go through the same prior to going ahead. Also check the agreement for details of all fees, charges, pricing, payment plans and amenities that are being offered. Check whether everything advertised/promised by the developer is there in the agreement or not.
Home Loan Application-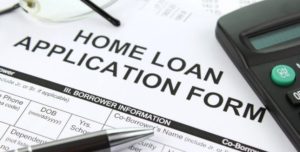 Applying for a home loan is the next important step. Before applying, you should have ideally checked your credit score and it should be as close to 750 as possible or above this figure. Use a home loan eligibility calculator to determine the amount that you will be eligible for and apply for what you can afford to repay easily without going over the top.
You can consider applying for a joint home loan with your spouse since your loan eligibility will be enhanced while both of you will enjoy equal tax benefits on repayment of home loan interest and principal components annually under Section 24 and Section 80C respectively. If you already have outstanding loans like car loans, personal loans and credit card dues, try and clear them off as much as possible and wait for your credit score to go up prior to applying. This will save you hassles in the long run.
Know that you will get 75-80% or maximum 85% of the property value as the home loan depending on your eligibility. It is always better to apply at a bank or housing finance company where you already are a customer and have a relationship. Fill in the application form carefully and do not miss out any details. Double check everything before submission.
Documentation-
Along with the home loan application form, you will require the following documents-
Passport size photograph
ID Proof- Aadhar Card/PAN Card/Driving License/Voter ID Card
Age Proof- Aadhar Card/Passport/PAN Card/Marksheet of Class 10 Examination/Birth Certificate/Driving License/Bank Passbook
Address Proof- Aadhar Card/Ration Card/Passport/Voter ID Card/Bank Passbook/LIC Policy Receipt/Letter from public authority verifying the address of the customer/Telephone, electricity, water and gas bills
Income Proof (Salaried)- Form 16, Promotion/Increment Letter, Employer's Certified Letter, 3 years IT Return, Payslips for last 3-6 months
Income Proof (Self Employed)- IT Return for last 3 years, Profit & Loss Account Statement and Balance Sheet of Firm/Company attested by CA, Business License, Professional Practice License for consultants/doctors, registration certificate of establishment for factories/shops, proof of business address
Documents of Property-
NOC from Builder/Society
Registered Sale Deed
Estimate of cost of construction of the home
Allotment Letter/Stamped Sale Agreement with Builder
Occupancy Certificate (if property is ready to move in)
Approved building plan copy
Receipt of advance payment made for flat purchase
Property tax receipts and electricity bills along with maintenance bills
Payment receipt or statement of bank account showing payment made to seller or builder
Original land tax paid receipt and possession certificate issued by the requisite revenue authority
Home Loan Process-
The entire process can be summed up as follows- (note this starts after the documentation and application procedures are done)-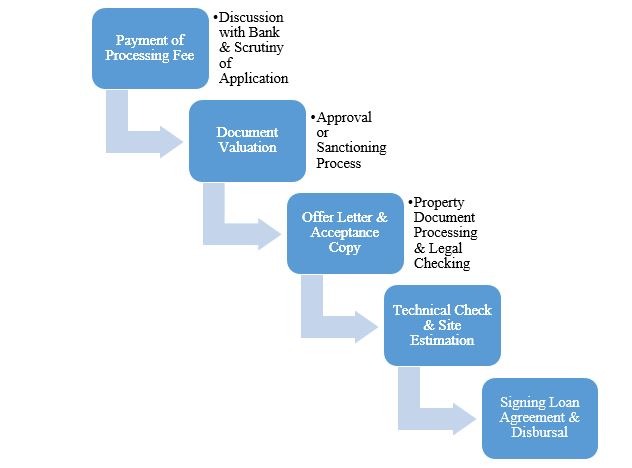 Processing Fee usually ranges between 0.25-0.50% of the loan amount applied for. For example, suppose Ravi applies for a home loan of Rs. 10 lakh. In this case if the processing fee is 0.50%, then it will stand at Rs. 5,000. Some banks also have zero processing fee offers for home loans. You can negotiate the same as well if you feel it is too high.
Banks may ask for more documents or insist on a face to face discussion to enable them to fast-track the process and understand whether you can be sanctioned a home loan or not.
Banks examine the residential address of the applicant, employer's credentials, contact number of the workplace and residence and representatives visit the workplace/residence to verify details. References may also be checked.
While approving/sanctioning, banks check and verify the transactions made in the bank account by the applicant, his/her age, qualification, experience, yearly and monthly income, business type (for self-employed), type of employment and employer, credit score, repayment ability, other debts and so on.
The Offer Letter is sent to the applicant once everything has been satisfactorily verified. This will contain the following details-
Loan amount that has been sanctioned
Rate of interest
Tenor of the loan
Whether fixed/variable rate of interest
Loan repayment mode
Policies, terms and conditions
Applicants have to sign the Acceptance Copy of the offer letter. One should check all details before signing the same.
The bank will then focus on the property desired for purchase by the applicant. Once it is chosen, the applicant has to give all original property documents to the financial institution as security until repayment of the home loan. The original property papers that are verified include the following:
Seller name
Address proof/identification of seller
Property address
Property name
Written documents in case seller is not actual/primary owner
NOC from primary legal owner if applicable
NOC from cooperative housing society and statutory development board
If it is leased land, then NOC from lessor.
Legal checking by the bank takes place for the property documents and verification is also done for the sale agreement/deed between the seller and buyer. The original documents are verified and once approved, the process goes forward.
The technical check or site estimation is usually done by an architect/civil engineer/employee on behalf of the bank. This is the double check and covers the construction stage, progress of work on the site, construction quality, timeline required for development, layout, permissions and approvals, valid construction certificate of the builder and valuation of the property and environmental zones. A fee may be charged for technical checking services. There will be valuation done thereafter for the property overall.
Once these checks are done and all paperwork is approved, the deal will have to be finally executed. The loan documents are finalized by the lawyers of the bank, drafted and stamped prior to being signed. You will then have to sign the loan agreement and provide post-dated cheques for the first 36 months or any previously agreed duration. Then the handover of original property papers takes place to the bank. This is the MOE (Memorandum of Execution) and has a stamp duty as well that you have to pay.
Disbursal is the final stage and is given through cheque in many cases. You have to also submit some vital documents before this. Loans are mostly released in part disbursements for under-construction homes.
Customization- Now that you've got your home loan disbursed and everything is in order, it is time to focus on customizing your home. Your builder will naturally give you several options with regard to the interior fittings, fixtures, paint, layout and so on. Personalize things to your taste. In some cases, if you are not satisfied with what the builder is offering, then you will have to spend a little extra to get the materials and aesthetics tailored to your choices.

Post-Purchase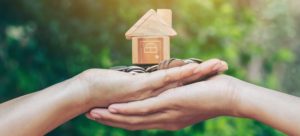 Phew! Everything seems to be completed and it is, well almost! However, there are two vital steps which you need to go through to finish the whole thing and get your home in a timely manner.
Possession- Taking possession is the first and biggest step at this juncture. You should ideally ensure that work goes on at the project site in a timely manner and that you take delivery without any hassles. However, there are a few things to remember in this regard.
Sudhir bought a 2 BHK apartment in Mumbai on a joint home loan with his spouse. They also took delivery from their developer and were very happy to finally move into their brand new home. However, they landed in trouble later on with regard to accessing civic amenities since they realized that the builder had not given them the occupancy certificate (OC). You should avoid this situation by all means. Many people think that this is the same as the possession letter but it is not. You should get the possession letter from your developer and the occupancy certificate (OC) which is a must for registration. The Certificate of Occupancy is given post construction by the local government/planning authority and proves the adherence of the building to the building laws/codes and indicates suitable occupancy conditions. The developer has to obtain the OC and there are no two ways about it.
Registration-
Registration of the property is the next crucial step that you need to complete. Remember that you have to pay stamp duty which is the tax imposed on any transaction creating/concluding any liability/right. Stamp duty is payable on the sale deed and is one of the major costs in registering the property. It varies from one State to another. Post payment of stamp duty, the document has to be registered by the sub-registrar's jurisdiction. Once registration is done, the buyer becomes the official owner of the property as per official records.
This is the process to be followed-
Estimate your property value based on the area circle rate.
Compare actual price paid with circle rate. For stamp duty payment, the higher of the two rates will apply.
Purchase non-judicial stamp paper of the value worked out post calculations.
You can buy stamp papers yourself from a licensed stamp vendor. Stamp duty is paid via the Collector of Stamps.
The deed has to be prepared and typed out on stamp paper. The subject matter will vary as per the transaction type. This can be lease/sale/power of attorney/sale and so on.
The Sub-Registrar's Office has to be contacted for registration and you should take two witnesses along.
All witnesses should have their identification documents and photographs. You should also have an original deed copy and two photocopies.
Post sale deed registration, you will be given a receipt. Around 2-7 days after this process is done, you can contact the Sub-Registrar's Office for collection of the sale deed.
After registration of your sale deed, you can verify the same by using the date and registry details from the Registrar's Office as well.
As you can see, there is an entire process that you have to go through and it is always best if you have professional help and guidance to fall back on. Buying a new home is no rocket science. All it requires is some effort, time and patience on your part and why not! After all, buying a new home is a lifetime decision and you will definitely enjoy every stage of the journey.
Most importantly, no matter whichever stage of the process you are at or even if you are just starting out, you should remember that the final feeling of entering your brand new home for the first time is truly unparalleled! It makes everything else worth it!