Gachibowli is a major suburb of Hyderabad in Telangana, and it is located in Serilingampally of the Rangareddy district. It is about 5 km away from HITEC City, a major IT hub in the region. The area is vast and beautiful, with hillocks around. Recently, Gachibowli had gained immense popularity because it has become a hub for software companies, many of which have their head offices here. As a result, it has become a major employment zone, attracting a large number of people and subsequently there has been an increase in the demand for housing as well.
About the Locality:
As mentioned earlier, the region has become prominent because of the software companies that have set up their offices here. HITEC City is the most prominent area nearby. It is also gaining prominence as the Financial District and it has become a hub for the young and dynamic professionals of the city who desire homes in proximity to their workplaces.
Connectivity:
Connectivity in Gachibowli had increased subsequently after the elevated metro rail was green-lit. Then, another elevated public transport system is being planned, the Elevated Bus Rapid Transit System or the EBRTS corridor which will run from KPHB to the Financial District.
The corridor will be about 18 to 20 km long and will be passing through HITEC City MMTS station and then move towards MindSpace Junction and Narsingi, going towards Outer Ring Road eventually. Electric buses will ply through this region and will connect all the top IT and ITES firms in the Financial District through ramps.
Stations here will be placed at half kilometer gaps and the average speed of the buses would be around 30 kmph. The stations will be elevated too but they will be of a lesser height- a little over 5.5 meters with piers and will have a width of eight meters that will accommodate two bus lanes.
On the other hand, the metro services here are also set to improve. L&T Metro will collaborate with All Miles that had launched Metro feeder services from Virtusa campuses in Hyderabad and the shuttles will arrive at a gap of 20 minutes and will be operating from Virtusa's Nanakramguda campus. It will go round the Capital Facility near Wipro Circle. Such feeder services will be an encouragement to the employees to adopt more and more public transport, thereby reducing the number of single user vehicles on the road, leading to lesser pollution and congestion.
Naturally this will mean that those commuting to their offices in Gachibowli and the nearby HITEC City will have less traffic to deal with and new flyovers are also being created in the regions. The Biodiversity Junction Flyover was recently opened for the public and the 990 meter flyover is uni- directional and will begin at Divya Sree and move through Orion SEZ and IKEA.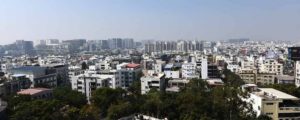 This flyover will do much to bring down the congestion in the SEZ region on the Mumbai Highway, which is always a bother for those commuting through this region. It has been constructed with a cost of INR 69.47 crores under the state government's Strategic Road Development Programme and the Hyderabad Municipal Corporation feels that the flyover will reduce the traffic from Mehdipatanam to MindSpace Junction and also along the Old Mumbai Highway.
Alternately, a road is also being built which will ease the movement of vehicles on the road through the Cyber Towers and MindSpace to Inorbit Mall and finally through the Biodiversity Junction and those who do not have the need to go through the junction may skip it altogether.
The flyover is built on a two level format of which only the second level has been opened for now. Level One of the flyover will begin from Cyberabad Commissionerate on the right and will end after Biodiversity Junction, going towards Rai Durg. GHMC hopes that the congestion of Biodiversity Junction will also be relieved this way. About 15000 vehicles happen to cross this junction every hour. The first level is still under construction though and is as yet incomplete because of litigation issues. Land acquisition has been a problem in this region although things will be sorted out soon as per reports.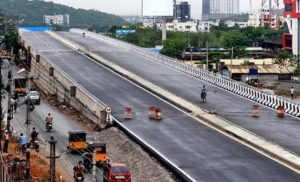 On the other hand, another foundation has been laid for a flyover at the Shilpa Layout Road right beside IKEA. It will be a four lane bidirectional flyover that will be constructed from Shilpa Layout to Gas Godown. An underpass is also scheduled to be built on the Gas Godown road and then a six lane bi directional flyover will be beginning from Kondapur end at the Gachibowli region, moving towards Outer Ring Road. All the projects will have a combined estimate of 330 crores in terms of their cost. However, with the growing number of vehicles, road safety has also become a concern and suitable measures are being taken to ensure that everyone commuting through the region can do so safely.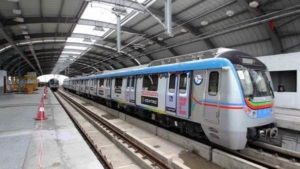 Retail and Commercial Developments:
Many national and international corporate houses have come to Gachibowli and they are providing the best of amenities to the public here. Marriot International, which is internationally acclaimed, is expanding here and it has brought a wide range of offerings including hotels and related facilities as they look for the ideal location to grow in Hyderabad.
On the other hand, Westin will be adding another hotel here with 168 rooms by June 2020 and Le Meridian is also opening a property at Gachibowli. Other prospective names are the Fairfield Inn and Suites, Courtyard Hotels and the Marriott Executive Apartments. Westin Group has opined that there are already 120 hotels from their group in India and they aim to have 26 more in South Asia in the next couple of years and then 7000 properties all over the world.
Weddings in India are especially important and both Westin and Marriott want to take this forward. The Marriott Hyderabad has been booked for over 250 plus weddings or similar activities in the past one year alone and this is why they are looking at further prospects of expansion in the region. Marriott has already hosted about 3500 plus weddings through their hotels all across India.
Foreign brands like Hafele from Germany, which is an interior designs and furnishing company, have also brought their range to India. It has set up a 10,000 sq feet design center in Hyderabad making it the largest of its kind in India. About Rs 8 crores worth of investments has gone into the same. The design center will allow people to experience fittings, live kitchen, bathroom ranges, digital locks and a host of other items. This is another major development in Gachibowli.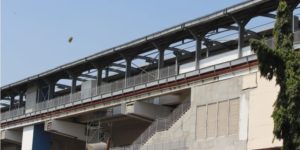 Infrastructure:
Hyderabad had been named as the most livable city in the 2019 ratings by Mercer and the economic growth of the city was brought about by the political stability after the year 2014. Investment in the city went up for the western parts, which saw heavy investments in terms of office space and corporate infrastructure while the eastern and southern regions saw a spurt of real estate development. However, Gachibowli saw a growth of 75% of real estate in terms of residential projects in the last three or four years as well. Schools, banks, hospitals, colleges and other facilities have also grown exponentially.
Social Amenities:
Gachibowli offers good social infrastructure to its residents as well. Leading educational institutions in and around the area include Magnet School for Girls, Hamstech College of Creative Education, Indian School of Business, Oakridge International School, International Institute of Hotel Management (IIHM), CHIREC International School, National Institute of Tourism and Hospitality and many more.
Nearby hospitals include Himagiri Hospitals, AIG Hospitals, Rajitha Hospital, Sunshine Hospital and Care Hospitals among others. Malls and retail hubs include the Sarath City Capital Mall, Atrium Mall, K.K Pride, Inorbit Mall Cyberabad and more. Dining dens in Gachibowli include Jonathan's Kitchen, Paradise Biryani, Absolute Barbecues, Banana Leaf, 3B-Gachibowli, The Indi Grill, Zega, Chinese Pavilion, Shah Ghouse and many others. Nearby lounges and pubs include Mustang Terrace Lounge, OJ's Club, The TILT Bar Republic, Alchemy, Mix Bar, Komatose, The Sky Lounge and many others. PVR Cinemas, Platinum MovieTime and AMB Cinemas are some of the movie theatres nearby as well.
Gachibowli may not be the sleepy little town anymore but it has definitely shown new direction to the people of Hyderabad, enabling better lifestyles and fast-growing infrastructure.  It is a reflection of how new India is progressing and how progress is possible with the right approach.