Loans come in many varieties, most notably a home loan which is applied for owning a house as you very well know. Now, you must also be knowing that there is a loan against property or LAP as it is commonly called in banking and finance circles. A loan against property is one that you can take against your home. Before getting more into details of how this is beneficial, it is first important to examine the benefits of home ownership as the existence of this loan product very aptly proves.
Home ownership can be called advantageous for a plethora of reasons, most importantly the security factor, i.e. providing a roof over the head for your family and ensuring their financial security for the long term. Additionally, while building an asset, you add sufficiently to your net-worth and enjoy an appreciating asset whose values go up over a few years. Also, owning a home is a sign of stability and security. Whenever you are in need of urgent funds, a loan can be taken against your property and this is what we are delineating today for your benefit.
What is a Loan against Property?
LAP or Loan against Property is the loan that you get by mortgaging your property with the bank or financial institution. The loan is sanctioned up to a specific percentage of the property's market value. In most cases, banks usually approve up to 50-60% of the market value of your property. This is a secured loan since the property functions as collateral for the bank. In case the money is not repaid in a timely manner, the lender reserves the right to get the property auctioned for recovering the due amount.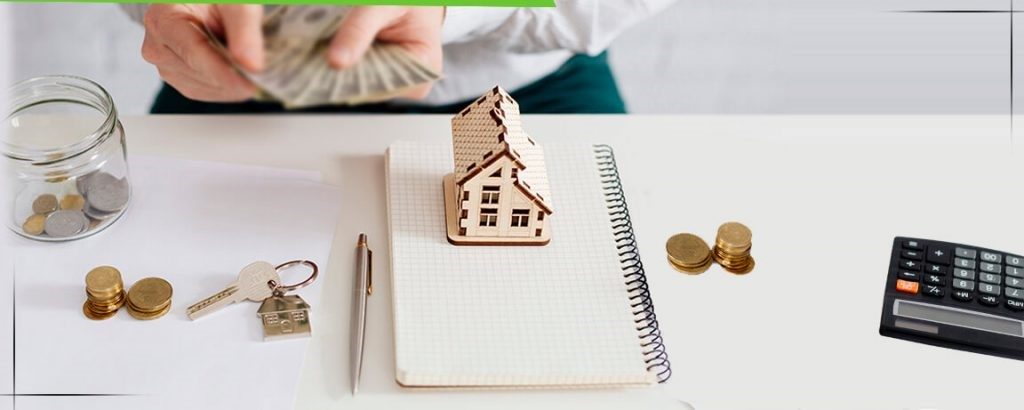 Purposes-
A loan against property can be taken for diverse purposes, some of which include the following:

A loan against property can be used to fund the expansion of a business or even consolidation in terms of working capital, debt repayment or so on. The other purposes are pretty self-explanatory.
Type of property that can be mortgaged
Residential property, i.e. flat/house
Commercial property
Commercial/Residential Plot/Land
Agricultural Land
Case Study-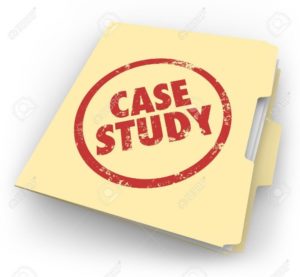 A loan against property can come in really handy when one is in urgent need of funds and the given case study also demonstrates how home ownership can come in handy whenever one is in urgent need of funds.
Ramesh's Story-
Ramesh wants to take a loan for meeting the wedding expenses of his daughter. However, he does not own any property of his own and stays in a rented house. He eventually opts for a personal loan of Rs. 20 lakh at 15% rate of interest and gets only a short loan tenor of 5 years.
Ramesh's monthly EMI works out to Rs. 47,580 per month.
Suresh's Story-
Suresh has his own property and wishes to take a loan of Rs. 10 lakh for meeting some business expenses for a year or so. His property has a market value of Rs. 50 lakh. He applies for a loan against property and gets a loan up to 60% of the market value of the home, i.e. Rs. 30 lakh. He chooses to take Rs. 20 lakh and the rate of interest is lower at 10.20% with the tenor being 10 years which he chooses himself.
Suresh's monthly EMI works out to Rs. 26,652.
Where the difference lies-

Ramesh pays Rs. 20,928 more every month than Suresh for a similar loan amount. Assuming that both of them earn the same income every month, he will hardly have enough to invest for long-term goals or even for prepaying his costly personal loan. Ramesh pays a total of Rs. 28,54,792 (principal + interest) over a period of 5 years. You may argue that this is less than the total amount paid by Suresh in 10 years, i.e. Rs. 31,98,267. However, the difference is just Rs. 3,43,475.
Suresh pays Rs. 20,928 less every month which means savings of Rs. 2,51,136 annually. Now, he can simply invest this money and build up on his retirement goals after accounting for the extra interest paid and keep prepaying the loan against property as well. With more prepayments, he will pay lesser interest anyway and the loan tenor will also reduce.
So who's more comfortable- Ramesh or Suresh? You know the answer!
Key Benefits of a Loan Against Property (LAP)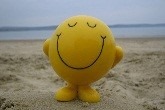 Here's taking a closer look at some of the major benefits of choosing a loan against property (LAP) if you ever feel the need-
Easy approval & sanctioning– The entire procedure for getting a loan against property is simpler in comparison to many other loans. This is because these are fully secured loans, i.e. you already own your property and hence the risks are lower for the financial institution which has sufficient collateral. The entire process of verification and approval is less time consuming. This helps when you have to raise funds quickly to meet business expenses or take care of other urgent needs.
Comfortable rates of interest– As compared to personal loans and many other loan products, interest rates are quite low and reasonable for loans against property. The borrower can expect a comfortable interest rate since it is a secured loan and if he/she has a good credit score and ample monthly income to meet the repayment obligations.
Tenor flexibility– This is a real game-changer for several people since the tenor is long and flexible. You can choose tenors ranging from 5-10 years or even 15-20 years in case you are opting for a higher loan amount. This gives you ample repayment time for the loan and hence lowers any huge financial burden on your shoulders. You can repay through overdrafts/EMIs.
Seamless ownership structure– Even when you have mortgaged your property to raise a loan, you retain ownership of the same without any hassles. In case the borrower cannot repay the loan due to any emergency, he/she can sell off the property to raise funds for repayment.
Convenient Prepayment– Most financial institutions give borrowers the option to easily pre-pay the pending loan amount without imposing any penalties/fines except for products linked to fixed rates of interest. As a result, you can keep prepaying your loan against property and reduce the loan tenor and interest outgo further.
Cashing in on the property's value– Instead of simply leaving a property idle or just occupying it normally, you can tap into its latent value by opting for a loan against property. The funds can be used for meeting various needs while you retain your property ownership at the same time and repay the loan at a comparatively lower interest rate.
Eligibility for LAP
Here's taking a look at the eligibility criteria for availing a loan against property: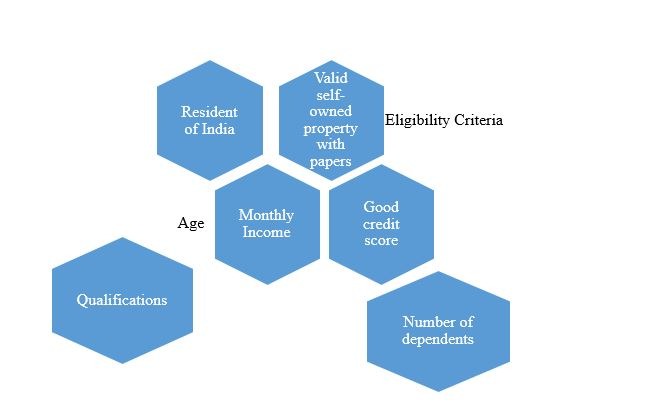 The eligibility for a loan against property (LAP) will thus depend on the factors mentioned above. In this context, it should be mentioned that a note will be made by the bank about the borrower's qualifications, age, income, dependents, assets, liabilities, property, market value of the same, credit score and residential proof.
The loan that is sanctioned is based on the property's market price. The bank will be appointing an official to take care of this aspect. These financial institutions usually have their own expert valuers for property. The maximum that can be sanctioned is 60-70% although 50-60% is a more practical benchmark in terms of the eligible loan amount.
Documents Required
Here's taking a look at the documents that are required for availing of a loan against property:
Salaried Applicants-
IT Returns of last 2-3 years or Form 16 from employer
Latest Salary Slips
Last 6 months bank statements
PAN Card
Proof of Address (Aadhar Card, Driving License, Passport, Voter ID, Electric Bill, Telephone Bill, Water Bill, etc.)
Proof of ID (Aadhar Card, Voter ID, Passport)
Passport Size Photographs
Self Employed Applicants-
Audited ITR Financials
Main account bank statements and statements of other accounts as stated in balance sheet
Certificate of incorporation in case of companies
Partnership authority letter and Partnership deed if partnership firm
Shareholding pattern in case of public limited/private limited entity
PAN Card
Proof of Address (Aadhar Card, Driving License, Passport, Voter ID, Electric Bill, Telephone Bill, Water Bill, etc.)
Proof of ID (Aadhar Card, Voter ID, Passport)
Proof of Business Continuity
Passport Size Photographs
How LAP differs from a home loan
Many a time, people end up confusing a home loan with a loan against property. However, there are quite a few differences between these two products. Here's delineating the same:
| | | |
| --- | --- | --- |
| Aspect of Difference | Home Loan | Loan against Property (LAP) |
| Purpose of Loan | A loan taken for buying a new property/home | A loan taken against a property that is already owned |
| Interest Rate | 8.40% – 12% on an average | 8.6%-15% on an average |
| Maximum loan amount | Amount up to 90% of the value of the property | Amount up to 60% of the market value of the property |
| Tax Benefits | Deduction up to Rs. 2 lakh (Section 24) and up to Rs. 1.5 lakh (Section 80C) | Deduction applicable only on interest repayment under Section 37 (1) |
| Loan Tenor | Maximum loan tenor up to 30 years | Loan tenor usually up to 15 years or maximum 20 years in some cases |
| Tracking | Stringent monitoring by financial institution, particularly in case of under-construction property | Monitoring only in case of assessing market value and legality of property, rest smooth thereafter |
| Type of Property | Buying property only for residential purposes | Loan can be taken against residential, commercial, industrial and agricultural property |
Rounding Up-
A loan against property (LAP) is thus the best way to garner funds quickly in case of meeting urgent expenses for reasons stated above already. A loan against property is easier to obtain than many loans as mentioned since you are already providing collateral in the form of your home. The beauty of this product is that if you have the monthly repayment capacity, you can tap into the value of your home while retaining ownership and raise funds through a LAP.
These funds can be used to meet expenses more comfortably as compared to expensive personal loans and other financial products. These loans also come with longer tenors which make it comfortable to repay money over a sustained period of time without compromising majorly on other financial goals.
There have been umpteen instances where businessmen have spotted new market opportunities which require sizable investments or have had to consolidate operations by providing working capital urgently or meeting debt repayment obligations. Such measures have necessitated funding which can be comfortably obtained through a loan against property. At the same time, in case of any medical emergency which has to be paid for swiftly or even in case of the higher education of children or their weddings, this often comes up as a great way to raise funds for a relatively shorter term without repaying the money at a costly rate of interest.
As they say, owning property is always the biggest security. Nothing couldn't be truer. In fact, while property itself is the biggest asset and a legacy for the next generation, products like a loan against property help you harness the value of the same to meet financial obligations head-on without having to run around, looking for urgent funding at terms and conditions which may not be to your liking.