The Indian real estate sector has been witnessing several rapid developments in recent years. Developers are now more optimistic about the prospects of the sector in 2019 across the top 7 cities in India and also in tier-II and III cities as per reports. In this context, it is fit to mention that Chennai is also witnessing signs of a steady recovery. Based on several reports and studies, it can be ascertained that Chennai is already taking strides towards a complete recovery and future growth, trends that are expected to continue all throughout 2019 and for much of 2020 as well.
Realty markets start responding positively in Chennai
Several reports and studies have highlighted the positive responses of real estate micro markets in Chennai in recent times. Some of the key aspects include the following:
Reports state that 450 new flats were launched and added to the inventory for the Chennai realty sector over the last 3 months.
This indicates a rise of 17% as compared to the same period last year and a strong recovery of the city's real estate sector which has been seeing fluctuations over the last 4-5 years.
Reports confirm 3,170 units being added to the Chennai realty sector in Q1 2019 as compared to 2,720 units added to the market in Q1 2018.
In the quarter before Q1 2019 however, 3,900 apartment units were added to the real estate inventory in the city although this is a marginal drop by all means.
Sales volumes for real estate in Chennai also went up by 4% in the first quarter of 2019 as compared to the preceding quarter.
3,430 units were reportedly sold in the Chennai real estate market in this period.
Experts feel that Government sops and other benefits are doing the trick in terms of accelerating home sales and new launches alike in Chennai.
Homebuyers now have more positive sentiments about buying real estate in Chennai and investors are also returning to the market according to experts.
Why Chennai has excellent future prospects
Several leading real estate developers are coming up with premium projects in Chennai including the likes of Radiance Icon at Kodambakkam and other fast growing locations in the city. This is because of anticipated rises in demand fuelled by the fast growth of the city's manufacturing, automobile and IT and ITeS sectors. The next big growth momentum in the realty market in Chennai is forecasted to come from higher employment and overall expansion drives in these business sectors as per reports.
Demand is already being generated by the reduced prices of property in several parts of Chennai and there should be higher sales volumes seen in west and south Chennai over the next few months according to experts. The affordable housing sector is playing a dominant role in spurring housing demand in Chennai and residential realty markets should also keep witnessing growth due to softer prices of property. The automobile sector is creating more employment and driving housing demand in the city along with the SaaS (software as a service) segment as opined by industry watchers.
Here are some of the key trends which are playing a part in the recent growth and consolidation of Chennai's real estate market:
The Tamil Nadu State Government has taken several positive measures in a bid to draw more investments in the IT and ITeS sectors along with SaaS and start-ups along with facilitating growth for MSMEs in Chennai.
This has naturally led to higher demand for real estate from professionals and businessmen throughout the city along with those migrating here for professional pursuits.
Southern Chennai suburbs are expected to see huge demand for real estate in the near future courtesy the above mentioned measures taken by the Government.
The SaaS sector is thriving with 20+ firms having already started operating in the city and demand should rise in commercial and residential realty with forecasted investments in western Chennai. The automobile sector will also create housing demand in this part of the city as per experts.
Prices have been reducing steadily in Chennai over the last few years although the overall correction has balanced out at approximately 3% from peak levels over 4 years.
Average prices in Chennai have been at the sub-Rs. 5,000 mark and this has attracted more buyers.
Demand had previously crossed supply levels till the year 2017 although the reversal of market trends last year led to unsold inventory levels increasing in turn.
This led to a fall in prices which has subsequently attracted more buyers and ramped up sales figures for developers.
Last year, there was a marked increase in the number of new housing projects in the affordable housing segment, i.e. those offering units priced below Rs. 40 lakhs.
This trend should keep boosting the Chennai realty market over the next few years on account of PMAY incentives and the GST rate cut.
Supply levels are now more balanced in proportion to demand and hence it is an improved market for buyers.
The market was already reviving last year with experts putting the number of new housing units added to Chennai's realty sector at 15,680. This was substantially higher than the 7,940 units added in the year 2017, indicating growth of a whopping 98%. 49% of the new housing supply was launched in the affordable housing category which is another marked growth trend in the city.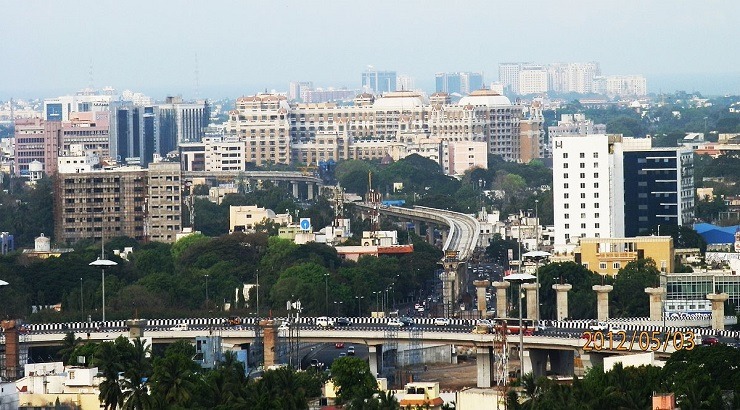 Real estate developers in Chennai are also launching projects more carefully in order to keep supply levels at par with demand and this has balanced out the market while leading to higher sales figures last year. Sales volumes should be even higher this year and some realty players have started lowering apartment ticket sizes in order to keep prices at more competitive levels for homebuyers. Going forward, Chennai's realty sector should keep witnessing strong growth trends in terms of new launches and sales figure alike, driven by commercial and industrial growth, Government measures and sops, lower GST rates and more balanced property prices.