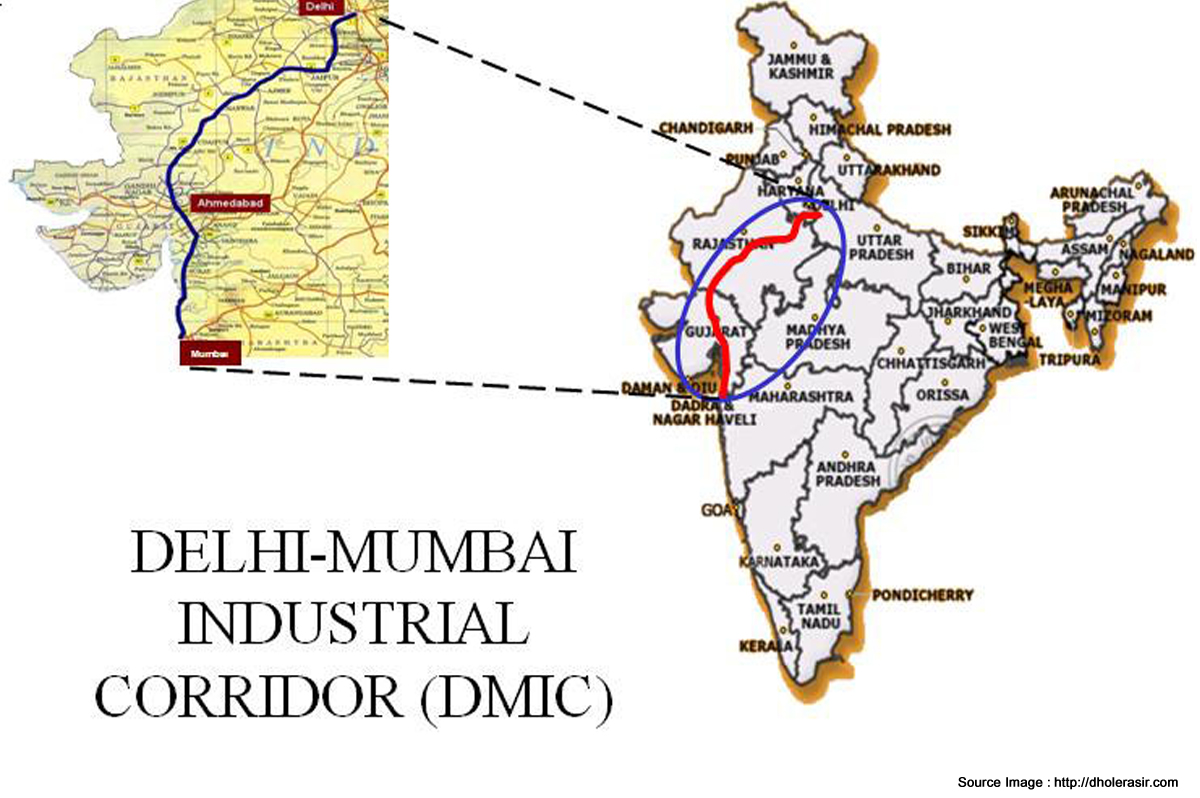 Delhi Mumbai Industrial Corridor (DMIC)
Conceptualized and implemented in collaboration with the government of Japan, Delhi Mumbai Industrial Corridor (DIMC) is one of the highly acclaimed infrastructure developments- aimed at leapfrogging India into a global trading and manufacturing hub. Spread across 6 states (New Delhi, Rajasthan, Haryana, Gujrat, Maharashtra and Madhya Pradesh) , the corridor will encapsulate industrial zones and nodes, townships and investment regions along with power plants, advanced logistics and other infrastructure developments.
The project is touted as a solution to India's quest towards building world class infrastructure that can cut down the cost of manufacturing and supply of Indian produce and help India compete in the global market.
Economic Output
The overall project is worth over INR 6,350 billion and is believed to be associated with multiple benefits. Aimed at promoting India as the next manufacturing hub, DMIC is expected to generate 3 million direct employment with roughly two-third focused in the manufacturing sectors. In the later stages, 10 million new jobs are expected to be generated. Likewise, the industrial output in the 6 corresponding state is expected to reach INR 36,000 billion- more than double of the present output. With special focus on enhancing exports, the export outputs are expected to reach INR 20,000 billion.
Present Status
The project is moving ahead in high velocity and it is expected that by 2019, the first phase of the project will be concluded. At the moment ample amount of land is available to give the ambitious project an initial thrust (However, as the project will proceed, land acquisition can be a source of challenge).
Bidding and tender distribution processes have started for many infrastructure development activities including Vikram Udyogpuri near Ujjain, Dholera in Gujarat and Shendra-Bidkin Industrial Park in Maharashtra. Similarly green signals have been given to some of the investment regions such as Manesar-Bawal investment region in Haryana and Khuskhera-Bhiwadi-Neemrana investment region in Rajasthan.
DMIC and Real Estate Industry
The DMIC is expected to give a major boost to the realty industry of the region. The mega project will result into substantial infrastructure upgrade besides development of new industrial and business clusters. The rise in industrial activities will result into a large surge in demand for office space and industrial land. Besides more developed places such as New Delhi and Gujarat, the DMIC is expected to change fortunes for numerous places in Rajasthan and Madhya Pradesh, that are hitherto been subdued in terms of investment activities.
Similarly surge in employment will translate into more demand for residential units. Increased economic activities and world class infrastructure will also result into more migration, thereby further adding towards the demand for residential units.