The Ghaziabad metro and the Ghaziabad metro station is expanding and it will really benefit the real estate of the city. How? Read on to find out more!
Located very near Delhi, Ghaziabad is one of the most preferred locations for settlement and the Ghaziabad metro station is here to boost just that. Confused? Well, let us try and understand some of the basics of the situation.
Ghaziabad is located from the main centre point of Delhi by only about an hour and a half. Considering the commute time and the living condition being saturated in the city, a lot of people have found themselves shifting towards the outskirts of the city. While some people tend to set up their bases in Gurugram, based on their professional demands and convenience, Ghaziabad has also emerged as a potential option in the last couple of years. It started seeing a fair inflow of people who wanted to settle down over there, but the growth was a limited and staggered one, which the Ghaziabad metro station aims to solve.
So, what had led to the stagnancy in growth of residency in Ghaziabad? The fact that it had narrow roads and people were largely dependent on private transport, was one of the major hindrances. But with the expansion the Ghaziabad metro, transport is going to become readily available and hence people will be able to commute daily. This is exactly why now people will be keen on settling down in Ghaziabad where the living area will be more, houses will be more readily available and will come with a certain amount of comfort.
The Details of the Proposed Project
This is a project which will be developed in phases which will connect key points of Ghaziabad with the Red Line of Delhi Metro. Named as the Ghaziabad Metro Rail Project, it will be adding various sites to the Ghaziabad metro station, so that this city has better connectivity with the capital and those areas particularly where people have to go to for work, so that it benefits them in their daily commute.
It is being developed under the Delhi Metro Rail Corporation Limited and is owned by the Government of India and the Government of Uttar Pradesh. This is a Mass Rapid Transit Type project, which will enable mass mobility and is slated to incur expenses of about 3,325 crores. The proposed area that is to be covered by this project is about 20kms. It is still pending and might take some time to develop, mainly because of the sudden halt to its progress in the current situation of the pandemic.
How Will It Benefit Real Estate?
There is something that needs to be understood when it comes to the proposed expansion of the Ghaziabad metro station. Think about it, what kind of area do people pick when it comes to choosing their choice of place to stay – they will look for a neighborhood which is emerging, which has a lot of potential for growth and more important than anything else, connected to their place of work. What is the point of staying in a place which is far removed from the place of work and there is no surety of any public transport? Thus, having good and efficient public transport at your disposal will definitely act as a huge contributing factor.
Thus as soon as people have learnt that the Ghaziabad metro station is coming up with the extension of the Delhi Metro Red Line, naturally the interest in the real estate of the area has peaked. More and more people who are looking for a property in the outskirts of Delhi are interested. In fact, the prices will be cheaper as well compared to the main area of the city. All in all it will work in the favour of those who want to become property owners near the capital city.
Coming back to the main question, once the transport is becoming easier to a place, people are more intent on building their residents in those areas and it has always been like that. This is exactly why people are looking forward to buying some property in Ghaziabad. In fact there might be homeowners, who will be interested in buying properties near the Ghaziabad metro station, and then let them out, to those who will be shifting to the capital to work there. They will be in search for good and effective means of transport and hence there is a higher chance of them flocking to Ghaziabad as well. Thus, with the development of the metro line to Ghaziabad, it will positively affect the real estate sector.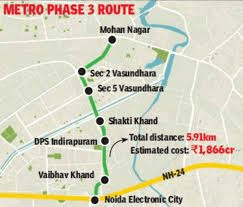 Additional Factors
There are other contributing factors as well which will work in the favour of real estate development in the area. Not only is the Red Line not expanding with the Ghaziabad metro station from Dilshad Garden to the New Bus Stand, but projects are underway to make changes to the NH 24 as well. Propositions have been made to turn the 8 lane highway into a 14 lane one, which will ensure that the flow of traffic remains smooth. Thus, both these two factors combined are most likely to make Ghaziabad a place of demand for upcoming real estate projects.
Exceptional Circumstances: COVID 19 Pandemic
However, all this inference is based on a time when the entire world had not been hit and brought to a stand-still due to the COVID 19 pandemic. It will have various effects of different kinds of sector and definitely real-estate is going to be one of the worst hit ones. How? Let us try and understand the situation better. Even with the Ghaziabad metro station expanding, the work has come to a stop, since most migrant laborers who were engaged in the project have returned to their home states. Thus, there is a definite dearth of labor and hence the project will get stalled for quite some time now.
Even after the lockdown is lifted, there are very high chances that it will take a lot of time for everything to get normalized. And just the expansion of the Ghaziabad metro station will not matter, when in such a scenario, people will learn that building the homes that they are signing up for, will take a long time to build. Thus, there will be very limited chances of shifting. However, various economic experts have advised most real estate owners to not hold on to their projects and sell them off at a price which is much lower than their expected rate, so that even if they cannot profit, they will be able to cut their losses. Thus, there is a high chance that real estate prices will fall sharply which might attract a lot of potential buyers.
Thus it is mix and match situation when it comes to Ghaziabad now, but nothing will take off much without the Ghaziabad metro station expansion, on which a lot is riding. Thus once the expansion work starts, demand for real estate will increase; in the meantime, a few risk takers who understand the potential of the area and its development, might also show some interest in purchasing real estate in this region at low prices.