Real estate micro markets are sometimes dependent on major infrastructural initiatives for achieving a high level of growth and development. This growth phase includes the development of multiple new projects in the residential and commercial categories, appreciation in capital values, better connectivity and civic infrastructure and higher liveability and attractiveness amongst potential homebuyers. Metro railway lines and corridors are the biggest infrastructural projects which transform residential micro markets along entire stretches, putting several areas firmly on the map and enabling them to become future realty hotspots.
A similar development is expected by market experts in Hyderabad where the metro railway network and its expansion have already done much to boost the real estate market. Hyderabad's residential real estate market has been on an upswing for quite some time now, mainly due to growth in its commercial real estate sector courtesy rapid progress of the IT and ITeS sectors in the city. The residential real estate sector in Hyderabad will also benefit from the newly opened metro stretch that finally links the city's predominant IT hub to the metro corridor. This will prove to be a major source of relief for innumerable commuters and will boost real estate prospects of several areas along the stretch covered by the metro corridor as per experts.
Key aspects of the newly opened metro line
The Hyderabad Metro Rail has officially inaugurated the vital stretch or corridor of 10 kilometres that links to the important Hitec City, Hyderabad's predominant IT and ITeS zone. Here are some key details about this newly opened metro line and its inauguration.
The stretch covers 10 kilometres till Hitec City and is known as the Ameerpet to Hitec City route.
It was officially opened for the public by the Governor of Andhra Pradesh, E.S.L. Narasimhan.
The ceremony took place at the Ameerpet Interchange Station and was a simple event owing to the implementation of the model code of conduct prior to the upcoming Lok Sabha elections.
Operations of the trains on this stretch have already commenced as per reports.
The start of official operations by trains on this crucial route will be a major relief for innumerable IT professionals numbering thousands. These are people who commute on a regular basis to this major IT hub of the city.
Officials have estimated that roughly 50,000-1,00,000 individuals will now be taking the metro network to go to work on a daily basis and this number will only increase over time.
This new metro stretch will ease overall traffic congestion on one of the city's busiest stretches that covers its key IT hubs.
There will be 8 stations on this route in all and 3 stations will be operational for the time being in order to keep train frequency and speed levels on the higher side.
Trains will be running to the Yousufguda, Madhura Nagar, Durgam Cheruvu, Jubilee Hills Road No. 5 and Hitec City metro stations at present.
The frequency of the metro trains plying on this corridor will initially be pegged at close to 9-12 minutes. This will be on account of initial operational aspects and will improve rapidly. 6 minutes is the average frequency for trains on other metro routes in the city.
With the completion of this stretch, the Hyderabad Metro now covers a whopping 56 kilometres out of the planned elevated length of 72 kilometres.
The new stretch helps in finishing the Nagole to Hitec City metro corridor covering 27 kilometres in all. This is one of the three vital metro corridors that comprise the Hyderabad Metro project.
The Governor also travelled from Ameerpet in the metro network and the launch ceremony was graced by several dignitaries including Anjani Kumar, the Hyderabad Police Commissioner, M Mahendar Reddy, the Director General of Police and SK Joshi, the Telangana Chief Secretary.
Officials have reported that the Corridor-II between JBS and MGBS covering 10 kilometres is expected to be finished by December 2019.
The initial average speed will be 32 kilometres per hour for metro trains that traverse Corridors I and III within 50 minutes as compared to traveling time of roughly 2 hours by road.
Once the system is finished and stable to run daily operations, close to 15 lakh people are expected to use it each day as per estimates.
The third metro corridor linking Secunderabad and the Old City (Falaknuma) will require added time to be finished.
The main portion going up to the Central Bus Stand located on the Musi River is due for commissioning later in 2019. Additionally, time will be required for the line which concludes at Falaknuma since there are issues relating to the right of way as per reports and these are being tackled by the State Government at present.
Some other aspects worth keeping in mind
According to statements issued by Hyderabad Metro Rail officials and senior management personnel, the passengers who are travelling on this metro route can easily go to one end from the other without having to switch trains or make frequent changes. However, the Ameerpet Station will be the interchanging point for people who are traveling on the corridor between L.B Nagar and Miyapur. The Ameerpet Station is strategically located as well. The metro line between LB Nagar and Ameerpet covers 16 kilometres and was officially opened last year and the metro corridor between Miyapur and Uppal has been functioning for a long time since end-2017 as per reports. The Hyderabad Metro project is reportedly the biggest such metro venture globally through the PPP (Public Private Partnership) framework.
The project is expected to cost roughly Rs. 14,132 crore and Larsen & Toubro (L&T), the infrastructure conglomerate, is developing the same. Rs. 3,000 crore has been earmarked for land acquisition purposes by the State Government in Telangana and the Central Government has also contributed VGF (Viability Gap Funding) of Rs. 1,450 crore according to reports. The train frequency will initially be a little more on the newly inaugurated stretch as mentioned earlier and this will be rapidly improved as per officials once all bottlenecks and initial operational aspects are combated successfully. Just 16 kilometres now remain to be developed for the elevated metro corridor that has been planned in Hyderabad according to reports. Real estate micro markets will naturally benefit from the opening of this new line, particularly in Hitec City and surrounding areas all along this stretch. Gachibowli will continue to be a major hotspot, both for residential and commercial real estate and the metro development will be a shot in the arm for this rapidly developing locality.
People will also look for projects in Western Hyderabad which will soon benefit from major connectivity improvements including the likes of Incor One City and NCC Urban One at Kukatpally and Kokapet respectively to name only a few. The 10 kilometre route between Hitec City and Ameerpet is a part of the Metro Rail Corridor-III and this will enable connectivity to areas in Hitec City, Gachibowli, Madhapur, Jubilee Hills and others which are hugely congested and are also major IT and ITeS zones in the city. It goes without saying that decongestion and better connectivity will naturally boost real estate markets in all of these areas.
Hyderabad Metro continues on an impressive growth trail
The Hyderabad Metro project is certainly on a roll as far as experts are concerned and is a massive infrastructure boost for the entire city and peripheral areas alike. The vital stretch of 30 kilometres covering the route between Nagole and Miyapur was already launched by Prime Minister Narendra Modi back in November 2017 and is a major chunk of the 72 kilometre long elevated metro railway corridor in Hyderabad. The 16 kilometre route between L.B Nagar and Ameerpet was officially opened for the public in September 2018. The Ameerpet-Hitec City stretch will now be a major connectivity boost for residents all along this stretch. As per reports, there will be 9 stations and out of these, the Taruni-Madhura Nagar metro station is being innovatively conceptualized as a station that is managed only by women. These will have several retail outlets and stores that take care of the requirements of women and also children.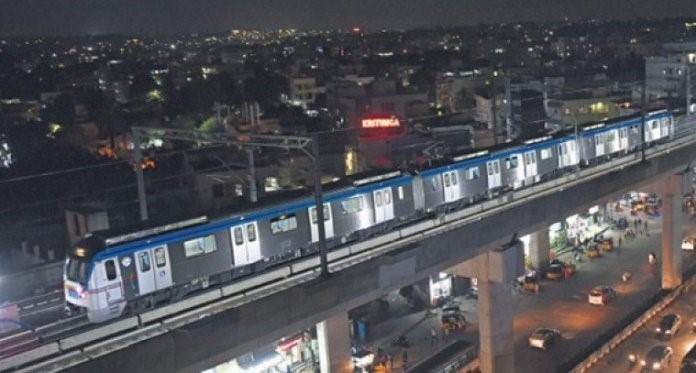 The Jubilee Hills check post metro station will be a single-level station and not like the other metro stations which mostly comprise of two levels. The concourse level at the Jubilee Hills metro station was bypassed, as per senior officials, in order to lower the high levels on account of gradient based aspects. The whole metro stretch ventures through terrain which is highly undulated and the road itself curves sharply. As a result, the viaduct development itself was a challenging task according to senior officials while there were several other technical challenges galore. There is a sequential framework that is also being followed for building the reverse facility that goes beyond the metro station at Hitec City and just in front of the Cyber Towers. This is being done carefully since there is a narrow passage that lies between the flyover and Cyber Towers on two sides. At least 2-3 months will be needed for finishing this task as per officials.
The initial run will take place for 5 kilometres between Hitec City and Jubilee Hills Check Post and the conventional system of twin single line method will be followed by the Hyderabad Metro Rail for operating this stretch. In this system, the two tracks will be taken as separate single lines and trains will go in down and up directions on both lines individually until the reversal is finished beyond the Hitec City metro station. Officials are also striving to get more trains onto the metro railway corridor in a bid to enhance overall frequency and also to cater to the huge expected commuter volumes. L&T Metro Rail (Hyderabad) Limited is the project concessionaire and is developing the entire metro railway project in three phases or corridors. By covering 56 kilometres, the Hyderabad Metro Rail project is already the second biggest metro network in the country after Delhi according to reports.
Metro network to accelerate commercial development in Hyderabad
The development of the Hyderabad Metro Rail project and its eventual completion will lead to a massive inflow of infrastructural projects and commercial development. The metro project is expected to attract several companies and MNCs to the city which already has a thriving IT and ITeS sector along with having a significant presence in several other segments. Commercial real estate growth levels should go up with the completion of the metro railway project and this will rub off positively on the residential real estate market as well.
In a recent development, the metro railway network and its rapid expansion has been reportedly hailed by DBS (Development Bank of Singapore) which has decided to scale up recruitment over the next 1-2 years and reach a total workforce count of more than 3,000 people in Hyderabad. DBS is planning an investment of $50 million or roughly Rs. 260 crore for this purpose in Hyderabad. DBS Asia Hub 2 is a chief player in Hyderabad and the tech development division at DBS. DBS Asia Hub 2 was established previously at Gachibowli and will now expand throughout the city, having acquired 2 lakh sq. ft. of added commercial space and another 2 lakh sq. ft. being booked recently. Naturally, the expanding metro network has played a major role in enabling this development.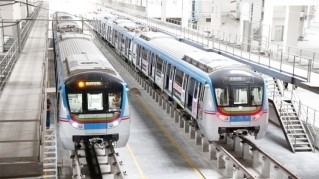 In a similar manner, multiple residential and commercial real estate projects are expected to come up along metro corridors, particularly the newly opened stretch which covers Hyderabad's vital IT zone. The completion of the new stretch will certainly boost Hyderabad's real estate market according to experts.