Hyderabad's real estate market has defied the slowdown in several other Indian cities, for quite some time now. The city has managed to post well-rounded growth across its residential, commercial, office space, retail, warehousing and logistics segments alike. This sets it apart from many of its peers in terms of overall performance in real estate terms. There are several new developments contributing towards the growth of the Hyderabad real estate market.
LEAP (Look East Policy) is one of the biggest game-changers for the Hyderabad real estate sector and something that will have a major impact on future growth.
Hyderabad realty to reap rich rewards of LEAP?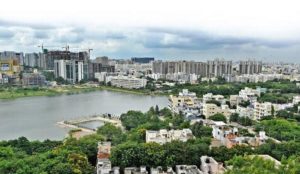 Hyderabad's LEAP (Look East Policy) has been formulated by the State Government which is collaborating with developers for boosting overall realty prospects in eastern areas. Infrastructure and real estate growth is already steady in the northern, western and southern areas of the city. Hyderabad has already surpassed several other metro cities by way of its big-ticket IT and ITeS deals, giving a fillip to commercial real estate along with catering to flexible space providers. Special Government incentives and lower rental rates will play a big role in drawing more office space investments in eastern Hyderabad. This will also contribute towards the influx of funds for the development of malls in this region while scaling up residential demand simultaneously.
According to the CREDAI Hyderabad President, P Ramakrishna Rao, the city has top-notch connectivity and infrastructure and while development has grown sizably in the western part, the eastern part will be developed by the State Government for ensuring well-rounded growth. LEAP will be a major blueprint for eastern Hyderabad's development encompassing zones like LB Nagar, Uppal, Vijayawada Road, Sagar Road, Keesara and Aditbatla among others. There is ample land availability in a 10-15 kilometer radius from Uppal and Pocharam and some other areas have huge future potential for development.
Key aspects to look out for in this regard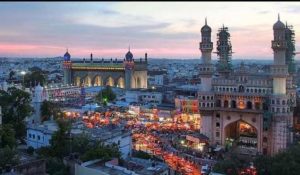 The Government is emphasizing on an extension of IT and ITeS sectors to eastern Hyderabad via LEAP.
Several leading companies like Genpact are already operating in Uppal while Raheja and Infosys have workspaces at Pocharam.
This zone has good metro railway connectivity between HITEC City and Nagole and is also located near the Outer Ring Road.
LEAP will offer an alternative real estate growth hub for Hyderabad. The population in this region is close to 2-3 million people and they will benefit from improved metro connectivity, future infrastructural initiatives and the Inner Ring Road.
There is rapid residential real estate progress in eastern Hyderabad as well with approximately 8-10,000 units being built by several developers.
Locational benefits and comparatively affordable prices are spurring higher sales figures as well.
The IT policy of the State Government may help in attracting several IT and infrastructure companies to this region since ample land parcels are available.
The area has a wide range of property options ranging from plots and villas to duplexes and regular apartments.
There are options galore for buyers in almost every price band which makes eastern Hyderabad an attractive residential market.
CREDAI has already collaborated with the Government for launching its East Property Show sometime earlier where 5,000+ housing units were showcased including commercial real estate.
The Government was earlier emphasizing on decongesting crowded parts of the city and East zone is suitable for the mid-income and lower-income groups along with high-income group buyers as well.
Shilparamam and Hyderabad Metro Rail are key infrastructural developments which have accelerated growth in this zone.
There are several restaurants, shopping centers, schools and hospitals in this region already and more are set to follow in the future.
There are wide roads and good civic infrastructure along with comparatively lower home rentals.
Commercial real estate is also gaining ground in east Hyderabad while 30 cinema screens are also expected to be developed in 1 ½ years here.
Lower pollution levels, affordable home prices and good infrastructure are key points spurring real estate growth in east Hyderabad. Prices are cheaper than the West zone and prospective buyers are snapping up residential/commercial space before high demand leads to an increase in property prices.
Real estate sector continues doing well in Hyderabad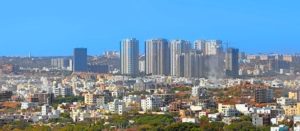 The LEAP will be the latest feather in the cap for Hyderabad's real estate sector which has been on an upswing for several months now. This is attributed to several reasons including political stability, the pro-active approach of the Government towards making the city more business-friendly, multiple infrastructure development initiatives and continued influx of professionals from other cities and towns for employment. Consistent commercial real estate growth has led to residential demand increasing as well.
Along with Hyderabad's latest status as a major IT and ITeS destination for leading companies, it is also becoming a preferred office hub for several global MNCs and some of the world's biggest companies. The reverse migration trend is also boosting real estate in the city and this is a scenario where several professionals settled abroad or in other cities are coming back to the city for working in offices of top companies here. Hyderabad has witnessed relative stability of its real estate market for the last 2-3 years as per industry experts. The Government has been striving to create a more conducive environment for business growth which has rubbed off positively on the real estate sector.
Residential and office space segments continue to do well for Hyderabad's developers while logistics and retail are other fast-growing sectors. Hyderabad has successfully outstripped even Bangalore in terms of office space leasing by IT majors for the previous quarter of the current financial year as per reports. There is more availability of high-quality office spaces while infrastructure improvements, better roads and connectivity initiatives along with enhanced law and order are factors driving growth.
Latest real estate developments in Hyderabad
In one of the latest big developments for the Hyderabad real estate sector, Bangalore-based Prestige Group has purchased a whopping 14 acres of land in the city for a mega-project. This land parcel is situated at Kokapet and the transaction was reportedly concluded for a hefty Rs. 200 crore. The project will be a mixed-use offering as per reports and Prestige Group is planning development of approximately 1.6 million sq. ft. across mid-income housing units.
This will be supplemented by an additional 1.8 million sq. ft. of commercial/office space development as well. Prestige Group is scaling up its presence in the Hyderabad real estate market along with several other real estate biggies. The Group already has 16% of ongoing projects in its portfolio situated in the city. Hyderabad is now the Group's second biggest market after Bangalore which is its home market. What works in Hyderabad's favor is the fact that it has the lowest levels of unsold inventory amongst the country's top 7 cities as per studies.
In another positive development for the city's commercial real estate segment, Compass, a real estate tech firm headquartered in the United States, has confirmed its plans for establishing a brand new tech hub in Hyderabad. This will cater to more than 200 product, design and engineering professionals. This mega commercial project will be coming up at HITEC City and will emphasize majorly on the development of mobile apps. The new hub will enable faster development of software for Compass and it has similar hubs located in cities like Washington, DC, Seattle and New York.
Hyderabad's real estate market is thus performing well across both residential and commercial segments. The LEAP should be a major game-changer for the city's property market and developers along with sparking widespread infrastructure development. Commercial real estate growth will continue gathering momentum in the near future while more leading real estate developers will plan mid-income and affordable housing ventures in the city. This will naturally spark considerable real estate growth in the future for Hyderabad.