Hyderabad's real estate market has been doing quite well over the last couple of years from a general perspective. The comparatively affordable price point for properties in Hyderabad has been attracting buyers from throughout the country. As per several reports, approximately 14-15,000 residential units are expected to be added to the housing inventory in Hyderabad for 2019. This forecasted housing supply is almost double the volume that was seen in the realty market here for the year 2018 which was roughly 7,000 units while this stood at 6,000 units in 2017.
Realty market growth witnessed in Hyderabad
Reports state that close to 25% of newly launched real estate projects will cover premium apartments and villas which are priced till Rs. 4 crore and even higher while a majority of new units should be priced anywhere between Rs. 40-80 lakhs as per estimates. Some of the hottest destinations for real estate are situated in the fast-growing IT corridor of Hyderabad and include the Financial District, Kondapur, Narsingi, Puppalguda and Shaikpet among others. The residential realty space is witnessing fast growth in Hyderabad with buyers from Andhra Pradesh, Karnataka and Maharashtra purchasing properties here along with local residents. There are several IT and ITeS biggies slated to come up with offices in Hyderabad soon and this will help in generating numerous job opportunities. This is another factor that has driven real estate investments in Hyderabad in recent times.
The western corridor in Hyderabad is also forecasted to witness sizable residential real estate growth. Several big-ticket projects are expected to come up in areas like Tellapur, Financial District and Kokapet among other areas with prices roughly higher by 10-15% in recent times. However, the average pricing for housing units in the city is deemed to be lower as compared to Chennai and Bangalore by around 40%. The supply levels over the last 2-3 years, as per reports, was considerably lower as compared to overall needs of the market. The market will be more balanced in recent times and this gap could be subsequently filled up as well.
Other experts state that buyers are now actively present in the market for villas, plots, apartments and independent homes. Multiple real estate projects have been proposed by real estate developers in recent times although some ventures may be shifted to Q1 2020  according to reports. Western Hyderabad is expected to be a firm favourite for buyers although northern and eastern zones are also finding favour and should develop more over the next 2-3 years.
Hyderabad's outskirts poised to witness rapid growth
Realty markets have touched saturation levels in key cities like Mumbai and Delhi and more builders are now venturing into the Hyderabad realty market for its future potential and comparatively affordable price points. HMDA has reportedly stated that the number of building and layout approvals throughout the city has gone up recently as compared to earlier years. The permissions have been more balanced in peripheral zones across the southern, northern, western and eastern areas in the city.
Multiple permissions have been granted in zones like Ghatkesar, Uppal, Narapally, the Medchal Highway and Kompally among other zones. Areas on the outskirts are witnessing major activity from investors and buyers alike. Aspects which are fuelling such development include relative political stability, industrial shift towards northern Hyderabad, the development of the Pharma City in the southern part of the city, the Metro Railway development and also the growth of the IT and ITeS sector in eastern Hyderabad.
Project permissions increase throughout the city
The town planning department of the HMDA has already granted 1,100 building permits for FY2017-18 and this increased to 2,524 permits in the 6 months right from June 2018 as per reports. The planning department has reportedly mopped up a whopping Rs. 526.35 crore in revenue over 6 months although it had garnered Rs. 299.45 crore for the whole of the last financial year. 458 draft layouts have been approved by the HMDA along 18 draft layouts for building gated communities and one draft layout for building the clubhouse. 101 building permissions have been provided for industry establishment via TS-iPass while 53 occupancy certificates and 62 other layouts have been approved in only 6 months.
Reportedly real estate developers and individual buyers are acquiring land within HMDA jurisdiction since land prices are cheaper in the outskirts as compared to core areas in the city. Most of these layouts which have been approved are surrounding zones for towns or the headquarters of districts that have been newly established. These towns will progress into major satellite townships and these will eventually comprise of open spaces, multiplexes, shopping malls, transport networks and professional zones.
Other Realty Trends
A majority of building and layout approvals have been provided in areas like Bhongir, Ghatkesar, Uppal, Medchal, Bachupally, Nizampet, Shamshabad and Adibatla among others. According to experts, growth levels have touched 20% in the Hyderabad realty sector ever since the State of Telangana was established. Overall land affordability, government stability, progressing IT sector and Pharma City are major factors towards real estate development in the outskirts of the city along with 24/7 supply of electricity. Domestic and global investors are now snapping up properties and land parcels not just in Hyderabad but also along the outskirts.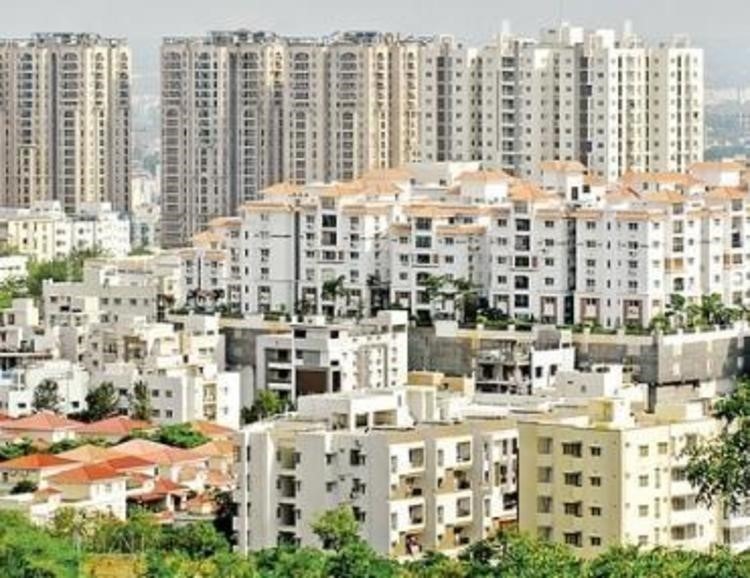 Industrial growth has also been sparked by the TS-iPass which has enabled realty growth of roughly 25% in the present financial year. This has been distributed throughout both residential and commercial real estate categories as per reports. Land values have been increasing steadily ever since the year 2017 and values have gone up by approximately Rs. 4-5,000 for every square yard in case of residential areas while they have gone up by Rs. 4-6,000 for every square yard in case of commercial zones. Prices have touched Rs. 8,000 in western Hyderabad which is where the IT and ITeS sectors have been expanding swiftly. Land values have already doubled in the outskirts of Hyderabad with average growth of 15-20% as per reports.