Living the opulent & Champagne lifestyle and blowing money on palatial estates, fastest cars and private yachts, is something that is synonymous with the lifestyle of the world's ultra-rich. Awash with money and a penchant for experiencing the finer things in life, the well-heeled know how to live life and live it in a grand fashion…and to flaunt it too.
As F. Scott Fitzgerald had famously written," The very rich…are different from you and me", his words ring true in our ears when we take into account the astronomical figures the well-off few of the world splurge on things that sound ridiculous at times.
For times immemorial, property ownership is seen as an expression of wealth. Whether it is a 10000 sq. ft mansion in Beverly Hills, fondly known as Bel Air or an opulent penthouse in Hong Kong, the desire for acquiring luxury real estate properties has become the top priority of the world's super rich. And like buying fine art, the clientele for luxury real estate is very particular in their choices.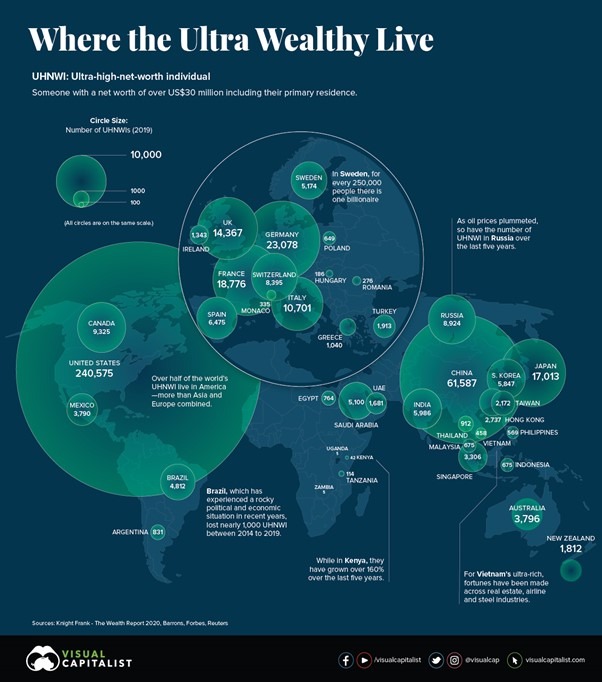 Today, the ultra-wealthy have been transcending the globe in a quest for luxury estates and snapping them up to diversify their assets. Real estate has become a means to flaunt their wealth and also make a sound investment. And it's not some vacation homes in Aspen or seaside estates they are pouring their money on; the new-age HNIs are keen on dropping cash on some of the world's most concentrated and plush cities viz. New York, Los Angeles, Tokyo, Hong Kong and not to miss, London.
Also Read: https://www.squareyards.com/blog/bollywood-celebrity-homes-that-spurred-a-boom-in-mumbais-luxury-market
According to London-based luxury real estate brokerage Knight Frank, the percentage of ultra-high net worth individuals (UHNWIs)with assets of more than US$30 million have risen by 6% in 2019 to 513,244. That is more than the population of Iceland, Malta and Belize. The UHNWI population is expected to swell by 27% to 650,000 by 2024, as fortunes of the burgeoning middle-class continue to rise in India, China, Egypt, Vietnam, and Indonesia.
| | | | | | | | |
| --- | --- | --- | --- | --- | --- | --- | --- |
| Property as an Investment | Equities | Bonds/Fixed Income | Cash | Private Equity | Collectables | Gold/Precious Metals | Crypto |
| 27% | 23% | 17% | 11% | 8% | 5% | 3% | 1% |
So, what makes up the wealth of this ultra-rich population? Well, on a research by Knight Frank, it found out that 27% of the wealth of UHNWIs are locked in property investments in various locations, while investment in equities come second at 23%.
A question brews up here. Why are the ultra-rich betting so much on real estate?
The economic crisis of 2008 had rattled HNIs and other investors who invested heavily in stocks. The immense bleeding of their wealth in front of their eyes was too much for them who considered investing in equities a smart investment. Real estate didn't suffer much brunt due to the financial meltdown and recovered quickly in the subsequent years.
This development piqued the interests of those with deep pockets to invest in real estate as a safe haven and also as a visual symbol of power and wealth.
Globally minded and uber-wealthy people wanted good returns for their investment. The timing for ROI was less important for them than the stability of investment and they wanted to have time at hand to liquidate the investment.
According to a report by Savills in partnership with Wealth-X, a Singapore based consultancy, in 2008, $146 billion of global private wealth was invested in real estate which rose by 111% in 2012 to $308 billion. Those high-net-worth individuals whose wealth had increased by a considerable margin have demonstrated a keen interest in property.
Savills report also states that 64% of the property owned by wealthy North Americans are in cities, 15% are in towns while 21% are in waterside and ski locations. While for Asians, 95% of the property wealth is in cities, 4% in waterside locations and a paltry 2% in towns.
A host of preferences come into play when it comes to overseas investment by ultra-wealthy investors. First consists of those who are buying homes in countries where they have business interests. Another lot of individuals are buying properties for their children's educational interests and to secure a permanent residency. While the third crop of rich investors consider luxury property investments across prime locations worldwide to increase real estate assets.
Russians held the baton previously for most investments in luxury properties in Los Angeles's famed Beverly Hills, Monaco, California and London. However, of late the baton changed hands to the Asians. Ultra-rich people from Thailand, South Korea and China have shown deep interest in the vertical markets of London, New York California and Dubai. Neo-modern architectures with glass walls, concierge services, health facilities and personal parking spaces are the main draw for these crazy rich Asians. Also, healthy rental demand, relatively good price appreciation and an attractive lifestyle are other factors that come into play while shopping for luxury properties.
India is not far behind either. The country ranks 12th among the global population of UHNWIs. A Knight Frank research shows that the number of UHNWIs in India is expected to go north by 73% in the next five years from 5,986 in 2019 to 10,354. 24% of Indians prefer buying luxury real estate in overseas locations like the UK, United States, Australia, Singapore and the UAE. Education and concierge services and wellness facilities hold prime criteria for purchasing a luxury property for Indians.