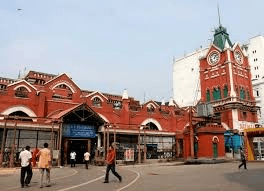 The cost of living in Kolkata is unbelievably affordable for a bachelor, a couple or a family. The cost of living is determined by the rent of a place, the price of an owned home, transportation cost (to the office, school or college), utility charges, childcare and family expenses.
Known for its culinary superiority and super affordability, Kolkata has no shortcomings in terms of location, houses and the amenities of a metro city. The smart city has everything you need starting from great localities, excellent schools, prestigious universities, brilliant medical facilities, famous eateries, top-notch shopping malls, multiplexes and entertaining clubs.
Here is a General estimation of cost of living in Kolkata
Rent of a 2 BHK (700 to 1000 sq. ft.) is 12000 rupees (monthly)
Price of a 2 BHK house for sale is 35 lakh rupees
Cost of a Monthly pass for local trains is 500 rupees (monthly)
Water, electricity and garbage disposal cost is 2900 rupees (monthly)
Kindergarten or pre-school monthly fees is 3000 rupees
Maid services for cooking and cleaning are 5000 rupees (monthly)
Cost of Petrol is 82 rupees per litre
Cost of one meal in a decent restaurant is 250 rupees
Lifestyle cost is 10000 rupees for one or two persons
Repairs and other miscellaneous costs can be 3000 rupees and onwards
Groceries for a month will cost around 6000 rupees
Renting a flat in Kolkata
The average real estate cost of living Kolkata is much cheaper compared to other cities in India. Many neighbourhoods offer an excellent quality of living at a pocket-friendly rate. Some of those localities include New Town, Rajarhat, Garia, Howrah, Gariahat, Kalighat, Elgin Road, Bhowanipore, Southern Avenue and Barrackpore. The rent varies in Kolkata depending upon the locality position. Flats that are close to north and central Kolkata cost higher than those in Kolkata South. The average rent for the above localities can be between Rs. 2500 up to Rs. 30,000 per month.
The average rent for a 2 BHK will be between Rs. 5000 to Rs. 100000 but you can always look for a good 2BHK in a thriving locality at a rent of Rs. 20,000 per month. For a satisfying cost of living in Kolkata, people spend between rupees twelve to eighteen thousand on an average. Upcoming residential areas such as New Town and Rajarhat offer even cheaper flats for rent ranging between Rs 7000 and Rs 15000.
Buying a flat in Kolkata
Overall, Kolkata is a beautiful place to buy a home. Areas like Tollygunge, New Town, Salt Lake City and Rajarhat are some of the most popular picks to own gorgeous home. As per 2018 housing reports, the cost per sq. ft. in the above-mentioned places are between Rs. 3880 and Rs. 4010. Currently, there are more than 2000 housing projects and flats for sale in Kolkata
Local transportation in Kolkata is fairly priced as there are great connectivity modes via local trains, buses, metro and jetty. Travel passes are available within Rs. 500 and the metro commute serves as one of the best modes of transportation in Kolkata. Household utility costs are also affordable and vary between 1,500-5,000 rupees per month. Besides the profitable individual cost of living in Kolkata, the childcare expenses are also quite reasonable compared to Delhi or Mumbai. It will not cost you more than Rs 50,000 to Rs. 1.5 lakh yearly to bear a child in Kolkata.
Kolkata has all the international standards of living, accompanied by cost-effective sustenance and convenience right in your plate.
Also Read: