Gurgaon is one of the major pillars of the Delhi-NCR market and it has been witnessing some market fluctuations over the last 2-3 years. The nationwide real estate slump is now being shaken off across India's major cities and Gurgaon is no exception. Gurgaon is slowly but steadily overcoming the effects of demonetization, RERA and GST among other regulatory upheavals along with piled up inventory.
The Millennium City is now witnessing a pick-up in demand for affordable and mid-income homes while there are takers for luxury properties as well. With home loan interest rates getting lower and several pro-active measures taken by the Government, Gurgaon's real estate sector is expected to get back on track soon. There are some new localities on the peripheral zones of the city which are finding the spotlight as preferred residential real estate destinations. One of these upcoming realty zones is New Gurgaon.
What makes New Gurgaon special?
New Gurgaon is a well-planned residential city which has two key clusters along the Dwarka Expressway.
These are Sectors 102-113 and 75-95 and 95A.
New Gurgaon is linked to National Highway 8, Dwarka-Gurgaon Expressway and the KMP (Kundli-Manesar-Palwal) Expressway.
It is connected to the proposed ISBT along with the Railway Station and Airport.
New Gurgaon is connected to the National Highway or Pataudi Road which is one of the most coveted real estate hubs in Gurgaon.
Based on the development plan for the Gurgaon-Manesar Urban Complex-2025, the sectors in Gurgaon will eventually go till Manesar.
Several real estate developers are now launching projects in Sectors 83, 82, 92, 95A, 91 and others.
Top realty players like DLF, Vatika, Bestech, 3C, Ramprastha Builders, Orris and Ansals have a presence in the area.
Infrastructure is carefully planned unlike many congested and saturated localities in Gurgaon.
Area offers good social infrastructure with more developments on the anvil.
Development is taking place in the entire stretch rapidly and end-users are more attracted to projects here.
Property rates are also quite reasonable and suitable for affordable and mid-income buyers.
National Highway 48 offers excellent connectivity along with the Dwarka Expressway and other major thoroughfares mentioned above.
The Indira Gandhi International Airport is 39 kilometres away while the nearest railway station can be accessed within a 15 kilometre radius.
There are innumerable hospitals, schools, grocery stores, petrol pumps and dining options spread throughout New Gurgaon.
There is a mixture of ready to move in units and projects which are nearing completion.
There is widespread commercial development since the area is favoured by several start-ups and SMEs (small and medium enterprises).
Buying property in New Gurgaon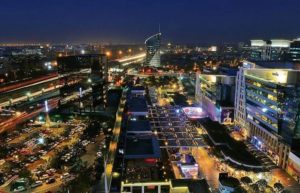 End-users looking for real estate in New Gurgaon can take their pick from a wide range of options. The average property prices hover between Rs. 4,500-10,000 per sq. ft. in New Gurgaon. 1 BHK and 2 BHK options are available aplenty and average sizes are usually 500-600 sq. ft. and 1000-1200 sq. ft. respectively. 3 and 4 BHK apartments can also be found at higher sizes between 1500-2500 sq. ft. and upwards.
A large majority of buyers usually prefer apartments priced between Rs. 50 lakh-1 crore in New Gurgaon although there are several takers for the sub-Rs. 25 lakh segment as well. Property prices can hover Rs. 19-20 lakhs for entry-level affordable units and go all the way up to Rs. 3 crore and upwards in New Gurgaon. Some of the key projects here include Amb Selfie Street, DLF The Ultima, Godrej Air Sector 85, Godrej Aria, Godrej 101, Emaar Palm Premier, Emaar Palm Hills, ATS Marigold, DLF The Skycourt and many others.
New Gurgaon's evolution through the years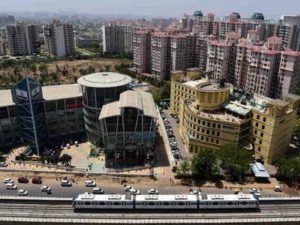 New Gurgaon has witnessed rapid evolution over the last few years and several integrated townships have been built here by reputed players. Affordable property rates have fuelled growth in tandem with decent and improving connectivity, rapid infrastructural growth and future potential in terms of appreciation. The area is doing well both from a residential and commercial real estate perspective. New Gurgaon basically covers the residential sectors located beyond the second toll plaza on the National Highway 8.
This micro market is one of the residential clusters in Gurgaon which have immense potential for future growth along with other hotspots like the Dwarka Expressway which is also accessible from New Gurgaon. The micro market covers sectors right after the Kherki Daula Toll Plaza and till sectors being developed until Manesar. These sectors are located on both sides of the highway which ensures good connectivity for residents. By the year 2015, more than 50,000 apartment units were already launched in the area as per reports with the number of projects inching close to 100.
Apartment prices increased by a whopping 37% and 22% in New Gurgaon in the years 2012 and 2013 respectively. Prices have not increased as much in recent years but there still remains scope of healthy appreciation owing to infrastructural and connectivity improvements. It's not just affordable and mid-income housing anymore; developers are coming up with luxury and premium housing projects in New Gurgaon to attract well-heeled buyers as well. Property sales figures are on the healthier side here and several units are also nearing completion. Several retail zones and shopping centres are also sprouting throughout New Gurgaon with many more in the pipeline. New Gurgaon offers a less congested residential hotspot for homebuyers with access to clean and fresh air. It offers accessibility to the NPR (Northern Peripheral Road) and SPR (Southern Peripheral Road) as well. Traffic congestion is also on the lower side.
There are luxury hotels in the stretch including ITC Grand Bharat and Hyatt along with ITC Classic, Tarudhan Valley Golf Resort and Karma Lakelands among other golf clubs and resorts. There are several hospitals including the Rockland multi-specialty hospital. Experts feel that rapid urbanization is fast becoming a trend as far as New Gurgaon is concerned and will keep driving the property market here to newer heights.
DLF lines up record bookings for New Gurgaon project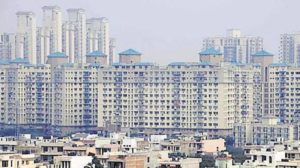 DLF Limited, one of the biggest real estate players in the country, has confirmed a record 376 residential apartment bookings at its upcoming project in New Gurgaon for a whopping Rs. 700 crore. This is in sync with the company's strategy of selling homes which are ready to move in. The bookings were concluded for the second phase of the premier Ultima residential project. This project contains 504 apartment units in all.
3 years earlier, DLF had confirmed that it would first be completing residential projects and then selling them to homebuyers owing to less than ideal sentiments in the market regarding under-construction projects. The record response by customers to the New Gurgaon project is an indicator of the growing popularity of the area as a residential hotspot.
With development of social infrastructure taking place rapidly and further connectivity improvements, there should be steady price growth in New Gurgaon. More new project launches can be expected in the stretch over the next few years. End-users are now preferring comparatively reasonable prices and lesser traffic congestion as compared to Gurgaon and New Gurgaon offers them a suitable alternative. Good connectivity is another major USP of the area along with its well-planned layout and good civic and physical infrastructure. It can be said that New Gurgaon is well on its way towards becoming a key residential hotspot in the NCR (National Capital Region).