The Yamuna Expressway is arguably one of the biggest real estate hotspots in Delhi-NCR at the moment and is proving to be a top pick for residential real estate buyers and investors. There are several real estate projects that have come up along this stretch over 1-2 years and several integrated townships, logistics hubs and warehouses have also been developed here. The Yamuna Expressway runs for 165 kilometres till Agra from Greater Noida through Aligarh and Mathura. There are multiple projects being developed and the approval of two metro routes, namely Noida City Centre to Sector 62 and Noida City Centre to Greater Noida, has sparked widespread development in this belt.
The DMIC (Delhi-Mumbai Industrial Corridor) has already been proposed and will pass through Dadri. This will enable faster development of special development zones on the Yamuna Expressway in tandem with warehousing establishments. Prices have been stable here and there is ample scope of appreciation with future developments. The Yamuna Expressway has also witnessed major landmarks like the Night Safari, Buddh International Formula 1 Circuit and also the Jaypee Sports City. Major residential townships are being developed here along with the Gautam Buddha University on account of seamless connectivity to Noida and Greater Noida.
Property options on Yamuna Expressway
You will find several residential real estate projects along the Yamuna Expressway being developed by leading developers like Gaurs, Supertech, ATS, Lotus, Skyline, Ajnara, Imperia and many others. On an average, you will find properties of varying configurations at locations like Sectors 19, 22, 25, 22D, 24 and 17A on the expressway.
Prices usually start from anything around Rs. 10 lakhs for affordable housing units and go up to Rs. 2.25 crore for luxury projects. There are several projects in the mid-range category that are priced between Rs. 40-80 lakhs as well.
Why buy property along the Yamuna Expressway?
The Yamuna Expressway will be a popular housing destination of the future according to several experts. It will start blooming once the Jewar airport is completed and metro connectivity has been fully spread throughout this stretch. The Jewar airport will also boost overall connectivity with Delhi since there will be new infrastructure in place for linking the new airport with the Indira Gandhi International Airport. YEIDA (Yamuna Expressway Industrial Development Authority) has also revised its Master Plan 2031 in order to spark more development along the Yamuna Expressway.
Some of the key tenets in the same include a commercial zone that will be established in Sectors 18 and 20 and also allowing banquet halls, hotels, mixed land use projects and other utility services to make use of land in various areas wherever there are requirements for the same. Residential plots have also been allotted along the Yamuna Expressway by YEIDA. The commercial strip will change the look and feel of several areas along with star hotels and banquets that are set to come up in the near future. The hotels are planned for Sectors 22D, 20 and 18 while banquet halls have also been planned for these sectors.
Major growth drivers for the zone
The metro extension to Greater Noida and Jewar International Airport are major growth drivers for the real estate market along the Yamuna Expressway in the future along with developments like the financial hub planned by NBCC near the airport which will be similar to the Bandra-Kurla Complex or BKC in Mumbai. The airport will bring with it several MNCs and corporates into the region and many of them may prefer investing on the Yamuna Expressway in order to meet connectivity requirements. As a result, there is ample scope of future appreciation for investors and end users alike in this belt. Another key development will be the connection between the third phase of the FNG Expressway with the Yamuna Expressway. The Eastern Peripheral Expressway will cross over the Yamuna Expressway roughly 9 kilometres from Greater Noida's zero point. There are several schools, shopping facilities and other social amenities being rapidly developed in this region and the prices of property are also on the lower side as compared to several parts of Gurgaon.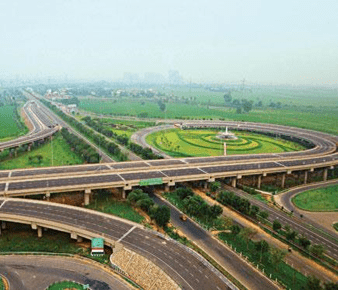 Samsung has also launched its biggest mobile manufacturing unit in this stretch which could also be one of the biggest in the world. This zone is also home to big office campuses of companies like Max Life and HCL along with upcoming biggies like Infosys. Commercial and residential development should go hand in hand for the Yamuna Expressway over the next few years. There will be multiple projects set up in this zone and with metro connectivity and the new airport, it will be a total transformation of the realty market in this belt.