The Noida-Greater Noida metro network or the Aqua Line is a highly ambitious development unveiled by the Uttar Pradesh Government and could be a game changer for the realty sector in Noida and Greater Noida alike as opined by experts. The expected construction cost for the Aqua Line of the metro corridor has been put at Rs. 5,503 crore (estimated). This will definitely enhance connectivity for residents of Noida and Greater Noida while sparking real estate development in several sectors as per reports.
Key Highlights of Metro Aqua Line
Aqua Line will start from Sector 71 in Noida.
It will finish at Greater Noida's Sector Delta I.
There will be 21 stations in all, 6 of them in Greater Noida and 15 stations in Noida.
Total distance covered by the Aqua Line is 29.7 kilometres.
The stations in question are Sectors 50, 51, 101, 76, NSEZ, 81, 142, 137, 83, 144, 146, 145, 143, 148, 147, Pari Chowk, Knowledge Park 2, Delta 1, Alpha 1, Depot Station and GNIDA Office.
Aqua Line impact on real estate market
The entire stretch covered by the Aqua Line is one which is already witnessing the development of several affordable housing projects along with commercial properties. As a result, many experts feel that the metro corridor will boost the realty market greatly in the entire region. They expect major price appreciation in Noida, Greater Noida West and Greater Noida regions. Post the launch of the Noida-Greater Noida metro corridor, more professionals and students will be commuting through the metro since there are several colleges in Greater Noida.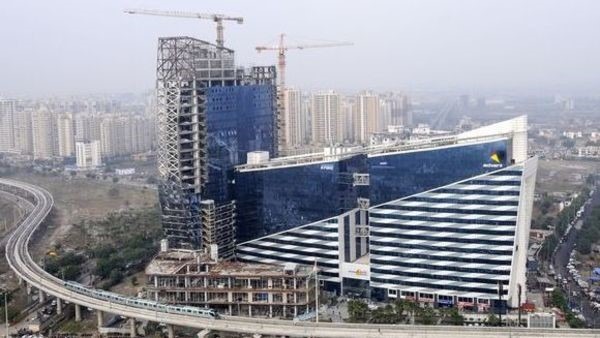 The implementation of the metro network will also decongest growing traffic in zones like Kalindi Kunj and the DND Flyway. The commercial sectors like Sectors 16, 15, 18, 60, 27, 63 and 62 are already hotspots for companies and may witness appreciation. However, investments may go up on the Noida-Greater Noida Expressway due to the metro network announcement. In terms of residential markets, some areas like Sectors 93, 44, 96, 94, 45, 105, 98, 144, 132, 97, 155 and 150 should also see the absorption of more inventory according to experts. Demand and pricing should steadily rise in both Noida and Greater Noida since the Aqua line will spark development of supporting infrastructure in the entire zone. The retail and commercial realty segments should also benefit from the same.
Sectors located on the Noida Expressway will now have greater connectivity and this will boost the real estate markets here. Commuting will also become smoother from Noida Extension which should also witness a boost in real estate prices and new developments. Rates for property should appreciate neatly in both Noida and Greater Noida while there will be positive sentiments observed in the real estate market over the next 2-3 years as per experts. The Aqua Metro inauguration may lead to a hike in housing unit prices by 20% along with higher sales volumes as opined by some experts. Multiple residential and commercial projects are already being developed in sectors which are located along the Aqua line corridor. More projects are set to follow. Even rentals may increase by roughly 5-6%.
Potential bugbear and the solution
There could initially be a potential bugbear as commuters may have to get down at the station in Sector 51 and walk for roughly 8 minutes till the station in Sector 52 for availing of the Blue Line extension which will be operational in the future. The two stations are located close to 300 metres away from each other. Another form of public transport will be required for accessing one station from another. However, in the future, there may be a skywalk connecting these two stations.
The Blue Line Extension up to Sector 62 in Noida should be opened soon and the Okhla Bird Sanctuary station on the Magenta Line is more than 10 kilometres away from the Sector 137 station on the Aqua Line.
Market trends and how they're shaping up
The new metro corridor will certainly enhance overall residential and commercial space absorption in the entire region as per experts. Fence-sitters may finally purchase properties near the metro corridor and people who had purchased properties previously may finally shift to the same. Population density, real estate absorption levels and rentals will all get a major boost from this development. Going by market trends, there is ample scope for development as can be seen from these key aspects:
According to studies, Noida-Greater Noida accounted for a whopping 40% of overall launches in the NCR for 2018.
Noida-Greater Noida and Ghaziabad accounted for 95% of new launches in the category of Rs. 50 lakh and Noida-Greater Noida contributed 62% of sales as well.
In 2018, new units launched in the NCR went up by 35% as per reports and 75% of units were located in Greater Noida and Gurgaon.
New launches increased across both Noida and Greater Noida for 2018 and developers came up with several new projects in Sectors 10, 1, Zeta 1 and Pari Chowk in Greater Noida and Sector 150 in Noida.
Greater Noida contributed 50% of overall sales volumes in 2018 as well.
With comparatively reasonable pricing, Greater Noida remains attractive for buyers from Delhi, Noida and nearby tier-II cities in Uttar Pradesh like Agra, Mathura and Aligarh.
Unsold inventory will reduce in Sectors 70-78 and other parts of Noida-Greater Noida with better metro connectivity.
Sectors 143B, 143, 137, 158, 162, 150 and 151 should be hot property from a residential perspective due to the metro network.
Lower rentals in Noida will also draw more BPOs, KPOs and other corporates and the metro corridor will only accelerate growth in the commercial and office space segments.
Short-term growth in rentals may touch 5-7% as per expectations.
All in all, the Aqua Line of the metro network will go a long way towards boosting real estate in Noida and Greater Noida over the next few years.