If you're looking for real estate in Rajarhat New Town, chances are, you're probably not alone. Several families in Kolkata have been investing in primary or second homes in the Rajarhat New Town stretch, billed to be New Kolkata of the future. And why not? The area is well planned with ample space for leisure and recreational amenities and is also a thriving commercial, IT and ITeS and educational hub. Property prices have appreciated strongly in Rajarhat New Town over the last few years and there is ample scope for future appreciation as well.
The area is dotted with projects built by leading real estate developers like Shapoorji Pallonji, Ambuja Neotia, Loharuka, Ruchi, Siddha, Nirman and others. Some of the top options include Unimark Merlion, Tata Avenida and Mani Artista to name a few. There is ample availability of housing projects here which are priced anywhere between Rs. 20 lakh and Rs. 3.5 crore on an average. You can find luxury, ultra-luxury, mid-range and affordable housing units here.
Connectivity and Infrastructure
Rajarhat New Town offers excellent connectivity and overall infrastructure to residents. Here's taking a look at some of its key highlights.
Rajarhat Main Road is a major connectivity lifeline while other arterial roads connect to the Basanti Road, Netaji Subhas Chandra Bose International Airport (11 km away) and also the New Town CBD and IT and ITeS cluster.
VIP Road and EM Bypass are well connected to the area and link it to several parts of the city.
The New Garia-Airport route of the Kolkata Metro network will be going through New Town as proposed and this will boost connectivity immensely in the future.
There is also a proposal for an extension of the circular railway to New Town from Bidhannagar/Ultadanga.
The National Highway 12 is only 3 kilometres away from here.
The area is well planned with demarcated zones for IT Parks, commercial complexes and educational institutions.
There is good connectivity to major business hubs including TCS-Gitanjali Park, DLF IT Park 1 & 2 and Candor Techspace among other major business parks.
Dedicated 10.5 km Wi-Fi Zone which connects the main arterial road all the way to the Kolkata Airport and the Sector V IT hub. This is the green corridor which is the first Wi-Fi road in India.
Action Area-I Flyover has been developed with multiple expressways and flyovers on the anvil for decongesting traffic.
Leading companies such as Tech Mahindra, HP, IBM, Vodafone, Accenture, Capgemini, Philips, Ericsson and Genpact have offices here while Infosys is also setting up its IT hub in the vicinity.
The New Town Arbitration and Financial Hub is a major business landmark along with Unitech, EcoSpace Business Park, TCS SEZ, World Trade Centre and others. Several Government offices are located here.
100 acres have been demarcated for the Silicon Valley at Action Area II in Rajarhat New Town.
Tram services have been proposed for Rajarhat New Town on account of ample space availability.
Social Infrastructure
Rajarhat New Town offers excellent social infrastructure to residents including several popular landmarks and tourist attractions and also a plethora of educational institutions, hospitals, shopping malls and recreational zones. There are plenty of nightlife hotspots in the area as well. Of course, there is good connectivity to neighbouring Salt Lake (Bidhannagar) as well and one can access nightlife destinations there as well.
Key Landmarks:
Arts Acre
Eco-Tourism Park
Biswa Bangla Gate
Mother's Wax Museum
Nalban
Nazrul Tirtha
Vivek Tirtha
Rabindra Tirtha
Aquatica
Vedic Village
Educational Institutions:
Xavier's College
Presidency University
Rabindra Bharati University
Techno India Group
Amity University
Institute of Engineering and Management
Calcutta Airport English High School
Delhi Public School
Calcutta Public School
Holy Public School
Hospitals:
Ohio Heart Hospital
Tata Cancer Centre
Apollo Clinic
AMRI
Park Hospital
Chittaranjan National Cancer Institute
Shopping:
City Centre II
Axis Mall
Home Town Mall
Centrus Mall
Unitech Downtown Mall
Rajarhat Central Mall
Hotels:
Swissotel Kolkata Neotia Vista
Novotel
Pipal Tree
Upcoming Westin and Ibis Hotels
Nightlife:
Country Roads Micro Brewery and Restaurant
Traffic Gastropub
Blue Nile Restaurant
Addiction Bar and Restaurant
Studio-The Pan-Asian Gallery
Oval Lounge
Zion Bar and Restaurant
Shinryu Restaurant and Bar
Hookah Knight
Mehak-E-Punjab
Bluezz
On The Rockz
The Cloud 9
All in all, Rajarhat New Town makes for a good investment proposition in the current scenario. There are multiple infrastructure and connectivity improvements lined up for Rajarhat New Town in the near future while several educational institutions, MNCs and other conglomerates are expected to set up offices/campuses in the area as well. With industrial clusters and retail zones being set up throughout Rajarhat New Town, social infrastructure development is also taking place rapidly. HIDCO is responsibly maintaining the township with several eco-friendly initiatives backed by advanced technology.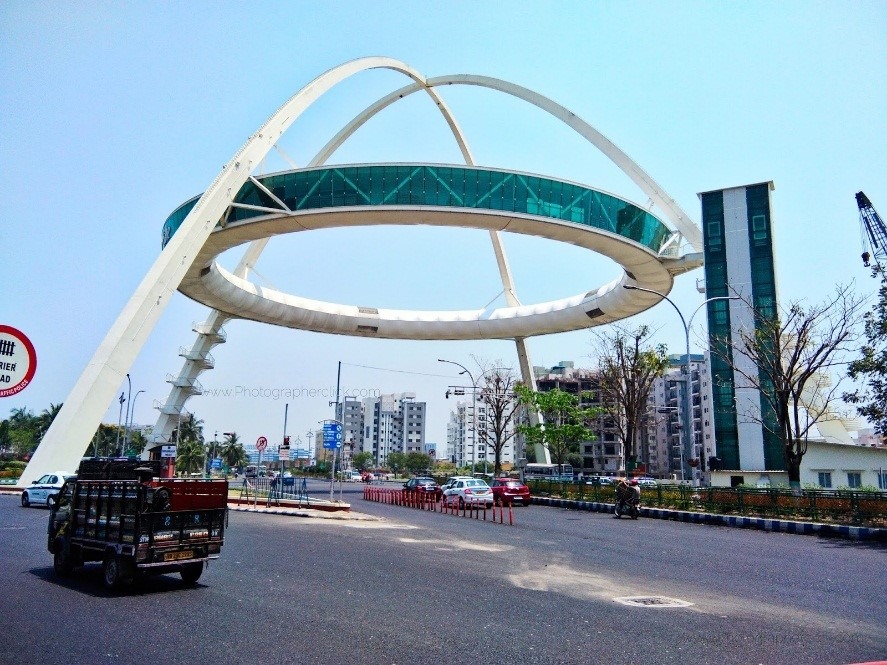 Rajarhat New Town offers ample scope for future appreciation and prices of property are still comparatively reasonable here although there are luxury projects being developed already by top builders. The best part is that buyers get to choose from a wide range of options, i.e. there is something for every budget and preference here unlike several other parts of Kolkata where there is insufficient availability of inventory to match diverse requirements.