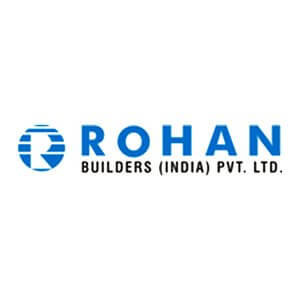 The Rohan Group is a well known real estate development company and also has interests in other verticals like civil engineering, information technology, renewable energy and agriculture. Rohan Developers have created more than 80 landmark projects cum architectural marvels and has a team of skilled civil engineers and other professionals for helming projects.
Rohan Builders operates on a pan Indian basis across the country including Mumbai, Meghalaya, Pondicherry and Pune among many other zones. Rohan Realty has also earned the prestigious DA2+ rating from CRISIL and several of its projects have also earned the CRISIL 7 star rating as well. Founded in the year 1993, the Group believes in continual innovation and futuristic development. The Group has also worked on big ticket infrastructure projects including development of major bridges and roads in states like Maharashtra, Punjab and Rajasthan among others.
Why Rohan?
Every Rohan residential project is designed to offer maximum space and aesthetic pleasure to residents. The Group believes in core business values like integrity, reliability, transparency and honesty. The Group believes in ensuring maximum customer satisfaction with cutting edge residential projects at strategic locations and other premium amenities and facilities.
The Group also believes in offering the best customer service and seeks to make use of the latest technology and best materials for project development. Seamless project execution, design excellence, overall industry expertise and adherence to stringent quality standards are major USPs of the Group as well. The Group is always focused on innovating and coming up with futuristic housing solutions that cater to all possible customer requirements.
Major Projects
There are several landmark Rohan projects built over the years and this tally includes both completed and Rohan upcoming projects alike:
Rohan Abhilasha- This project offers luxurious and aesthetically appealing homes at affordable prices to customers. Every home covers almost 30 acres with abundant natural greenery spread across blocks. Exits, entrances and rooms are designed thoughtfully, keeping the needs of senior citizens and children in mind. There are 1, 2 and 3 BHK homes on offer along with premium amenities and facilities
Rohan Kritika- This project offers beautifully designed homes along with top class amenities and facilities to residents. The project offers 2, 3 and 4 BHK luxurious homes to buyers and is located at Dattawadi in Pune
Rohan Ishan- Another landmark project by the Group, this architectural marvel offers abundant natural light and fresh air in all rooms in addition to top class amenities and other facilities. The project contains 126 apartments along with abundant natural greenery and beautiful landscapes. This is one project that focuses on greater convenience and has been designed, keeping nature friendliness at the forefront