TRY THESE BEAUTIFUL DESIGNS IDEAS  and make your home's smallest room the most peaceful spot.
Open plan design for the small bathroom
To create maximum space in a small bathroom, aim for an open-plan design. Non-essential furniture should be removed and if a screen is required consider using a toughened glass panel. Hide the pipes, conceal the cistern or even install a wall-hung toilet, if its possible.
Atmosphere and ambiance – a bathroom for all the senses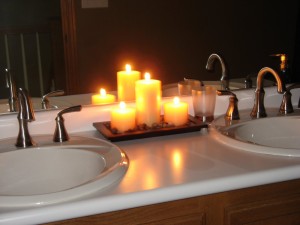 A bathroom should be a place in which one can relax while  refreshing. Subtle changes can transform the ambience. For example, why not create a spa-like atmosphere with a soothing fragrance. There's a wide choice of diffusers, scented candles and sprays on the market.
Textile tactics to complement bathroom design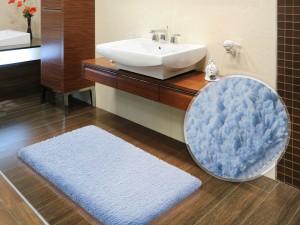 Deep-pile bath rugs and smooth-timbered shower duck boards offer a welcome alternative to the cool touch of ceramic floor tiles; unless you enjoy under-floor heating. The sight of a bath full of steaming water and bubbles is enhanced by a display of white cotton, fluffy towels in various sizes on the heated rail close by.
Make a statement with bathroom wallpaper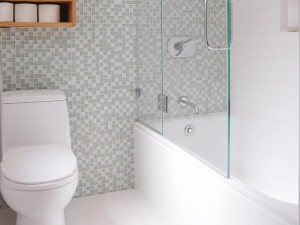 Make it Dramatic – make a statement by introducing a vibrant wallpaper design on one wall. This has the effect of distracting the eyes from the true size of the modest bathroom. Careful choice of colour and style will bring theatre into the most intimate domestic space.
Look into your bathroom mirror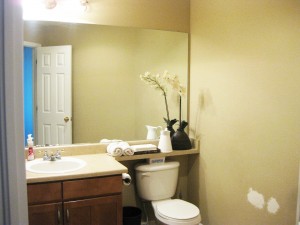 A carefully-hung large mirror will always create a new dimension to the bathroom and help to distribute light. Smart design will also ensure the light is well reflected in every mirror. Another way to achieve the illusion of greater space is to decorate a facing wall with a floor-to-ceiling laminated wall mural. By introducing a mountain lake, forest trail or even a city sidewalk, this will bring a magical touch to your bathroom and magnify its actual size.