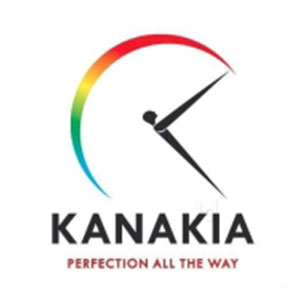 The Kanakia Spaces Group was founded in the year 1986 and is the flagship real estate entity of the Kanakia Group. Kanakia Spaces Developers is known for its different thinking and innovative vision with regard to living spaces and is recognized as one of the country's premium and most reputed developers.
Kanakia Realty is among the top ten realty brands of the country and the portfolio of Kanakia Spaces properties encompasses more than 13 million sq. ft. of successfully delivered residential, commercial, education, entertainment and industrial space over the last 30 years. The company has several firsts to its credit including the township concept at Mira Road, creative amenities like Turkish Hamams, Snow Spa and floating club houses and themed living like the Kanakia Rainforest, Paris, Miami and Wall Street series. The company has been the recipient of several prestigious awards over the years for its landmark projects and has also been ranked amongst the top 6 brands in the ET Best Realty Brands 2015.
Why Kanakia?
All Kanakia residential projects are built with this innovative vision and futuristic thinking. The company offers creative and pioneering amenities at its projects along with awe inspiring and beautiful themed concepts and designs. The company is known for its in depth understanding of customer requirements and emphasis on elevating lifestyles of customers with its projects. The company focuses on innovation and quality as guiding principles for all development.
Customer satisfaction is taken very seriously at the company and it believes in continually upgrading processes and standards. The company believes in transparency and core values like trust, reliability, integrity and trust. The company also has a skilled team of professionals helming projects and delivers projects on time. The company has immense goodwill and has a solid track record over three decades.
Major Projects
Paris- Inspired by the gorgeous architecture and designs of Paris, this landmark project spreads over 2 acres and comes with detailed and planned interiors and architecture presenting the Parisian lifestyle to perfection from cobbled pathways to an alfresco caf??, European gardens, designer club house, French salon and spa and more. The project also comes with a celebrity gym, concierge service, mini theatre, swimming pool, restaurant and many other attractions. This is located at the Bandra-Kurla Complex, one of the city's biggest business zones
Miami- This landmark project offers bay living to residents with gorgeous views and an infinity pool. Inspired by the vibrant city of Miami, the project comes with several attractions including an aqua themed club house, open lounge, ample sporting facilities, aquarium, light house, special d??cor and golf putting facilities. The project is located at Mahim in

Mumbai

The Rainforest- This premium residential project is located at

Andheri East

and comes with 4.5 acres of natural greenery over a ridge. All towers offer spectacular views of meadows and rolling hills. The project is based on the Amazonian Rainforest and is an award winning venture. Key amenities include a lounge, audio visual room, spa and a lot more