Land Record Bihar comes under the jurisdiction of National Land Records Modernization Programme (NLRMP), which was started in 2008. The supreme purpose of this programme is to maintain a transparent, clear, detailed, compressive and modern land records management system in India. Under this, states digitised the Records of Rights (RoR) and all other land information in Bihar like maps (Bhu Naksha). Every land information in Bihar can be accessed on the Bihar Bhumi website.
Bihar Land Record - Bihar Bhumi Jankari, Khasra Khetani
Bhulekh is derived from the Sanskrit or Hindi word 'Bhu Alekh', which means Land Record (Bhu= Land and Alekh= Record). It is also called the Bihar Bhulekh and Bhu Abhilekh Bihar too. Therefore, it is a land record term used in India and is also a part of the online land record software in states like UP, Orissa, Bihar, etc.
Earlier known as Bhulekha in Bihar, it is now called Bihar Bhumi Jankari in regard to online State services of land records Bihar. To know more, you click on the following link:
bhumijankari.gov.in/BiharPortal/Admin/AdvSearch/AdvSearch.aspx
When you click on the link, you will be taken into the government portal, where you can check the following:
Online Registration (2016 to date)
Post Computerisation (2006 to 2015)
Pre Computerisation (Before 2005)
You can choose the details form the drop-down menu like:
Registration Office
Property Location
Circle
Mauja
Date From and To
Serial No
Deed No
Party Name
Father/ Husband Name
Area (in decimal) From and To
Khata No
Plot No
Land Value From(In Rupees) and To
Land Type
List of Districts under Bhulekh Bihar 2021
| | | | |
| --- | --- | --- | --- |
| Araria | Arwal | Aurangabad | Banka |
| Begusarai | Bhagalpur | Bhojpur | Buxar |
| Darbhanga | East-Champaran | Gaya | Gopalganj |
| Jamui | Jehanabad | Khagaria | Kishanganj |
| Kaimur | Kathihar | Lakhisarai | Madhubani |
| Munger | Madhepura | Muzaffarpur | Nalanda |
| Nawada | Patna | Purnia | Rohtas |
| Saharsa | Samastipur | Sheohar | Sheikhpura |
| Saran | Sitamarhi | Supaul | Siwan |
| Vaishali | West Champaran | | |
Bhulekh Bihar: Benefits of Bihar Bhumi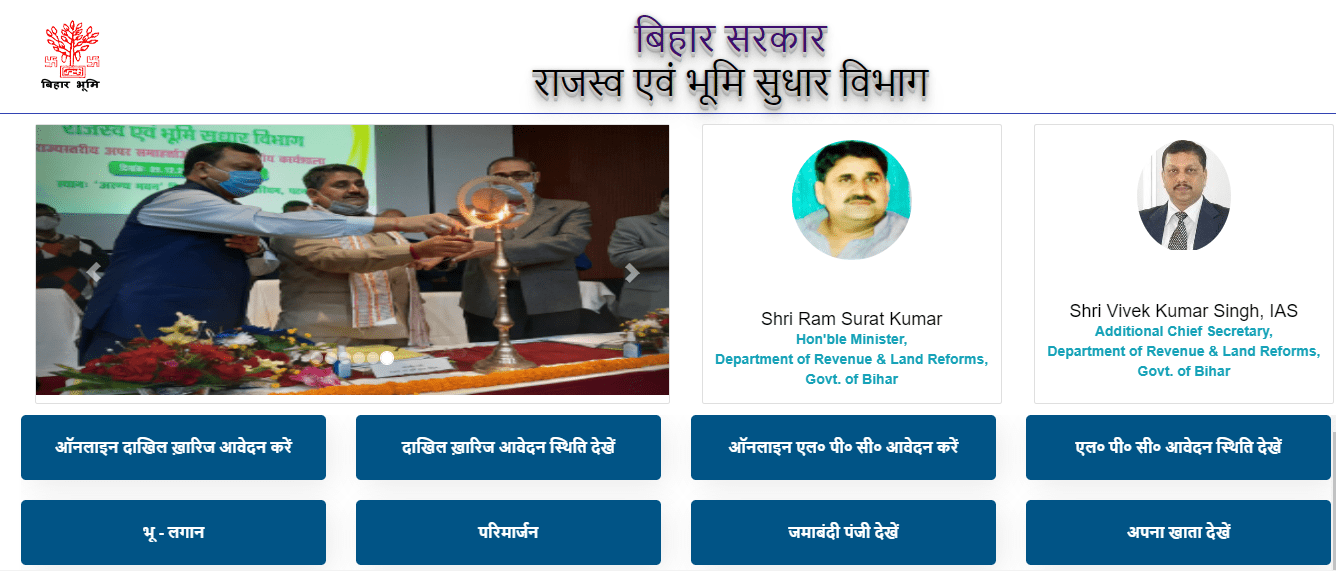 It is no secret that Bihar Bhumi acts as a one-stop solution for all the land record Bihar pertinent queries and procedures. This online portal gives the power to Bihar citizens to access and manage records on Bhulekh Bihar online. Undoubtedly, this peerless portal possesses a user-friendly interface and is extremely effortless to navigate. Not to forget, this portal has simplified the intimidating and painstaking task of retrieving Bihar land-related documents from the authorities as everything is digitized now. Well, in Bhulekh Bihar, landowners can without any hassle access property and plot details. To know more benefits, keep scrolling. Have a Glance!
Mitigates the requirement to physically visit the Bihar land office
Landowners of Bihar can pay land taxes straightforwardly and promptly
Land-related procedures can be completed instantaneously
Makes the process of accessing land records hassle-free
To avail of the assortment of benefits, the landowner needs to be acquainted with this online portal in order to access and keep a track of land-related information.
Services Offered by Bihar Bhumi
Starting from keeping a constant eye on Bihar bhulekh, the landowners can supervise and conduct land allied formalities through this utilitarian Bihar Bhumi portal. The unsurpassed services offered by this portal are:
Landowners of Bihar can pay Lagaan online
Landowners can check out encumbrance certificates online
Landowners can register property land online
Landowners can complete the dakhil kharij process online
Landowners can fill LPC applications online
Landowners can check LPC application status online
Bhulekh Bihar: Revenue and Land Reforms Department
The Revenue and Land Reforms Department deals with Khata Khesra Bihar or land management, the survey of land and its settlement, consolidation of land, acquisition of land for different central and state government schemes. They are also given for agricultural census, which is of national importance. Under the land management scheme, government lands are settled with landless families, and homestead land is provided to those who have no homes. Raiyati land is passed on the basis of a lease for construction and connecting of roads for villages, districts and towns which have no connectivity of roads. The land survey settlement fixes rent, tax and its collection and remission or abatement. Estates of Government are also fixed and maintained. The jurisdiction of revenue officers and courts are also fixed and settled. Several citizen-friendly revenue laws were made, and efforts are put in place to pass the same through the State Assembly and State Cabinet. This department is mainly for the execution of various developmental projects, inter-departmental land transfer.
Bhulekh Bihar: The Department Vision
The following are the main objectives of the department
To provide transparent, sensitive pro-active Revenue Administration.
To provide land for homestead purposes to those who are devoid of homestead land.
To provide the facility of online mutation/rent collection and online Land Possession Certificate.
To carry out consolidation work to avoid fragmentation of cultivable land.
To update land records through land survey and settlement operations.
To distribute land among landless people out of the surplus land declared under the land ceiling and Bhoodan.
To restore possession to those Govt. land settlers, who have been disposed from their settled land.
To acquire raiyati land for execution of developmental works through the process of land acquisition, perpetual lease and also through inter-departmental land transfer.
What is the Importance of Bihar Record of Rights (RoR)?
This contains the land revenue record of the real owners of a landholding.
ROR gives access to check the ownership of ancestral land or property in Bihar state.
It detects the false claim against any land under Bihar State.
The certification of ROR protects the real owner from fraud and land grabbing.
The ROR extract is legal evidence if anything leads to court litigation regarding land.
ROR gives important information on land type and various activities carried out on the respective land.
It states about the agricultural lands and the lands surrounding them.
It plays the most important role when the land is to be sold.
ROR is mandatory when a farmer applies for a loan.
Bhulekh Bihar: How to check ROR in Bihar?
First, visit the official website: biharbhumi.bihar.gov.in/Biharbhumi/ and click on the Bihar RoR link that is JAMABANDHI PANJI DEKHE. Click on the respective district link, and anchal in that district will appear. ROR search page will appear after you enter the necessary information and click on search. Then the landowner's information will appear, and then click on view. Finally, you can get the PDF of ROR on the screen. You can save that or click on print to get a copy of it.
How to Check Bihar Bhulekh Naksha / Bihar Land Records
Bhu Naksha is the land map and its digitised land or plot records. It helps in checking, editing and digitising the exact boundaries of the plot. This helps the buyers to understand the plot details clearly before buying any plot. It has reduced land disputes drastically.
The 5 main benefits of Bhu Naksha Bihar is that it verifies the landowner, integrates records, saves time in finding the plot, depicts the exact plot size and also clarifies the legality of the plot.
Let's know the step by step process to check Bihar Bhulekh Naksha:
Step 1: First, you need to log in to the official website- lrc.bih.nic.in/ror.aspx
This will take you to the home page with the map of Bihar.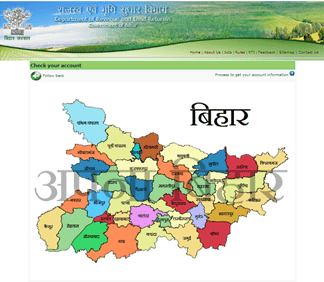 Step 2: Now click on the desired district in which you're looking for a plot. Once you click that, you will get the details on top regarding the following to check:
Total Zone
Total Caprice
Total Ledger
Total Account
Total Khesra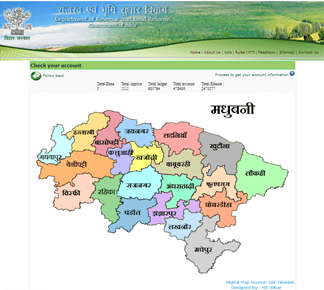 For example, Madhubani district has:
Total Zone: 5
Total Caprice: 1111
Total Ledger: 685794
Total Account: 478486
Total Khesra: 2473277
Step 3: Once you check the district, you can further narrow down your search on sub-districts by clicking the desired sub-district that you want to look into.
When you select the sub-district, you will get further drop-down selections regarding that particular sub-district like:
Select District
Select Subdivision
Select Zone
Choose the name of Mauja
Please filter the lounge list with the following
Choose one of the different search options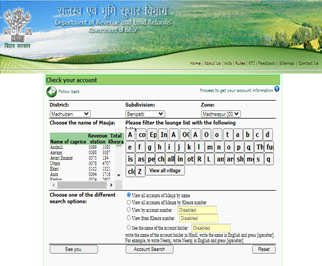 For example, This is a sub-district of Madhubani called Madhwapura. Once you click on it, this is how the screen pops up. This is how you can get the bhu naksha Bihar online.
Bhulekh Bihar's Apna Khata Bhumi Jankari: Key Highlights
Bihar Bhumi Jankari department has close interaction with the public. The general public has to approach revenue offices frequently for various needs. The main office of Bhumi Jankari Bihar is situated in Patna, the state capital of Bihar and has its branch offices in 38 districts and the sub-districts as well. They provide the following services to its citizens:
Land revenue collection with taxes on roads, education, health, etc.
Updating and regular maintenance of land records.
Possession of land for public services.
Government land conservations.
Checks Government's lands to be given on lease.
Looks into the transfer of government lands to different departments of the State Government and other institutions.
Demarcation and surveys of lands.
Regulates the management of natural resources
Bhulekh Bihar: How to Check Apna Khata Land Record Bihar Online?
The official portal launched by Bihar Government for land record Bihar online is called Apna Khata Bihar.
Step1: You can find Bihar Apna Khata details through the following link:
state.bihar.gov.in/lrc/CitizenHome.html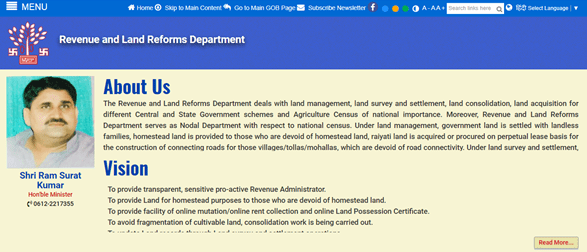 Step 2: Once you reach the home page, you have to scroll down where it displays the option Search your land (old survey) or search your land (new survey) and click on it.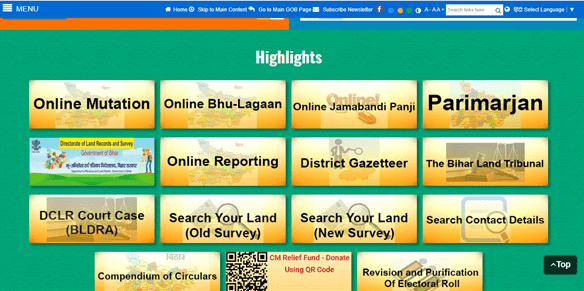 Step 3: When you click on any one of the two options mentioned above, it opens a page where you get details on Khata or account, and you get a drop-down menu with options like:
District
Subdivision
Zone
Choose the name of Mauja
Choose one of the different search options
Once all the details are filled in, you will get the information that you are looking for.
Bhulekh Bihar Another way:
One can also initiate the land record Bihar online process by following the below steps:
First, you should go to the official portal of the department of revenue and land.
Click on the Apna Khata Dekhe link on the left side of the screen.
Click on the district on the map and then the Mandal and town.
Next, select the account name and account holder and all the necessary information asked on the page, and it will show a click button. Tap on it, and then you will get the desired information that you are looking for.
One can know of Katha Khasra Bihar easily through this method too. This land record Bihar website can be used for getting information on all districts of Bihar. For example- Land Records of Patna can be accessed through this website. (patna.nic.in/service/land-records/) (state.bihar.gov.in/lrc/CitizenHome.html) Land records Patna is also a part of this online portal just like all other districts of Bihar.
What is Khasra?
Khasra or the land account measles is the Indian legal agricultural document that gives the details of the land and its crops. It further includes complete details on the field's measurement, area, ownership, crops grown, type of soil, and the types of trees on the given land.
What is the Khasra Number?
Khasra numbers are nothing but land identification numbers given by the revenue department of the state. They are unique identification numbers within a village. If the given number is not unique, the person must immediately contact the department and sort it.
What is Khatauni?
Khatauni is a record of all the land a person or family owns in a village. It is a cumulative record of all the land owned or all the Khasra's that belong to one person or family is listed as Khatauni.
Who assign the Khasra Number?
The Lekhpal is responsible for preparing these land document numbers. Lekhpal is assisted by patwari to maintain and update all the land revenue documents.
How to check the Bihar Khata Khesra or Khasra Katauni in Bihar Online?
One can check Khatha Khasra Bihar or Khatian Bihar by the following steps:
Step 1: Visit the following link:
biharbhumi.bihar.gov.in/Biharbhumi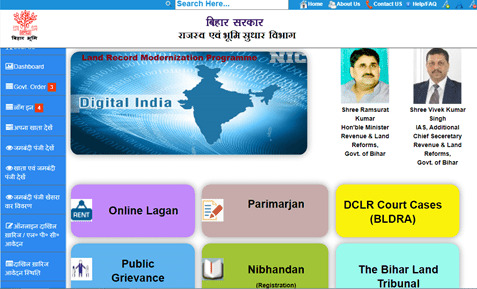 Step 2: On the left-hand side, you get an option that specifies 'Jamabandi panji Khesra Vaar Vivaar'. Click on it.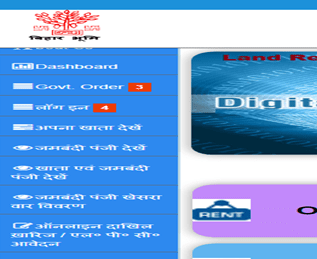 Step 3: Provide the following information in the next page:
District
Last Name
Short Name
Meja Name
Account Number
Khesra Number
Once all this is filled in, you can register and then find the required details that you are searching for. This way you can get every possible detail regarding Khasra and Katauni of an individual.
Bhulekh Bihar: Where to check Bhumi Jankari Bihar?
Before you get to know where to check Bihar Bhumi Jankari, you need to know why it's important or why is Bhumi Jankari needed?
Bihar Bhumi Jankari contains every single detail not just about the land but the quality of the land, ownership and disputes. Every information is drafted clearly so that anyone purchasing that land will have perfect knowledge about the type of land they are looking at. This will give the people details about their limits and ownership clearly and will keep quarrel related to lands away and will maintain peace and order within the state. It also gives the details of Bihar Bhumi Naksha and Bhumi Record Bihar.
Now let's learn how you can obtain Bihar Bhumi Jankari.
Step 1: Visit the official Bihar Bhumi Jankari Website through the following link:
bhumijankari.bihar.gov.in
Step 2: Once you log in you will get the home page like the one below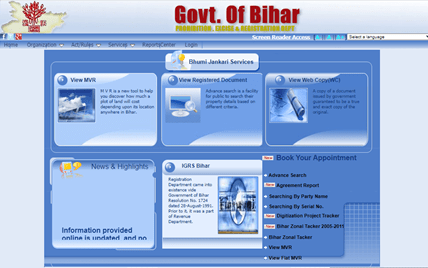 Here you will get various land information in Bihar under land record Bihar online like:
View MVR
View Registration Document
View Web Copy
IGRS Bihar
News and Highlights
Advanced Search-

Agreement Report
Searching by Party Name
Searching by Serial Number
Digitization Project Tracker
Bihar Zonal Tracker 2005-2011
Bihar Zonal Tracker
Step 3: By clicking on the required field and filling in the necessary details, you can get the information related to Bihar bhumi jankari.
Bhulekh Bihar: How to File for a Rejected Application Online?
There is a link given from where you can proceed with the filing of rejected applications online. The following link will take you to the official website that will help you in this regard.
lrc.bih.nic.in/landtribunal/FillingProcedure.aspx
The Bihar Land Tribunal helps the people in the land raiyats of the state. There are several departments that handle the disputes and update the same with land record Bihar. Once you visit that home page there is a section called 'Filing Procedure' section that gives you detailed information on how to go with the filing procedures of applications online.
Online Filing Process
Step 1: First, you need to log in to the official website of Bihar Apna Khata and then click on the Online filing Rejected/ LPC Application at the left-hand bottom end.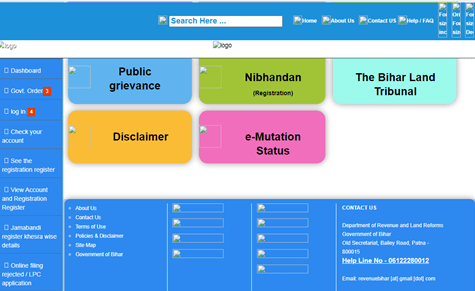 Step 2: If you are a new user, you can create an account by clicking on 'Registration'. If you already have an account then follow the guidelines below:
Enter your Email ID in the box containing the Email.
Enter your password in the box containing the password.
Enter the security code in the box containing the security code.
Finally, click the 'Login' button and you will be good to go ahead.
All this information is to be entered on the right side of the screen. This will help you go about the filing of rejected applications online.
Bhulekh Bihar: Process of Acceptance of the Rejected File?
The process includes the following steps:
Step 1: Visit the official website
Step 2: Click on login on the left-hand side and then on Filing Dropout and the next screen appears
Step 3: Online mutation screen will appear. On this page, you are supposed to fill in the following Login Details:
District Name
Zone Name
User Name
Password
Security Code and finally click Enter
In this way, you can get acceptance of the rejected file.
What is Mutation?
In land record Bihar, a mutation refers to a legal process in Bihar to transfer ownership of a piece of land from one person to the other. This is basically a process that is done during the time of transferring or selling of property. Mutating the property means giving legal rights to the new owner of the property. This is done online via land record Bihar official portal. It helps the Bihar government to collect tax from its rightful owners. This is helpful in not bringing up disputes between two parties, that is, buyers and sellers.
What is the current Mutation record?
The current online mutation Bihar record of Bhulekh Bihar 2021 is:
Total Mutation Cases = 5226885
Total Cases Disposed = 2556182
Total Cases Pending = 1106343
Total Rejected Cases = 1564360
Documents Needed for Mutation
The following documents are essential for mutation of property during the sale:
Stamped application of Mutation
Sale Deed
Current and Previous Registration Deed
Aadhaar Card
Ration Card
Property tax payment receipt
Stamp paper of requisite vale with an affidavit
The following documents are necessary in times of inheritance:
Death certificate
Ration Card
Aadhaar Card
Property Tax payment receipt
Stamp paper of requisite value with an affidavit
Copy of power of attorney and succession certificate
Stamped application of mutation
Sales Deed
Current and Previous Registration Deed
Bhulekh Bihar: What is the Procedure for Depositing Rent Online?
The payment of rent or depositing rent online is very easy and helpful to the people in Bihar.
Step 1: First, log in to the official website (bhulagan Bihar gov in) which is as follows:
www.bhulagan.bihar.gov.in
Step 2: Then you can either check your pending payment or Pay Online Lagaan without any worry.
Step 3: If you want to go for online rent payment then click on Pay Online Lagaan. This will lead you to the following page.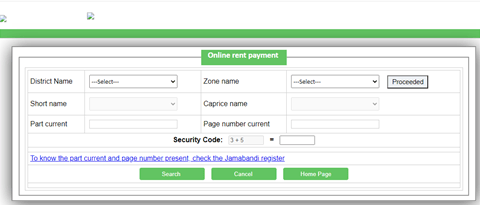 Step 4: Fill in the details asked for:
District Name
Short Name
Part Current
Zone Name
Caprice Name
Page Number Current
Security Code
Step 5: Click on Search and get the details and make payment accordingly if the information displayed on-screen is correct.
Bhulekh Bihar: How to Pay Tax Online in Bihar?
You can also pay the tax online just like the rent by following the below steps:
Go to the official website of Bhu-lagan Bihar bhulagan.bihar.gov.in website. Choose the option ONLINE BHUGTHAAN KARE.
You will be taken to a page where you have to fill in certain details like district name, Halka, mauka, anchal, etc.
Next, provide information about your plot number, khata number, raiyat name, etc.
Then you will be given the details about your land and your land tax liability, known as lagan in Hindi.
Now click on BHAKAYA DEKHE to find out your tax liability.
This will display your past payments and outstanding lagan liability and also gives you an option to pay online.
Then fill in your name, mobile number, address and click on 'I AGREE' to the terms and conditions and click on BHUGTHAN KARE.
This will lead to a page with payment options and you can choose accordingly. Then you can obtain the receipt or the land rashid online Bihar.
Benefits of Bihar Apna Khata Portal Online?
Bihar Apna Khata Portal Online is Bihar's citizen-friendly website that will give all the information about the land at your fingertips. It helps people know about their land records, Khataui, Naksha, Jamabandhi, Khasra, Khatauni Extract, Farm papers, Account information, etc.
One doesn't need to run from pillar to post to get these things done. So the major benefits of Bihar Apna Khata Portal Online are:
The Khasra Khatauni can be easily downloaded by Bihar Apna Khata Portal
The citizens of Bihar can get instant access to their land information.
The entire land record details can be obtained from home.
There is no fee to be paid to check the land records.
The person willing to see the extent of their land can check it on a map or Naksha.
The major benefit of this is that it saves a lot of time and energy of people from going from office to office and meeting people from people and wasting their time waiting to meet the right person and get the job done. The task gets so tedious that you may sometimes have to return without the information that you needed the most.
How to check Khasra Number Land Record Bihar Online?
Khasra number Bhulekh Bihar can be availed online. To know your Khasra number:
Visit the official website of Bihar Apna Khata and click on Jamabandi Register Khesra.
You'll be redirected to a page to fill district, last name, short name, Meja name, account number etc.
Once the information is provided, the khasra number will automatically turn up on the field. This way you can check khasra number land record Bihar online.
Jamabandi Register Khesra-wise Process to Get Land information in Bihar
This is one of the processes you have already dealt but let's do it again to be double sure. The steps are as follows:
Visit the official website of Bihar Apna Khata.
On the left-hand side of the homepage, you have the Jamabandi Register Khesra wise.
Click on it and you will find a page where you have to select the following:

District
Last Name
Short Name
Meja Name
Account Number
Khasra Number
Click on the Link Register 2 and all the details you are searching for will appear on the screen.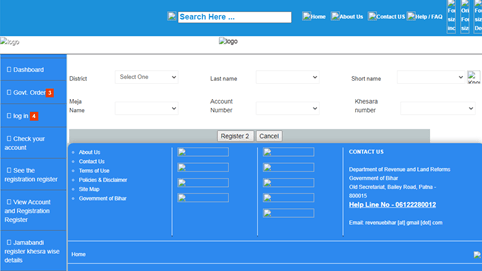 Where to Find Apna Khata's in Bhu Naksha Bihar?
This is one of the simplest tasks. All you have to do is, log into the official website lrc.bih.nic.in/RoR.aspx and get your map. Click any of the districts on the map and then the sub-district and further enter the details and that will appear on the screen.
To Conclude!
Bhulekh Bihar is a wonderful online portal where people can benefit easily from the facilities provided through it. It is easy to access and provides information instantly on Bihar Bhumi records. There is no necessity to carry files from here to there and roam from one place to another every now and then for one little work. There will be no necessity to wait for officers or staff to help you and you can be self-reliant. This is one of the best online portals that are present in our country, India.
It basically helps people know their exact land record that the government possesses and also helps them know their land boundaries. Thus, it keeps away disputes and brings peace and prosperity. A lot of schemes are there for the landless and homeless people who can take advantage of this and lead a simple, decent and happy life. The state of Bihar is highly organised and every piece of land record information is available to everyone, which shows its transparency in functioning and clarity to people and citizens.
Thus, this is a progressive and good system one could ask for in online services in Bihar.
Explore Land Records in Other States
Frequently Asked Questions (FAQs)