When it comes to the area of a house there are various definitions, each of them serving its own purpose. However, for a buyer it is essential to understand the finer nuances involved with every definition. Lack of knowledge of the same can create some serious confusion. Buyers should understand each & every popularly used conventions along with their exact implied meaning so that any possible misconception can be avoided & home purchase remains a fulfilling experience.
Carpet area
As the name suggests, carpet area implies the area of the property where you can lay your carpet, measured wall to wall. In other words, it is the total floor area available for your usage excluding walls and utility ducts. It covers all the rooms in the house including Kitchen, living room, bed rooms, bathroom and utility. While some builders do add the balcony as part of the carpet area, others may not.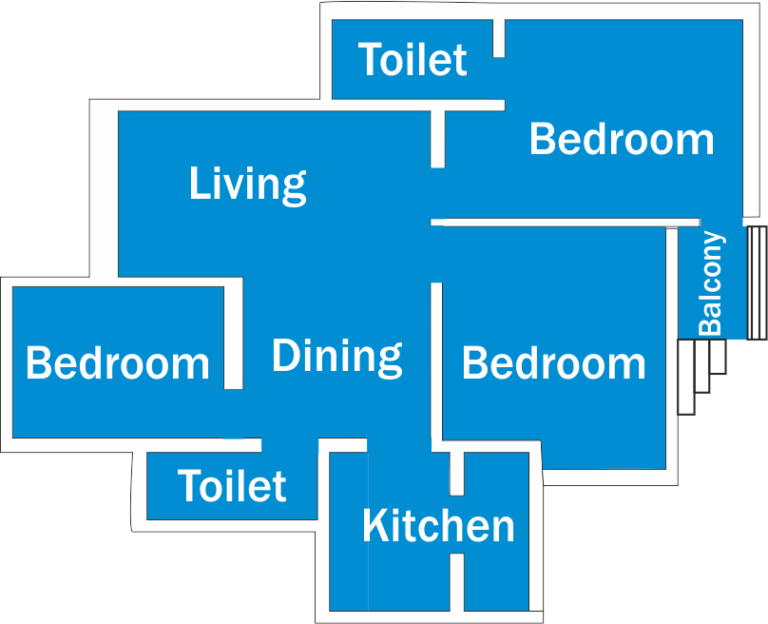 Calculating the carpet area of an apartment
If the property is a 2 BHK apartment with 2 balconies and 2 bathrooms with the following dimensions:
| | | |
| --- | --- | --- |
| Room 1 | 14' × 12' | 168 sq ft |
| Room 2 | 12' × 12' | 144 sq ft |
| Kitchen | 13' × 11' | 133 sq ft |
| Dining Space | 10' × 10' | 100 sq ft |
| Living Room | 11' × 11' | 121 sq ft |
| Bathroom 1 | 9' × 5' | 45 sq ft |
| Bathroom 2 | 9' × 5' | 45 sq ft |
| Balcony | 8' × 4' | 32 sq ft |
| TOTAL |       — | 827 sq ft |
Then the total carpet area is 827 sq. ft. (usually 75% of the super built up area)
What is Built Up Area/ Plinth Area?
Built Up Area or Plinth Area is the total covered area of your apartment or office unit. Unlike carpet area, the built up area includes walls and utility ducts. So, you can calculate built up area by adding utility ducts within property unit, internal and external walls to carpet area.
It is not so important to know the built up area when you are buying a property as developers sell property on super built up area. However, it is important while dealing with government departments as in some states, property taxes are levied on built up area.
Built up area = carpet areas + walls + utility + balcony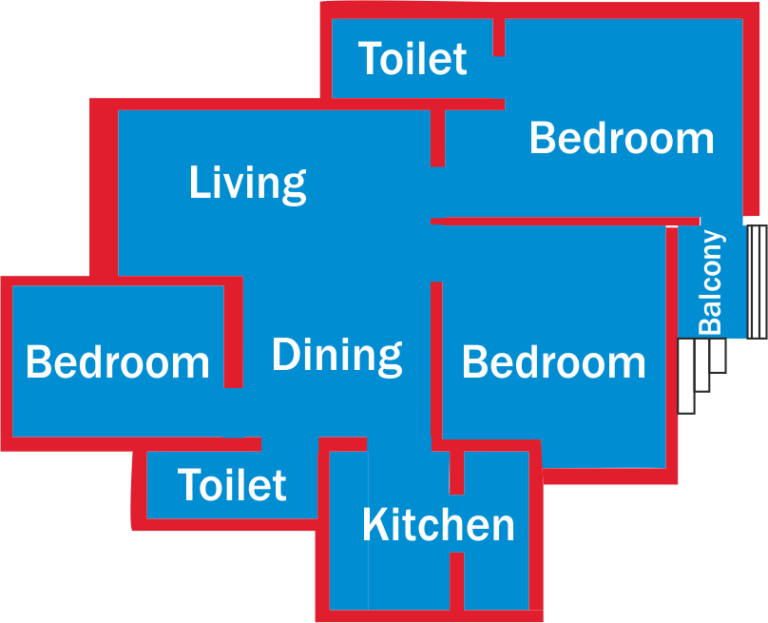 Super Built-up area/Saleable area
This is one of the most commonly used term by the builder while describing the size of an apartment. Also called as saleable area, the super built-up area is the size of your apartment plus the common areas proportioned to the unit. These common areas may include swimming pool, community center, gymnasium, clubhouse, lobby, staircase and lift. Open areas such as gardens, parks, play areas and terrace are also included in this. Hence,
Super built-up area: Carpet area + terrace + balconies + areas occupied by walls + area occupied by common/shared construction (e.g. lift, stairs, and club house)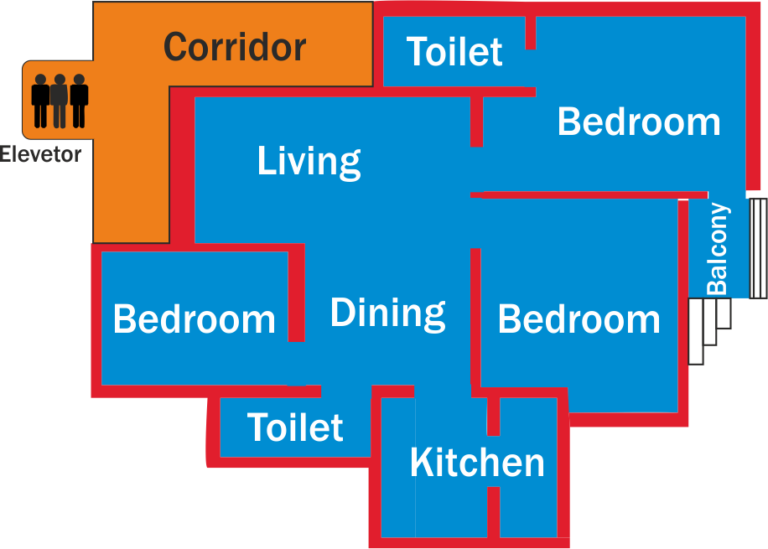 Loading Factor
Loading factor multiplied by carpet area will give super built up area. For example, if carpet area is 500, and loading factor is 1.5, then super built up area is 500 x 1.5 = 750).
In other words loading factor also indicates how much additional space is the developer applying on the carpet area. For instance, Loading factor of 1.25 indicates that developer/builder is applying 25% on the carpet area.