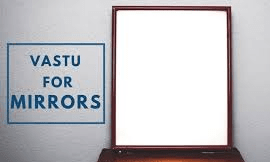 In our Indian culture, Vastu or Vastu Shastra is one of the most important aspects of home designing. Vastu comprises of important elements such as room measurements, layout, objects positions, space arrangement, ground preparation and spatial geometry. Vastu mirror position is one of such crucial factors that well being of a home environment.
If you are planning to buy a new home, you must be excited to start interior designing and here is how you can make small customizations to create bigger fortunes.
Mirrors are simple yet essential tools that come in all sizes. A well thought Vaastu mirror position can:
Increase the surrounding positivity
Generate wealth
Bring good health
Create peace and comfort
Traditionally mirrors are used as looking glass, but it has the likeability to shift the energy around our home. Vastu Shastra suggests that mirrors can deteriorate energy if they are inaccurately positioned. Using minor changes like changing the mirror Vastu position will have the following impacts:
Positioning the mirror opposite to the locker of your home can double the chances of prosperity and wealth. 
It is always advisable to place your mirror in the North direction. A north placed mirror will bring fruitful results and positive energies. It will also please the deity of wealth- Lord Kuber whose centre is the direction-North. 
As a businessman, you can place the mirror in line with your cash box (adjacently) which will bring fortune and wealth
In a bathroom, you must always place your mirror either on the north wall or east wall. Such Vastu mirror positioning will draw good health and remove negative energy. 
Mirrors in a dressing room must be four to five feet above the ground level to attract beauty, health and prosperity.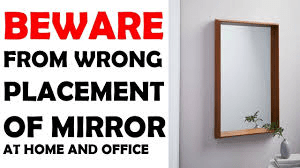 Negative Effects of Placing a Mirror in the Wrong Direction
However, there are also negative effects of placing a mirror in the wrong place or directions and you should rectify them accordingly. Some of those instances are:
Fixing a mirror in the south-east direction (also known as the fire direction) can increase the chances of disagreements and quarrels.
No two mirrors should be placed side by side or it can cause restlessness among family members. 
According to Vastu Shastra, mirrors should not face in the east or north direction at an entrance. In doing so, you may increase your chances for attracting negative energy and worsen the positive energy.
It is best to avoid placing a mirror in the bedroom because it can cause nightmares and sleep disturbances. In case of a Vastu mirror position in your bedroom, please make sure it does not face the bed.  
Important tips on Vastu mirror position:
Avoid oval-shaped mirrors instead use rectangular or square mirrors.
Mirrors in a bathroom should not be kept dark but adequately lighted.
In the case of chronic sleeplessness or nightmares, placing a mirror between the bed and mattress (facing upward) can reduce the symptoms.
Mirrors positioned at the entrance should not reflect sunlight or it can bring negative energies.
Always get rid of a broken or tainted mirror to let the positive aura grow in your home
Looking at oneself during sunrise in a big mirror placed on the dressing table will bring good luck.
Avoid hanging a mirror on the south walls and cover all glass window panes/glass doors at night to prevent yourself from adversities.
Lastly, do not place two mirrors opposite to each other because it may create anger, impatience and misunderstanding among family members.